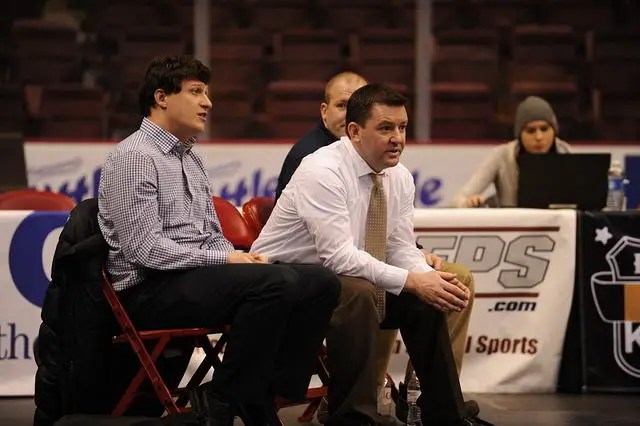 HERSHEY, Pa. – On the strength of a pair of forfeit wins and a Bryce Town pin, Brookville moved into the PIAA Class AA Team semifinals with a 34-22 win over Greenville at the Giant Center in Hershey Friday afternoon.
The Raiders will meet fellow powerhouse, Reynolds, in the semifinals at 8 p.m. Friday. Reynolds beat Huntingdon 45-18 Friday afternoon.
Brookville's win over Greenville ended in a bit of a strange way when Greenville, trailing by just six, 32-26, after 9-1 major decision by Mason Karpinski over Dontae Constable at 126 pounds didn't produce a wrestler to face top-ranked Taylor Ortz at 132 pounds forfeiting the bout and six points to Brookville.
It was the second weight class forfeited by the Trojans, who also gave up six points at 152 pounds to Brookville's Caleb Hetrick.
The forfeit to Hetrick happened in the third bout of the afternoon and gave Brookville a 13-0 lead at the time.
The Raiders got the match started when Cole Aaron won a 12-0 major decision over Mike Lineman.
Then, at 145 pounds, Brookville's Zak Gilbert shook off losing a stall point and late escape by MAson Wilkerson, to get a takedown in overtime to win 6-4 and put the Raiders up 7-0.
After forfeiting to Hetrick, Greenville scored the next 6-0 point thanks to a 4-2 Josuha Christner win over Dominic Palmer at 160 pounds and a 14-10 Gavin Wilkerson decision over Xavier Molnar at 170 pounds after escaping a near pin by Molnar to cut Brookville's lead to 13-6.
Noah Cieleski gave the Raiders three more points when he beat Brenden Calvin, 5-3, at 182 pounds to put Brookville ahead 16-6.
That lead, however, was quickly cut to just a point, 16-15, when Blake Reynolds pinned Brookville's Dane Clever 59 seconds into the 195-pound bout and Gage Gladysz won an 8-4 decision over Tyler Cook at 220 pounds.
But Town, Brookville's strong heavyweight, titled the momentum back to the Raiders when he pinned Mason Horne in just 1:21 to put Brookville up 22-15.
Aarron Gelvin came up with a huge 4-3 victory over Keelan Kunselman, who had beaten him 12-2 back in January at the Brookville duals, at 106 pounds to get the Trojans back to within four, 22-18.
But Cabe and Gavin Park gave the Raiders some breathing room with decisions at 113 and 120 pounds respectively.
Cabe Park, who led 1-0 after two period, topped Bryce Knauf, 4-3, at 113 pounds, and Gavin Park followed with a 9-2 win over Brayden Knauf at 120 pounds to put Brookville head 28-18.
Karpinski followed with his major decision win at 126 pounds before Greenville's forfeit to Ortz at 132 pounds closed out the match.
CLEARFIELD WINS FIRST-EVER DUAL MATCH IN HERSHEY
Winning nine of the 13 weight classes wrestled, Clearfield took home its first-ever PIAA dual-meet win in Hershey with a 39-28 victory over Jersey Shore in the opening round of the consolation bracket Friday morning.
Among the Bison's nine wins were four wins and five decisions.
Clearfield started strong winning the first four bouts, including three 1-point victories, to take an early 15-0 lead.
Hunter Blake and Josiah McClarren started the match with a pair of 1-0 wins at 126 and 132 pounds respectively to put the Bison up 6-0, and then Logan Gilbert picked up a 3-2 victory ay 138 pounds before Tallin Norris got a pin at 145 pounds.
Blake edged Isaiah Leone to get the ball rolling for the Bison, and McClarren followed with the exact same score over Austin Bouse. Gilbert then downed Allen Saar by the solitary point to put Clearfield up 9-0.
After the down-to-the-wire excitement of the first three matches, Norris made things a little less stressful for the Bison faithful when he pinned Collin McLaughlin at 3:26 to end the great opening stretch for Clearfield.
But if things looked like they were going to be easy for the Bison, the middle weights proved different with Jersey Shore grabbing a 16-15 lead after scoring 16 points at 152 through 170 pounds.
Seth Young got the Bulldogs on the board at 152 pounds when he won an 11-0 major decision over Thayne Morgan to curt the Clearfield lead to 15-4.
Hunter O'Connor then needed just 1:42 to pin Hunter Wright at 160 pounds to close the gap to 15-10, and Jersey Shore all of a sudden had a 16-15 lead when Clearfield forfeited at 170 pounds.
But that would be the only lead the Bulldogs held, as Clearfeld's Luke McGonigal put the Bison back on top when he pinned Blake Neal at 1:32 of the 182-pound bout to make it 21-16.
The Bison then got back to winning the nail biters grabbing an overtime win at 195 pounds and a third 1-0 victory at 220 pounds to push the lead to 27-16.
Levi Wisor was able to edge Brett Kepler 6-4 at 195 to make it 24-16 and then Travis Ogden topping Max Mason 1-0 at 220 to push it to the 11-point lead.
Nate Lash then wasted little time making it 33-16 when he used all of 18 seconss ot pun Brandon Barker at heavyweight.
Jeremy Zydallas answered that pin right back giving Jersey Shore faint hope when he pinned Matt Ryan at 106 pounds in 3:40 to make it 33-22.
But any hope of a Jersey Shore comeback was quashed at the 3:32-mark of the 113-pound bout when Clearfield's Jude Pallo pinned Chavin Krape to put the score at in insurmountable 39-22.
Jersey Shore then finished the morning off when Hunter Zondory pinned Cole Smay at 120 pounds in 31 seconds.
Clearfield will face the loser of the Central Dauphin/Bethlehem Catholic match at 6 p.m. Friday.
Results courtesy of pawrsl.com
Brookville 34 vs Greenville 22
138- Cole Aaron , (Brookville) Major Mike Lineman , (Greenville) 12-0
145- Zak Gilbert , (Brookville) Dec Mason Wilkerson , (Greenville) 6-4 OT
152- Caleb Hetrick , (Brookville) For , (Greenville) For
160- Josuha Christner , (Greenville) Dec Dominic Palmer , (Brookville) 4-2
170- Gavin Wilkerson , (Greenville) Dec Xavier Molnar , (Brookville) 14-10
182- Noah Cieleski , (Brookville) Dec Brenden Calvin , (Greenville) 5-3
195- Blake Reynolds , (Greenville) Fall Dane Clever , (Brookville) 0:59
220- Gage Gladysz , (Greenville) Dec Tyler Cook , (Brookville) 8-4
285- Byrce Town , (Brookville) Fall Mason Horne , (Greenville) 1:21
106- Aarrron Gelvin , (Greenville) Dec Keelan Kunselman , (Brookville) 4-3
113- Cabe Park , (Brookville) Dec Bryce Knauf , (Greenville) 4-3
120- Gavin Park , (Brookville) Dec Brayden Knauf , (Greenville) 9-2
126- Mason Karpinski , (Greenville) Major Dontae Constable , (Brookville) 9-1
132- Taylor Ortz , (Brookville) For , (Greenville) For
Clearfield 39 vs Jersey Shore 28
126- Hunter Blake , (Clearfield) Dec Isaiah Leone , (Jersey Shore) 1-0
132- Josiah McClarren , (Clearfield) Dec Austin Bouse , (Jersey Shore) 1-0
138- Logan Gilbert , (Clearfield) Dec Allen Saar , (Jersey Shore) 3-2
145- Tallin Norris , (Clearfield) Fall Collin McLaughlin , (Jersey Shore) 3:26
152- Seth Young , (Jersey Shore) Major Thayne Morgan , (Clearfield) 11-0
160- Hunter O`Connor , (Jersey Shore) Fall Hunter Wright , (Clearfield) 1:42
170- Hayden Swartwood , (Jersey Shore) For , (Clearfield) For
182- Luke McGonigal , (Clearfield) Fall Blake Neal , (Jersey Shore) 1:32
195- Levi Wisor , (Clearfield) Dec Brett Kepler , (Jersey Shore) 6-4 OT
220- Travis Ogden , (Clearfield) Dec Max Mason , (Jersey Shore) 1-0
285- Nate Lash , (Clearfield) Fall Brandon Barker , (Jersey Shore) 0:18
106- Jeremy Zydallas , (Jersey Shore) Fall Matt Ryan , (Clearfield) 3:40
113- Jude Pallo , (Clearfield) Fall Chavin Krape , (Jersey Shore) 3:32
120- Hunter Zondory , (Jersey Shore) Fall Cole Smay , (Clearfield) 0:31