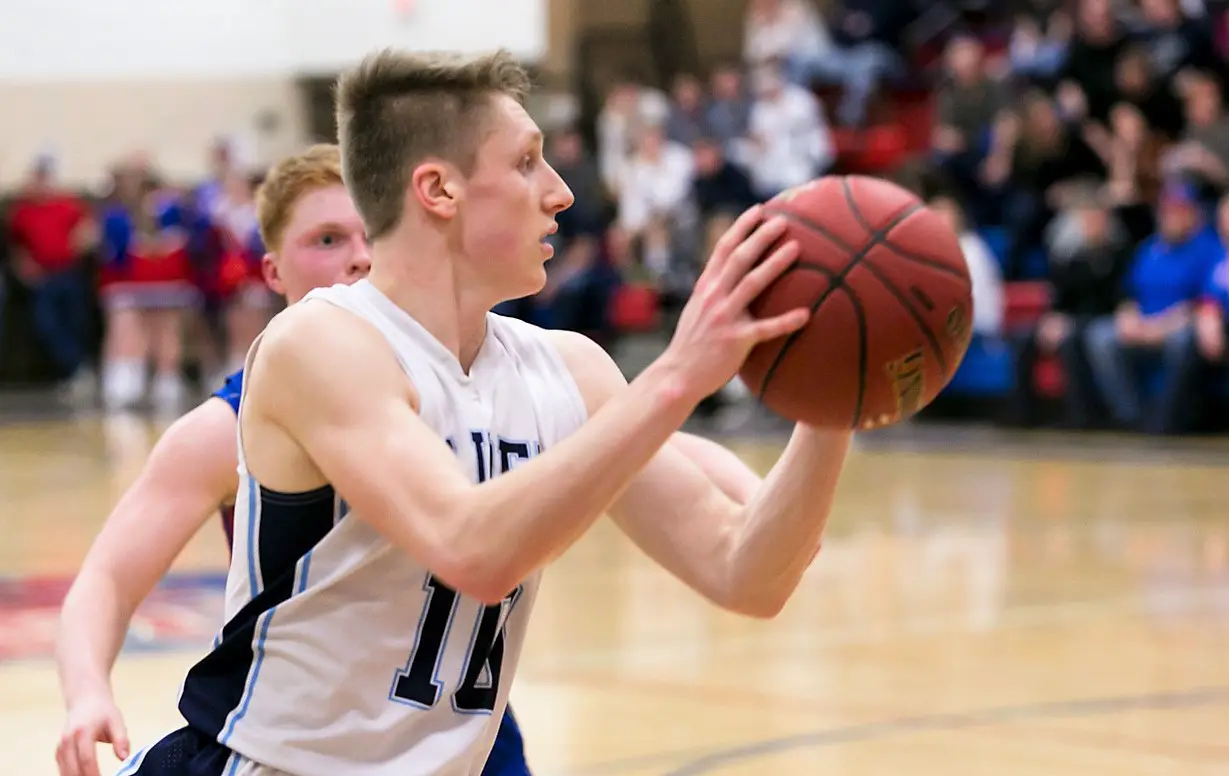 District 9 boys' basketball action Friday saw one team move into a District 9 title game – Brookville in Class 3A and three advanced into the semifinals – North Clarion, Elk County Catholic and Johnsonburg in Class 1A.
(Photo: Brookville's Bryan Dworek looks to make a play during Friday's D9 3A semifinal win over Kane. Dworek had a team-high 16 points for the Raiders. Photo by Tessa Boschert. Check out more of Boschert's work here)
Here is a look at each of those games:
BROOKVILLE 56, KANE 47
ST. MARYS, Pa. – Leading from start to finish, Brookville earned a rematch with Karns City in the Class 3A Championship game with a 56-47 semifinal win over Kane at St. Marys High School.
The second-seeded Raiders (14-9) lost 56-51 to Karns City in last year's final. The top-seeded Gremlins received a bye into the finals in the three-team bracket. The game will be played sometime next week with no announcement as of Friday night.
The Raiders put three players in double-figure scoring, led by Bryan Dworek's 16 points. Trenton Gilhousen and Aaron Park scored 11 and 10 points respectively with Park leading the team with nine rebounds.
Kane, the third seed, got a big game from Chad Greville, who scored 26 points with four 3-pointers and 11 points coming in the fourth quarter. Austin Pierson had 10 points.
Brookville led 30-19 by halftime and by as many as 14 in the third quarter at 38-24. Kane got as close as eight points in the fourth quarter, but the Raiders made 8 of 11 free throws in the final eight minutes. They were 14-for-17 for the game.
NORTH CLARION 63, A-C VALLEY 53
CLARION, Pa. – Top-seeded North Clarion used a strong second quarter and a big game from 6-foot-7 junior Kyle Mills to knock off upset-minded A-C Valley, the eighth seed, 63-53, at Clarion High School.
Relisten to the game
The Wolves (20-3) trailed 12-11 after a quarter but outscored the Falcons (9-14) 19-8 in the second quarter thanks to 10 points from Mills, who finished the game with a team-high 18 points and 10 rebounds, to take a 30-20 halftime lead.
Mills talked about the win.
A-C Valley made a run at the Wolves in the third quarter and closed the gap to four, 36-32, thanks in large part to 10 points from sophomore Eddie Stevanus, who finished with a game-high 19 to go with nine rebounds.
But Mills had a putback that started an 8-0 run for North Clarion that allowed the Wolves to maintain a 10-point lead, 44-34, going to the fourth quarter.
That lead quickly grew to 16, 54-38, early in the quarter thanks to seven points from Nathan Banner, who finished with 16 points and five rebounds. Banner is now three points shy of 1,000 in his career.
Jeff Ginn chipped in nine points and nine boards for A-C Valley.
North Clarion will take on fourth-seeded Johnsonburg, a 42-30 winner over Otto-Eldred in the semifinals sometime next week at a site, time and date to be announced.
ELK COUNTY CATHOLIC 69, OSWAYO VALLEY 24
BRADFORD, Pa. – Elk County Catholic used a stellar defensive effort to roll to its seventh consecutive District 9 Class 1A playoffs win with a 69-24 defeat of Oswayo Valley in the quarterfinals at Bradford High School.
The second-seeded Crusaders (20-5) limited the seventh-seeded Green Wave (11-12) to five made field goals in the contest.
Ryan Newton led ECC, which led 35-6 at halftime, with 15 points. Alec Wheeler and Logan Hoffman each added 11 tallies for the Crusaders, whose playoff win streak in District 9 dates back to the consolation game victory over Venango Catholic in the 2015 season.
Theo Henry led Oswayo Valley with 12 points while Gavin Babcock had six points on a pair of 3-pointers.
ECC will take on third-seeded Cameron County, who beat Austin Thursday night, in the semifinals next week at a site, time and date to be determined.
JOHNSONBURG 42, OTTO-ELDRED 30
BRADFORD, Pa. – Fourth-seeded Johnsonburg held the fifth-seeded Otto-Eldred scoreless for over nine minutes, spanning the end of the third and most of the fourth quarter, breaking open a four-point game en route to a 42-30 win in the District 9 Class 1A quarterfinals at Bradford High School.
Leading 26-22 with 2:26 left in the third quarter, the Rams defense clamped down and their offense went on an 8-0 run to end the period to give them a 34-22 lead after three.
Johnsonburg then Otto-Eldred scoreless until Cole Sebastian drained a three to make the score 42-25 with 1:36 remaining in the game.
"In the second half we knew we had to step up our defense in the second half to compliment our offense," Johnsonburg head coach Bill Shuey said. "We got some timely steals and some turnovers and were able to keep them off the boards."
Austin Green led a well-balanced Johnsonburg attack with 11 points while adding five rebounds. Kacey Raubenstrauch added nine points, six rebounds, four steals and three assists and Ben Freeburg chipped in eight points and seven rebounds for the Rams (17-7).
Sawyer Drummond paced Otto-Eldred (15-8) with 16 points and five rebounds. Jordan Sherwood and Sebastian each added five points for the Terrors and Dylan Close added four. Otto-Eldred shot just 28 percent from the field and turned the ball over 15 times.
Johnsonburg will take on top-seeded North Clarion in the semifinals next week at a site, date and time to be announced.