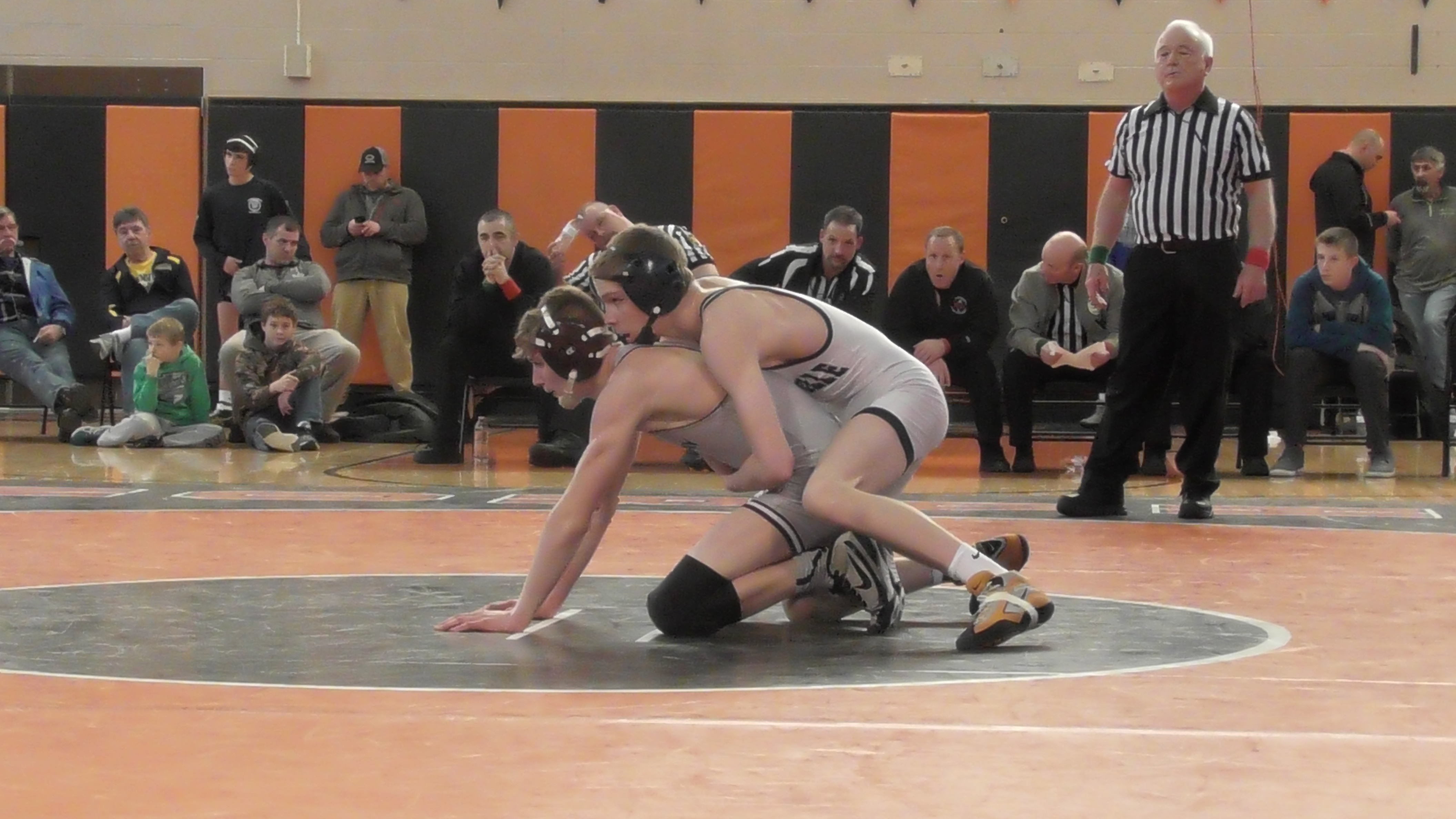 SHARON, Pa. — District 9 is sending 19 wrestlers to the PIAA Class AA Championships in Hershey after Saturday's Northwest Regional Tournament in Sharon.
Brookville leads the way with seven and Ridgway has five.
Here's a rundown of the D9 wrestlers who qualified for states and how they got there:
Brookville
The Brookville Raiders are sending seven to Hershey, including two champions. Two other Raiders were second while two were third and one fourth.
Gavin Park was Brookville's first champion. Park was dominant in his run to the title. Friday he won by major decision, 14-2, then kept the offense going with a 12-9 win over Saegertown's Kenny Kiser in the semifinals.
For the championship, Park had Reynolds's Andrew Ischo and he won 8-3. Park led 4-1 after one period before Ischo made it 4-3 in the second. After that, though, Park tightened up and cruised to the win.
"I am pleased with how I wrestled this weekend," Park said. "I got my offense going early in all the matches and I'm headed to states with the plan of winning it all."
At 152 pounds, Caleb Hetrick was the second Brookville wrestler to stand atop the medal stand after he pinned Sharpsville's Cameron Prebble with just three seconds left in the first period.
Hetrick also enjoyed a very good tournament. He opened with a 16-0 tech fall Friday, then tech falled Clarion's Mike LeFay, 15-0, in the semifinals.
At 113, Keelen Kunselman was second after dropping a tough, 3-2, decision to Ridgway's Kyle Bush. The Raider led 2-0 before Bush caught him and scored three back points in the second.
Kunselman reached the finals with a 14-2 major decision over Curwensville's Blake Passarelli.
At 220, Tyler Cook made the finals with a 3-1 win over Lakeview's Tyler Zebrovious, but in the finals, Cook got caught and was pinned late in the second period.
In the consolations, Brookville wrestlers were 2-1.
At 132, Dontae Constable dropped a quarterfinal match Friday, but he rallied with three straight close wins to take third.
Constable began his comeback Saturday morning with a 5-3 win over Hickory's Brandon Miller, then clinched a state berth with a 1-0 win over Northwestern's Garrett Kopp.
In the last match, Constable edged Bradford's Tyler Thompson, 3-2.
At 195, Xavier Molnar lost a tough 5-3 match to Greenville's Jake McMaster in the semifinals, but he won his last two to place third.
Molnar battled past Reynolds's Jarod Miller, 5-3, to reach states, then rolled past Saegertown's Tyler Brooks, 9-4.
At 182, Noah Cieleski dropped a 6-3 decision to Fort LeBoeuf's Julian Gorring in the semifinals.
In the consolations, Cieleski dominated Oswayo Valley's Grant West, 13-1, to clinch a PIAA berth. In the third-place match, he lost to Greenville's Brendan Calvin.
Ridgway
The Elkers are enjoying one of their best seasons in years and are sending five wrestlers to the PIAA Championships.
Ridgway's first champ was Kyle Bush at 113 pounds. Bush scored a 3-2 win over Brookville's Keelan Kunselman.
The Elkers had one runner-up in 132-pounder Lukas McClain. McClain dropped a 5-2 decision to Reynolds's Hunter Michaels.
McClain reached the finals with an 11-6 win over Haborcreek's Sam Sellott.
McClain's two brothers, 138-pounder Logan and 285-pounder Colton, will be joining him in Hershey.
Logan was third after getting a forfeit win over Titusville's Hunter Wagner.
Colton placed fourth after dropping a narrow, 3-2, decision to North East's Jeff Kraemer.
At 126, Bryce Barclay also finished fourth after dropping a 6-3 decision to Haborcreek's Nick Oosternkamp.
Barclay qualified for states by beating Port Allegany's Treyton Stiles, 3-1.
Curwensville
The Golden Tide have Blake Passarelli headed to Hershey after he placed fourth at 113 pounds. Passarelli dropped a 5-2 decision to Fort LeBoeuf's Isaac Crowell.
In the consy semifinal, Passarelli beat Greenville's Aarron Gelvin, 6-3.
Brockway
The Brockway Rovers will be represented by freshman 106-pounder Anthony Glasl after he placed second.
Glasl beat Fort LeBoeuf's Steven McGarvie 8-5 in the semifinals.
In the finals, he had a tough draw with Reynolds's Beau Bayless, but didn't back down despite dropping an 8-1 decision.
Port Allegany
Jake Kallenborn placed second after losing to Reynolds's Gavin Wilkerson, 10-4.
In the semifinals, Kallenborn scored an 11-2 win over Brockville's Clayton Peace.
Coudersport
The Falcons are sending Gage Arnold to states after he placed third at 160 pounds.
Arnold beat Union City's Gavin Henry, 9-3, then topped Iroquois's Joe Galvin, 4-3.
Kane
Aiden Hulings, 152 pounds, will represent the Wolves in Hersey after placing fourth. In the consolations, he edged Haborcreek's Shane Watkins, 3-1, then pinned Clarion's Mike LeFay.
Cranberry
The Cranberry Berries are sending one wrestler – Josh Hancock – to the PIAA Championships.
Hancock worked his way back from a quarterfinal loss Friday at 145 pounds to reach the third-place match against Saegertown's Jude Mattocks where he dropped a 12-6 decision to place fourth.
But before that, Hancock won two straight matches to clinch a spot at states.
First, he beat Slippery Rock's Mike Antal, 5-2, then shut out Kane's Alec English, 8-0, to reach the place match.
Bradford
Tyler Thompson was fourth after a 3-2 loss to Brookville's Dontae Constable at 132 pounds. Thompson had to work hard to get to states after a quarterfinal loss to Hunter Michaels of Reynolds.
He started with a pin of Lakeview's Dylan McConnell, then decisioned Johnsonburg's Devon Norlin, 9-4. To clinch a state berth, Thompson beat Harborcreek's Sam Sallott, 7-4.