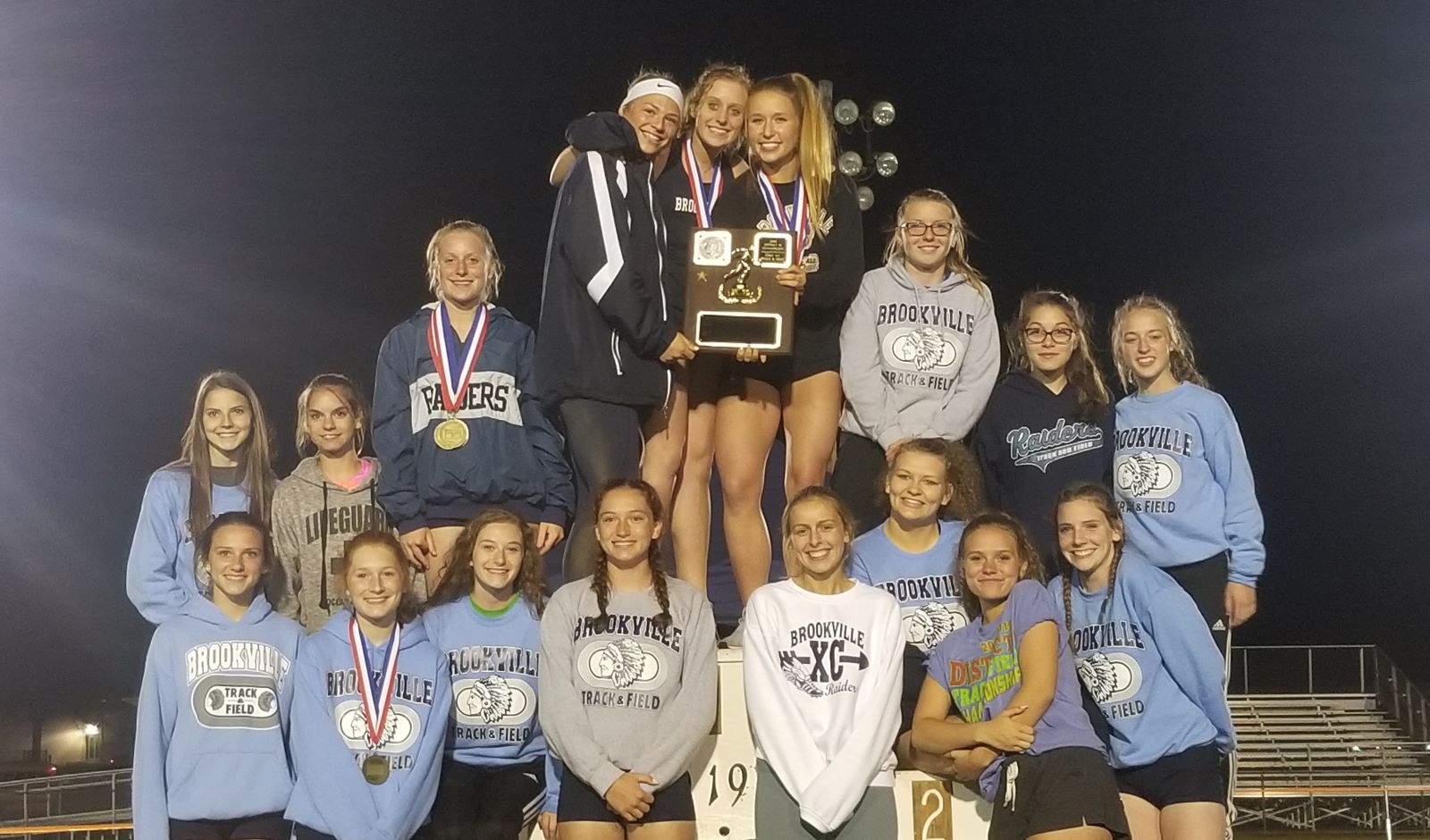 BROOKVILLE, Pa. – For the second time in three years, Brookville claimed the District 9 Class 2A girls' track and field title topping second-place Johnsonburg 92.5 points to 69 points.
Clarion finished third with 58 points just ahead of fourth-place Elk County Catholic, who scored 55 points.
Laken Lewis of Clarion won the James Manners Award as the meet's MVP after winning the pole vault (11-feet, 6-inches) and the triple jump (34-1) and finished second in the high jump (5-0). She beat Moniteau's Kendall Grossman in the pole vault by needing fewer tries to clear the 11-6 height with both athletes setting the meet record at 11-6. Grossman held the previous meet mark of 11-4 set last season.
Lewis talked about her triple jump victory.
The top two finishers in each event plus anyone reaching a PIAA qualifying mark qualified for next weekend's PIAA Championships in Shippensburg.
Brookville had three state qualifiers including a pair of District 9 champions.
Freshman Morgan Monnoyer won the 100-meter dash in a time of 12.95 seconds.
She talked about winning.
The Lady Raiders also are taking two to states in the hurdles.
Brooke Quairiere won the 100-meter hurdles in a time of 15.65, while Dani MacBeth was second in the 300-meter hurdles in a time of 48.03.
A pair of Brookville relay teams also took home gold medals.
The 4×100-meter team of Madison Johnson, Morgan Johnson, MacBeth and Monnoyer won in a time of 50.46, while the 4×400-meter team of Emily Martz, Madison Johnson, Morgan Johnson and MacBeth took home the title in a time of 4:13.98.
Johnsonburg had three champions.
Amanda Williams won the 800-meter run in a time of 2:20.84, Chloe Trumbull took home gold in the 300 hurdles in a time of 47.47 and Skylar Sherry won the javelin with a toss of 129-1.
Trumbull talked about her 300 hurdles victory.
Also going to states for the Ramettes are Madeline Cowan, who took second in the 200-meter dash (26.94) and the 4×100 relay team of Cowan, Gina Gerg, Cassidy King and Williams, which took second in a time of 50.87.
Clarion had one other champion in addition to Lewis with freshman Evelyn Lerch winning the 400-meter dash in a time of 1:00.05.
Lerch talked about her title.
Also for the Lady Cats, Phylicia Hockman qualified for states by taking second in the 800 in a time of 2:22.76.
Elk County Catholic had three champions.
Olivia Sorg won the 200 (26.52), Taylor Newton defended her high jump title (5-6) and Maddie Kear won the long jump (16-11). Newton's mark in the high jump tied the meet record which was first set by ECC's Laura Lynch in 1978 and tied by Newton last year.
A-C Valley is sending a pair to states, as senior Kylee Eaton, who had never thrown the shot put before this season, claimed the District 9 title with a toss of 35-4, and freshman Baylee Blauser took second in the long jump with a leap of 16-9.
Eaton talked about winning the shot put title in her first year of competing in the event.
Kane is sending two individuals and a relay to PIAAs.
The Lady Wolves 4×800-meter relay team of Hannah Brown, Krisalyn Rhodes, Emily Peterson and Madison Koza won the event in a time of 10:23.53, while Emily Peterson was second in the 1,600-meter run (5:36.72) and Sierra Hillman was second in the javelin with a toss of 117-10.
Northern Potter's Amanda Ford won the 1,600 with a time of 5:28.74, and Karns City's Sara Knox won the discus with a toss of 107-4.
Ford talked about winning the 1,600.
Also headed to states with second-place finishes are DuBois Central Catholic's Maria Alanskas in the 100 (13.00), Clearfield's Avry Gumblatt in the 400 (1:01.20), Moniteau's Tayinna Johnson in the 100 hurdles (16.40), Cameron County's Kamme Guisto in the triple jump (33-7 ¼), Keystone's Tessa Weaver in the shot put (34-3 3/4 ) and Coudersport's Rosalyn Page in the discus (104-8).
The Clearfield 4×400 relay team of Hazel, Gumblatt, Abby LaBorde and Lydia Brown (4:15.02) and the Redbank Valley 4×800 relay team of Quinn Fricko, Emma Huffman, Carly Shick and Ryleigh Smathers (10:33.56) each grabbed second-place endings as well.