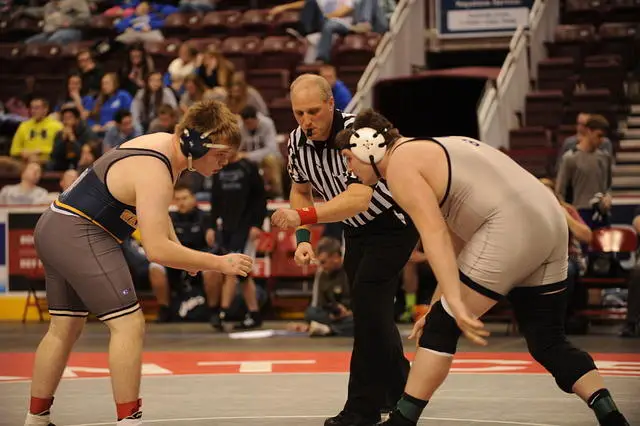 HERSHEY, Pa. – Brookville moved into the PIAA Class AA Team Wrestling Quarterfinals with a 32-25 win over Montoursville Thursday, while Clearfield dropped into the AAA consolation bracket after falling to Boyertown, 61-12.
Brookville, who will face Greenville in the quarterfinals at noon Friday, won eight of the 13 bouts wrestled (the Raiders forfeited at 145 pounds after taking an insurmountable lead) including getting pins from Xavier Molnar at 170 pounds and Bryce Town at heavyweight.
"You're not going to come down here and blow through teams," Brookville head coach Dave Klepfer said. "They came after us. We didn't get the right starting weight to what was good for us and Dom (Palmer) came right out and got an upset. He wrestled great."
Molnar's pin at 170 pounds of Jacob Riedy 1:43 into the bout ended a strong opening stretch for the Raiders that staked them to 12-0 lead right out of the gate.
The match started at 152 pounds, and Palmer put Brookville up 3-0 when he won a surprising 2-0 victory over Jacob Strassner thanks to reversal with just 33 seconds left in the third period.
Caleb Hetrick followed Palmer's last-minute victory with a convincing 7-1 win over Michael Forney that staked the Raiders to a 6-0 lead, and Molnar followed with his pin and a quick 12-0 advantage.
But the lead was short lived, as Montoursville scored 13 points in the next three bouts to go up 13-12.
Garrett Hoffman got the Warriors on the board when he won a 17-4 major decision over Brookville's Noah Cieleski to cut the deficit to 12-4.
Gavin Hoffman followed by pinning Dane Clever 1:01 into the 195-pound bout and it was all of a sudden just a two-point lead for the Raiders, 12-10.
Ben Carney then gave Montoursville the lead, the only one it held on the day, when he beat Tyler Cook, 2-1 in the second rideout period.
Town, though, wasted little time in giving Brookville the lead back, 18-13, when he pinned Michael Martin at the 3:56 mark of the heavyweight bout.
That pin started a stretch of three straight victories for the Raiders that gave them 24-13 lead.
Keelan Kunselman followed Town by edging Wyatt Lutz, 6-4, after going up 5-0 after two periods in the 106-pound bout.
Cabe Park then beat Isaiah Gingerich 10-4 at 113 pounds to push the lead to 11, 24-13.
Montoursville wasn't going down without a fight, though, picking up decisions in the next two bouts to close to within five, 24-19.
At 120 pounds, Morgan Comini picked up a 3-2 win on a questionable stalling point call with under five seconds to go in a 2-2 bout. Comini had tied at it on two on late third-period reversal.
Gable Crebs then beat Kai Sorbin 4-2 on a third-period reversal by Crebs that broke a 2-all tie.
Top-ranked Taylor Ortz, picked up a huge 17-2 technical fall for Brookville over Charles Steinbacher at 132 pounds to push the Raiders lead to 29-19.
Cole Aaron then won the match for the Raiders when he beat Kyle Bennett 7-0.
With the lead now at 13, Brookville chose not to wrestle the 145-pound bout giving Montoursville a meaningless forfeit win at the that weight to set the final score.
Brookville beat Greenville, 35-27, at the Ultimate Duals in Brookville in January.
CLEARFIELD NO MATCH FOR DISTRICT 1 CHAMPION
Boyertown, the District 1 champion and ranked third in the state, picked up eight pins and two technical falls to get the huge 61-12 win over Clearfield.
Clearfield did have a few bright spots in the match including a pun by Travis Ogden of Brody O'Connell at the 5:44 mark of the 195 bout.
The Bison also got decisions from Tallin Norris at 145 pounds and Luke McGonigal at 170 pounds.
Norris decisioned Chris Berry, 10-3, at 145 pounds and McGonigal won a 9-2 decsion over Elijah Jones at 170 pounds.
Clearfield will face Jersey Shore in the consolation bracket at 10 a.m. Friday.
BROOKVILLE 32, MONTOURSVILLE 25
Results courtesy of pawrsl.com

152- Dominic Palmer , (Brookville) Dec Jacob Strassner , (Montoursville) 2-0
160- Caleb Hetrick , (Brookville) Dec Michael Forney , (Montoursville) 7-1
170- Xavier Molnar , (Brookville) Fall Jacob Riedy , (Montoursville) 1:43
182- Garrett Hoffman , (Montoursville) Major Noah Cieleski , (Brookville) 17-4
195- Gavin Hoffman , (Montoursville) Fall Dane Clever , (Brookville) 1:01
220- Ben Cerney , (Montoursville) Dec Tyler Cook , (Brookville) 2-1 (Tiebreaker)
285- Byrce Town , (Brookville) Fall Michael Martin , (Montoursville) 3:56
106- Keelan Kunselman , (Brookville) Dec Wyatt Lutz , (Montoursville) 6-4
113- Cabe Park , (Brookville) Dec Isaiah Gingerich , (Montoursville) 10-4
120- Morgan Comini , (Montoursville) Dec Gavin Park , (Brookville) 3-2
126- Gable Crebs , (Montoursville) Dec Kai Sorbin , (Brookville) 4-2
132- Taylor Ortz , (Brookville) TF Charles Steinbacher , (Montoursville) 17-2
138- Cole Aaron , (Brookville) Dec Kyle Bennett , (Montoursville) 7-0
145- Keith Batkowski , (Montoursville) For , (Brookville) For
BOYERTOWN 61, CLEARFIELD 12
Results courtesy of pawrsl.com
120- David Campbell , (Boyertown) Fall Cole Smay , (Clearfield) 0:46
126- Lucas Miller , (Boyertown) Fall Hunter Blake , (Clearfield) 4:43
132- Garrett Mauger , (Boyertown) Fall Josiah McClarren , (Clearfield) 1:56
138- John Cooley , (Boyertown) Fall Logan Gilbert , (Clearfield) 1:05
145- Tallin Norris , (Clearfield) Dec Chris Berry , (Boyertown) 10-3
152- Hunter Vogels , (Boyertown) Fall Zane Morgan , (Clearfield) 3:47
160- Zakary Reck , (Boyertown) Dec Hunter Wright , (Clearfield) 7-4
170- Luke McGonigal , (Clearfield) Dec Elijah Jones , (Boyertown) 9-2
182- Gregg Harvey , (Boyertown) TF Levi Wisor , (Clearfield) 17-2 4:10
195- Travis Ogden , (Clearfield) Fall Brody O`Connell , (Boyertown) 5:44
220- Jordan Wood , (Boyertown) Fall Nate Lash , (Clearfield) 1:00
285- Tommy Killoran , (Boyertown) Fall Hunter Bumbarger , (Clearfield) 0:22
106- Matt Wilde , (Boyertown) TF Matt Ryan , (Clearfield) 20-5 5:10
113- Jakob Campbell , (Boyertown) Fall Jude Pallo , (Clearfield) 3:21