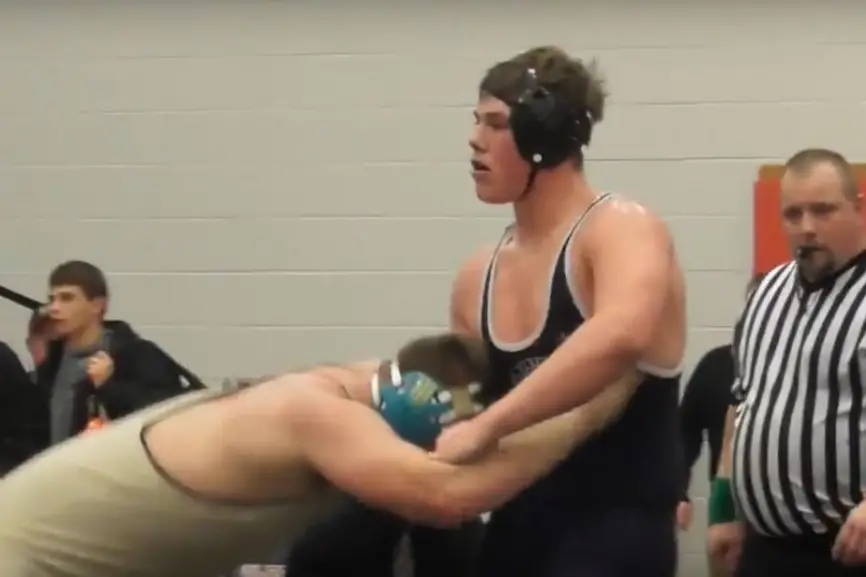 DUBOIS, Pa. – In a battle of two of the top teams in District 9, Brookville dominated the upper weights to pick up a 40-24 win at DuBois Thursday night.
(Photo: Brookville's Colby Whitehill picked up a pin at heavyweight in the Raiders win at DuBois Thursday)
Starting the match at 152 pounds, the Raiders won six matches in a row on the mat from 160 pounds through heavyweight and then picked up a forfeit win at 106 pounds to take a commanding 34-3 lead.
That was more than enough to withstand a DuBois advantage in the lower weights, as the Beavers won four of the six bouts between 113 pounds and 145 pounds.

District 9 wrestling coverage on D9Sports.com is brought to you by Luton's Plumbing, Heating, and Air Conditioning.
Picking up pins for Brookville (13-2) were Wyatt Griffin at 160 pounds over Gauge Gulvas (2:56), Nathan Taylor at 195 pounds over Ryan White (2:31) and Colby Whitehill at heavyweight over Alex O'Harah (2:18). The Raiders also got a major decision from Tanner LaBenne at 220 pounds where he topped John Pendleton, 12-0.
Additional wins in the upper weights for Brookville included a 12-7 decision by Elliot Park over Garrett Starr at 170 pounds and a 3-1 sudden victory win for Braden MacBeth over Eric Schneider at 182 pounds.
The lone DuBois win the match's first eight weight classes came on the first bout of the night at 152 pounds when Dalton Woodrow topped Jacob Cable, 1-0.
But after surrendering a forfeit to Owen Reinsel at 106 pounds, the Beavers (11-1) hit their stride winning four of the next five bouts with pins coming from Kam Stevenson at 113 pounds over Josh Popson (1:00), from Chandler Ho over Zack Keihl at 1266 pounds (1:17) and from Ed Scott at 138 pounds over Wyatt Kulik (3:48). DuBois also got a 5-0 decision from Trenton Donahue over Cabe Park at 132 pounds.
Brookville picked up a pair of decisions in the lower weights that helped keep the match in the Raiders favor with Cayden Walker topping Braxton Adams, 4-2, at 120 pounds and Cody Hetrick beating Ryan Gildersleeve, 8-4, at 145 pounds.
MATCH SUMMARY
(Match started at 152 pounds)
152 – Dalton Woodrow (DuBois) over Jacob Cable, 1-0 (DuBois 3-0)
160 – Wyatt Griffin (Brookville) over Gauge Gulvas, Fall at 2:56 (Brookville 6-3)
170 – Elliot Park (Brookville) over Garrett Starr, 12-7 (Brookville 9-3)
182 – Braden MacBeth (Brookville) over Eric Schneider, 3-1 Sudden Victory (Brookville 12-3)
195 – Nathan Taylor (Brookville) over Ryan White, Fall at 2:31 (Brookville 18-3)
220 – Tanner LaBenne (Brookville) over John Pendleton, 12-0 (Brookville 22-3)
285 – Colby Whitehill (Brookville) Over Alex O'Harah, Fall at 2:18 (Brookville 28-3)
106 – Owen Reinsel (Brookville) Forfeit win (Brookville 34-3)
113 – Kam Stevenson (DuBois) over Josh Popson, Fall at 1:00 (Brookville 34-9)
120 – Cayden Walker (Brookville) over Braxton Adams, 4-2 (Brookville 37-9)
126 – Chandler Ho (DuBois) over Zack Keihl, Fall at 1:17 (Brookville 37-15)
132 – Trenton Donahue (DuBois) over Cabe Park, 5-0 (Brookville 37-18)
138 – Ed Scott (DuBois) over Wyatt Kulik, Fall at 3:48 (37-24)
145 – Cody Hetrick (Brookville) over Ryan Gildersleeve, 8-4 (Brookville 40-24)