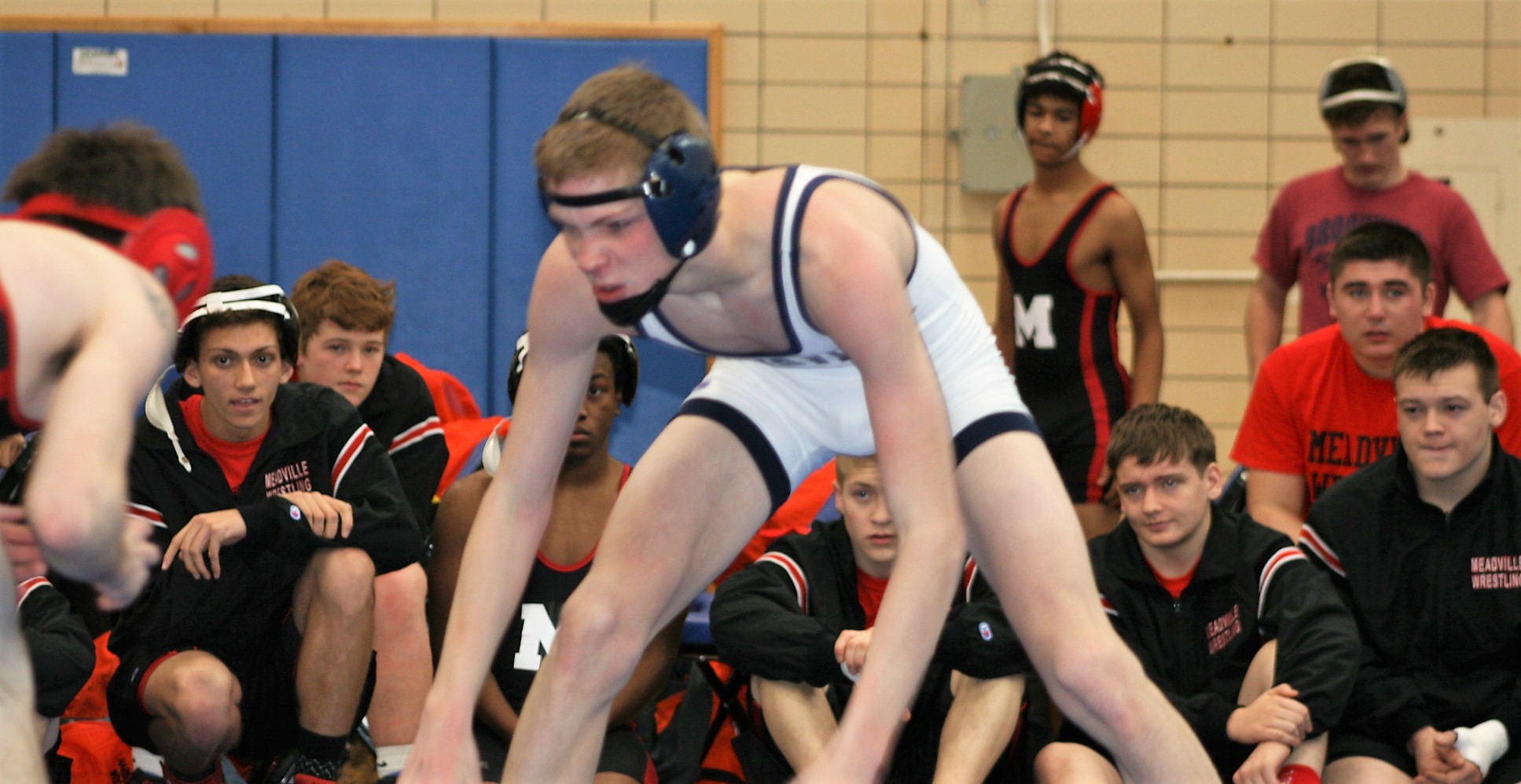 By Dave McClaine
CLARION, Pa. – Brookville showed why it was the No. 2 ranked team in the state with a 59-6 win at Clarion Tuesday night.
(Photo of Brookville's Keelan Kunselman, who got a pin at 120 pounds)
"It's early yet, in the season," Brookville head coach Dave Klepfer said. "I feel like all of our guys are competing pretty hard. We've got a lot of new faces in the lineup, so we're doing a lot of good things but are also making a lot of mistakes. The encouraging thing is that it is early and we've got a lot of time to work on that stuff."
While the score was lopsided in Brookville's favor, a number of the matches were hard fought throughout.
"Tonight, we kind of saw what Brookville was all about and why they're ranked second in the state," Clarion first-year head coach Brian Luton said. "But, I'll tell you what, our kids went out and fought. We didn't get caught on our back too much. We battled for three periods. If we can do that all season, we'll correct some of the mistakes we made tonight and try to go back out the next outing and make improvements until we get to districts. If the guys do that, we'll be where we need to by the end of the season."
Klepfer was impressed with the fight he saw in the Bobcats.
"Credit to their guys," Klepfer said. "We had them in a couple of tight situations, on their back and Clarion fights. They've got a lot of fighters on their team. They're well coached. I feel, like, towards the end of the year, they are going to be a better team. We were a little better at a couple of weights. There were a few close bouts. They got us in a couple of close ones. So, our job moving forward is to try to reverse those and get them back in the postseason."
The match ran in the traditional order starting at 106 pounds and ending at heavyweight.
And that meant the Raiders had the early advantage, 6-0, because Clarion currently doesn't have a 106 pounder.
Brookville quickly moved to 9-0 when Ryan Park of Brookville won a hard-fought, 2-0, battle over Logan Dehner at 113 pounds with Park scoring the bouts only points on a first-period takedown.
The lead grew to 15-0, with Keelan Kunselman registering a first period fall over Zeke Brewer at 120. Gavin Park got the Raiders' second forfeit of the night, at 126, followed by Kai Sorbin's second fall against Clarion's Blake Phillips, at 132, to move the score to 27-0 Brookville.
At 138, the Raiders' Dontae Constable and Clarion's Frank Weber had a good match. Constable led 4-2 after one. Neither wrestler scored in the second, but five points by Constable in the third sealed a 7-2 win, to move the score to 30-0.
Clarion won the next two matches.
At 145, Brookville's Jake Cable had a first-period takedown on Ryley McMasters, who answered with an escape making the score 2-1, Cable. Neither wrestler scored in the second. The third saw McMasters who started on the bottom, get an escape followed by a takedown to register the 4-2 win and put Clarion on the scoreboard with three team points.
Then at 152, Clarion's Mike LeFay registered a first-period takedown on Raider Josh Keesecker who countered with an escape giving LeFay a 2-1 lead. Keesecker had an escape and takedown, in the second, to take a 4-2 lead. The two battled back and forth in the third, with LeFay coming away with an 8-7 win, and narrowing the team score to 30-6, Brookville.
Brookville won the remaining matches.
Caleb Hetrick downed Colton Rapp 8-1 at 160 followed by Clayton Peace's 11-3 major decision over Seth Nellis, at 170. Noah Cieleski registered a first-period fall against Colt Stimmell at182. Xavier Mohner had a 10-1 major decision at 195, moving the score to 47-6.
"The score doesn't look that great," Luton said. "But it was a lot closer, in the matches. There were a lot of contested matches, until late in the third period. That's all I asked the guys to do. I think, in a sense, they knew what they were up against. And as long as we keep making strides, I'm ok with the performance tonight."
Tyler Cook had a forfeit win at 220 and Tanner La Benne was victorious over Matt Coleman, with a second period fall at 285, setting the final at 59-6.
"(We have) a pretty good group, five state qualifiers from last year back," Klepfer said. "We sprinkled in a couple of seniors who have paid their dues the last couple of years, wrestling JV and now they are finally getting their chance."