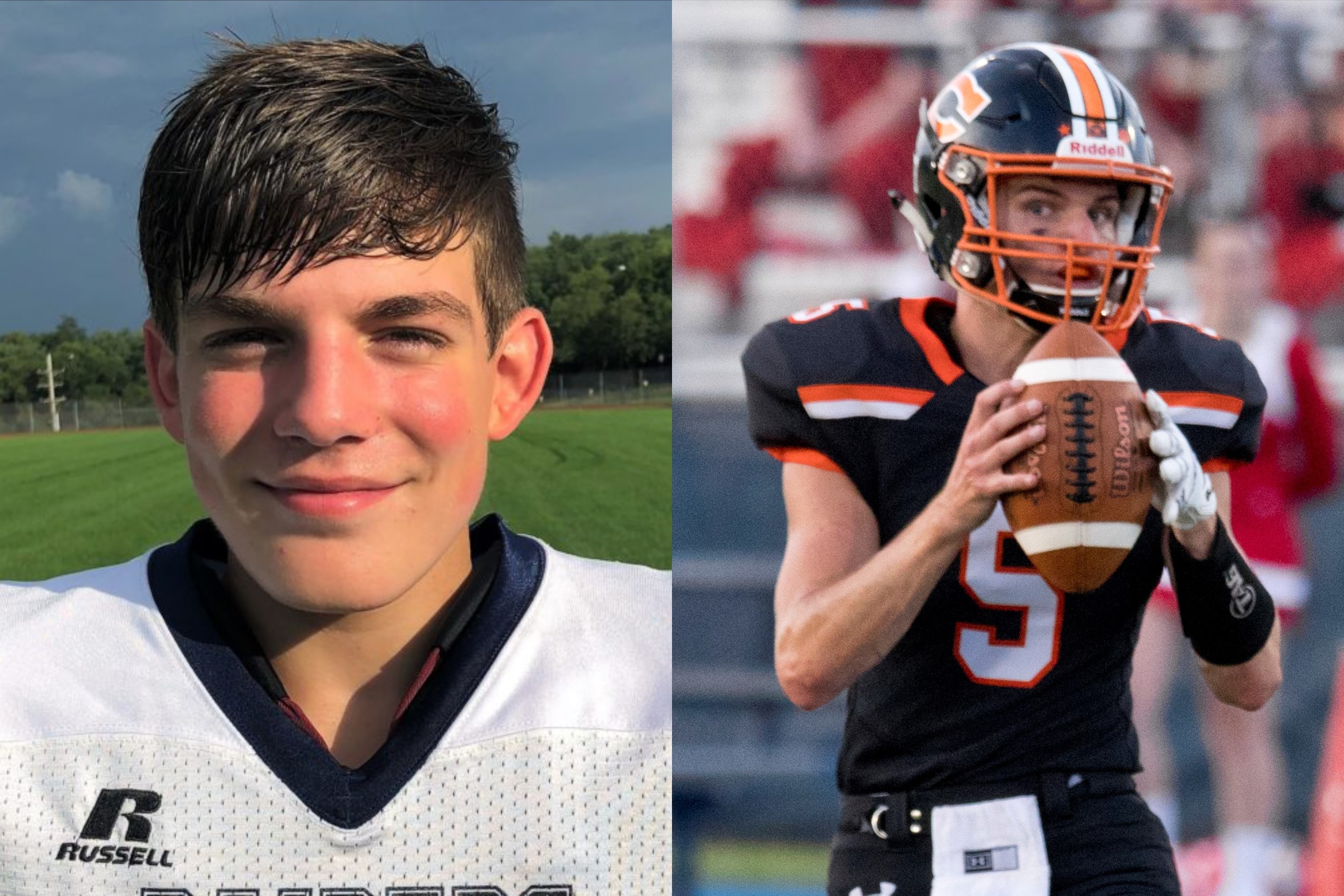 SHIPPENVILLE, Pa. – A pair of career nights from quarterbacks in less-than-ideal conditions earn Brookville's Robert Keth and Clarion's Archer Mills the Week Four 2018 D9Sports.com District 9 Co-Football Player of the Week award.
(Photo: Robert Keth (left) and Archer Mills)
Keth, a sophomore making his second career start after starting the season fourth on the Raiders depth chart, was 28 of 40 for 446 yards, three touchdowns and two interceptions in the Raiders come-from-behind-after-being-ahead 35-28 win over visiting Karns City. After blowing a 20-7 lead, Keth helped Brookville overcome a 28-20 deficit by leading two scoring drives in the final 7:04 including throwing the game-winning touchdown pass to Ian Thrush with 3:59 to play.
Mills, meanwhile, showed a dual-threat ability in Clarion's 42-0 win over St. Marys having a hand in all 42 of the Bobcats points.
He scored a pair of touchdowns on the ground rushing four times for 72 yards and also threw four scores going 11 of 12 passing for 188 yards. To boot (pun intended) he kicked all six extra points for Clarion in the victory.
Joining Keth and Mills in being honored this week are 15 players on the District 9 Honor Roll for Week Four.
The Player of the Week and Honor Roll honors will continue through the conclusion of the regular season.
D9SPORTS.COM PLAYER OF THE WEEK
---
Robert Keth – Brookville: After starting the season fourth on the Raiders depth chart at QB, went 28 of 40 for 446 yards, 3 touchdowns and 2 interceptions in his second varsity start; Led Brookville to two scores in the final 7:04 of the game to overcome an 8-point deficit including throwing a 45-yard touchdown to Ian Thrush for the game-winning points with 3:59 to play – Brookville 35, Karns City 28
Archer Mills – Clarion: 11 of 12 passing, 188 yards, 4 touchdowns; 4 carries, 72 yards, 2 touchdowns; 6 of 6 on extra points – Clarion 42, St. Marys 0
D9SPORTS.COM HONOR ROLL
---
Bryan Dworek – Brookville: Caught a school-record 17 passes for 240 yards, 1 touchdown – Brookville 35, Karns City 28
Ian Thrush: Brookville: 6 catches, 158 yards, 2 touchdowns; Caught game-winning touchdown with 3:49 to play – Brookville 35, Karns City 28
Sam Minich – Clarion: 6 catches, 169 yards, 4 touchdowns – Clarion 42, St. Marys 0
Justin Goodman – Clarion-Limestone:Played a key role on the offensive line in opening up running room for the Lions to rush for 407 yards on the night while gaining 472 yards of total offense – Clarion-Limestone 42, Redbank Valley 16
Austin Newcomb – Clarion-Limestone: 27 carries, 275 yards, 2 touchdowns; 2 catches, 38 yards, 1 touchdown; Intercepted a pass on defense – Clarion-Limestone 42, Redbank Valley 16
Caleb Freeland – Clearfield: 8 carries, 105 yards, 4 touchdowns; 1 catch, 8 yards; 5 tackles – Clearfield 49, Central Mountain 7
Jake Lezzer – Clearfield: 5 catches, 132 yards, 2 touchdowns; 2 carries, 18 yards – Clearfield 49, Central Mountain 7
Isaac Rumery – Clearfield: 10 of 13 passing, 173 yards, 3 touchdowns; 3 carries, 42 yards; 3 tackles – Clearfield 49, Central Mountain 7
Stephen Kelly – Coudersport: 12 carries, 210 yards, 3 touchdowns – Coudersport 61, Port Allegany 0
Noah VonGunden – Curwensville: 11 of 16 passing, 136 yards, 2 touchdowns; 3 tackles, 1 interception on defense – Curwensville 30, Keystone 14
Stephen Bobby – Elk County Catholic: 29 carries, 197 yards, 2 touchdowns – Elk County Catholic 42, Union/A-C Valley 6
Hunter Jones: Karns City: 27 carries, 191 yards, 2 touchdowns – Brookville 35, Karns City 28
Chance Nagy – Moniteau: 5 carries, 81 yards; Scored game-winning touchdown with 4:16 to play on an 81-yard run; 3 of 9 passing, 75 yards, 1 touchdown – Moniteau 12, Bradford 7
Daunte Allegretto – Ridgway: 2 interceptions; 4 tackles, 1 catch, 29 yards – Ridgway 20, Brockway 7
Nathan Hollowell – Smethport: 20 carries, 100 yards, 2 touchdowns – Smethport 22, Otto-Eldred 20
2018 PLAYERS OF THE WEEK
---
Week Zero: Jack Krug, Brookville
Week One: Caleb Freeland, Clearfield
Week Two: Austin Newcomb, Clarion-Limestone
Week Three: Jake Lezzer and Isaac Rumery, Clearfield
Week Four: Robert Keth, Brookville and Archer Mills, Clarion
Week Five: TBA
Week Six: TBA
Week Seven: TBA
Week Eight: TBA
Week Nine: TBA