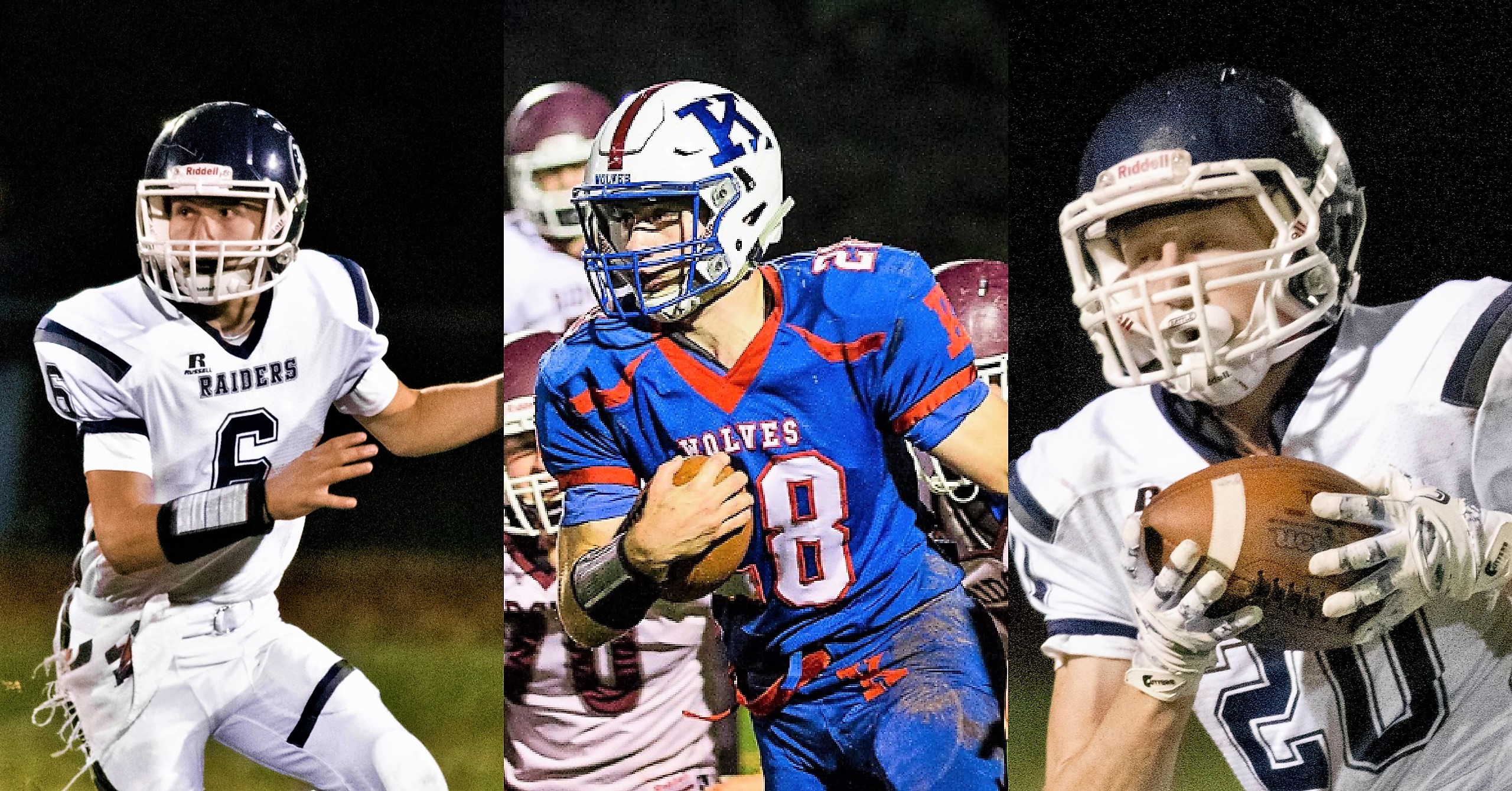 SHIPPENVILLE, Pa. – Frank Varischetti's influence on the Brookville Raiders offense in 2017 was well known, and that continues with the release of the final District 9 offensive leaderboard.
(Cover photo from left: Jon Krug, Erik DeLong, Bryan Dworek)
A pair of Raiders are on top with freshman quarterback Jack Krug finishing as the top passer in District 9 with 2,856 yards and 40 touchdowns just edging Clarion-Limestone senior Brenden Makray, who finished with 2,785 yards and 34 touchdowns, and junior wide receiver Bryan Dworek leading the district with 1,406 receiving yards, the fourth most in D9 history, and 21 touchdowns, the second most in D9 history, topping C-L's Kyle Kerle, who finished with 1,165 yards and 14 scores.
Kane's Erik DeLong, a senior, topped the District 9 rushing leaderboard with 1,794 yards and 23 touchdowns just edging Curwensville's Nick Stewart, the all-time leading rusher in District 9 history, by four yards (1,790 yards and 27 touchdowns) ending Stewart's two-year run on top of the rushing leaderboard – he finished his career finishing second in D9 in rushing twice and first twice.
For the second straight year, 14 quarterbacks topped 1,000 yards passing including five over 2,000 yards, which is the first time that has happened in D9 history. Joining Krug and Makray in the 2,000-yard club were Clearfield junior Isaac Rumery (2,643), Otto-Eldred senior Sawyer Drummond (2,199) and Kane senior Reed Williams (2,120).
Two additional District 9 receivers hit the 900-yard mark with Punxsutawney's Tyler Richardson finishing third with 981 and DuBois' Kyle Hopson fourth with 922.
Seven District 9 running back topped 1,000 yards with Clarion's Colton Rapp just getting over the mark Saturday and finishing seventh in D9 with 1,002 yards. Redbank Valley's Clint Thurston was third (1,560), Bradford's John Eakin was fourth (1,518), Karns City's Dalton Beham was fifth (1,341) and Ridgway's Neil MacDonald was sixth (1,098).
The complete leaderboard on offense can be found below or by clicking here.
[pdf-embedder url="https://d9sports.com/wp-content/uploads/2017/11/2017-District-9-Football-Stats-2.pdf" title="2017 District 9 Football Stats 2″]