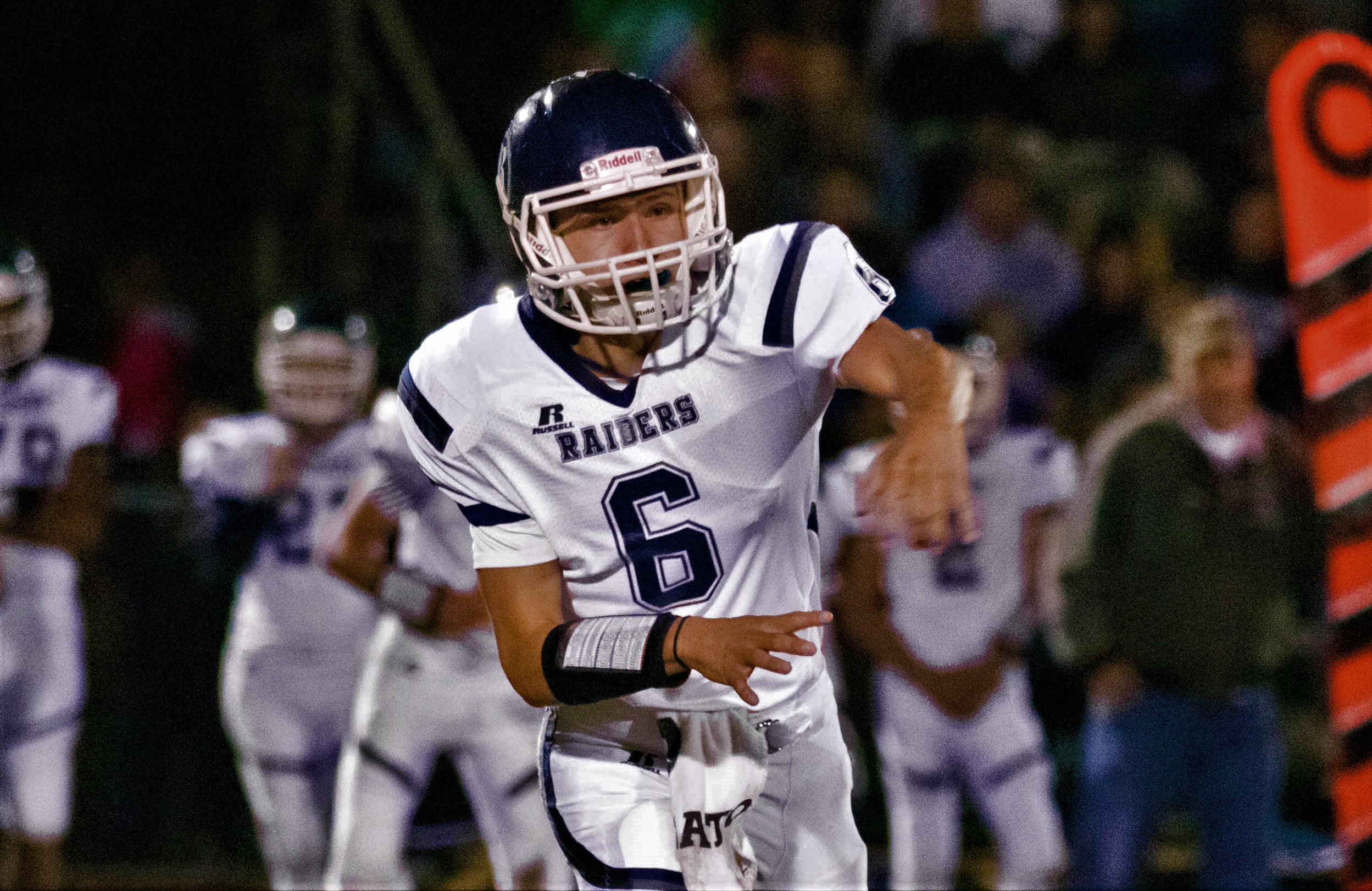 SHIPPENVILLE, Pa. – New season, same old record-breaking Jack Krug for Brookville.
(Photo by Kyle Yates www.facebook.com/YatesPhoto)
The Raiders sophomore quarter set school records for passing yards (555) and passing touchdowns (eight) in a game – the eight TD throws broke a 50-year old record – while going 30 of 50 passing and then added 138 yards rushing and a touchdown to boot to lead Brookville to a 69-60 season-opening win over visiting Bradford.
That is the reason Krug is the Week Zero 2018 D9Sports.com District 9 Football Player of the Week.
Krug had plenty of help in achieving his award, and Cabe Park was a big reason setting school records in catches (15), yards (290) and receiving touchdowns (5). Park is one of 15 players also being honored as District 9 Honor Roll members for Week Zero.
The Player of the Week and Honor Roll honors will continue through the conclusion of the regular season.
D9SPORTS.COM PLAYER OF THE WEEK
Jack Krug – Brookville: 30-for-50 passing, 555 yards (school record), 8 touchdowns (broke a 50-year old school record for touchdown passes in a game); 14 carries, 138 yards, 1 touchdown – Brookville 69, Bradford 60
D9SPORTS.COM HONOR ROLL
Donny Pattison – Bradford: 14 carries, 204 yards, 3 touchdowns; 2 catches, 39 yards, 1 touchdown – Brookville 60, Bradford 60
Derek Sunafrank – Bradford: 15 carries, 179 yards, 2 touchdowns – Brookville 69, Bradford 60
Zane Puhala – Brockway: Kicked two field goals including the game-winning field with 2:50 to play from 30 yards out – Brockway 27, Karns City 24
Cabe Park – Brookville: 15 catches, 290 yards, 5 touchdowns (all school records) – Brookville 69, Bradford 60
Sam Minich – Clarion: 5 carries, 127 yards, 2 touchdowns; 2 catches, 45 yards, 1 touchdown – Clarion 40, Punxsutawney 6
Colby Himes – Clarion-Limestone: 10 of 16 passing, 170 yards, 2 touchdowns; 5 carries, 11 yards
Austin Newcomb – Clarion-Limestone: 13 carries, 151 yards, 1 touchdown; 6 catches, 127 yards, 1 touchdown; Returned the opening kickoff 85 yards for a touchdown – C-L 40, Union/A-C Valley 0
Isaac Rumery – Clearfield: 8 carries, 84 yards, 2 touchdowns; 8 of 16 passing, 118 yards, 1 touchdown, 1 interception – Clearfield 28, DuBois 3
Stephen Kelly – Coudersport: 8 carries, 117 yards, 2 touchdowns; Returned a free kick 60 yards for a touchdown – Coudersport 71, Cameron County 0
Stephen Bobby – Elk County Catholic: 26 carries, 166 yards, 3 touchdowns – ECC 34, Curwensville 14
Isaak Jones – Keystone: 17 of 25 passing, 260 yards, 2 touchdowns, 1 interception – Redbank Valley 41, Keystone 18
Cody Wise – Moniteau: 15 carries, 160 yards, 1 touchdown; Made 7 tackles on defense – Moniteau 14, Kane 13
Cole Sebastian – Otto-Eldred: 17 of 24 passing, 251 yards, 3 touchdowns, 1 interception; 11 carries, 59 yards, 1 touchdown – Otto-Eldred 34, Port Allegany 6
Keaton Kahle – Redbank Valley: 16 of 23 passing, 177 yards, 2 touchdowns, 1 interception; 123 yards rushing, 1 touchdown – Redbank Valley 41, Keystone 18
Grant Ognen – Smethport: 4-for-5 passing, 135 yards, 3 touchdowns – Smethport 54, Sheffield 6
2018 PLAYERS OF THE WEEK
Week Zero: Jack Krug, Brookville