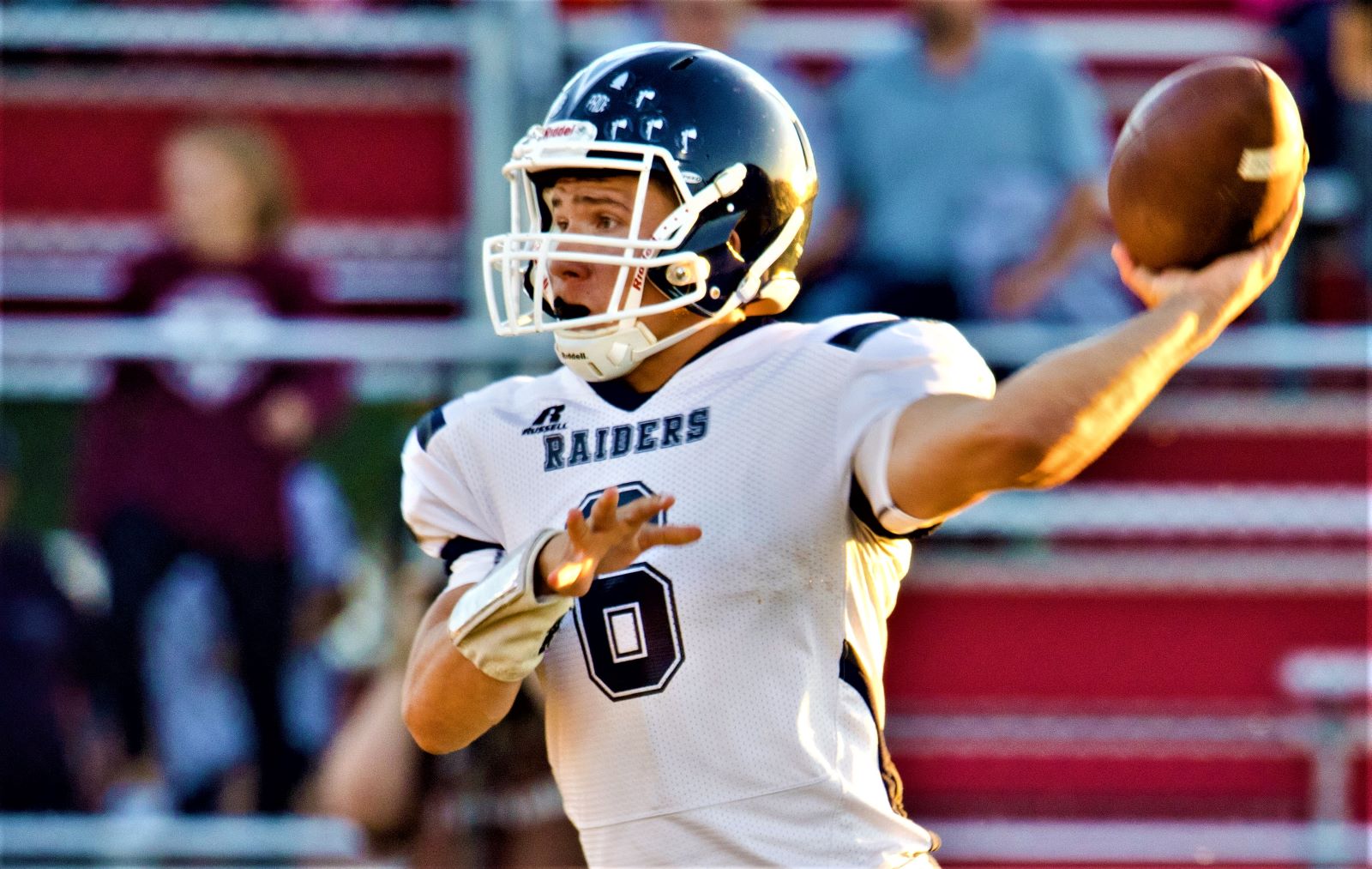 SHIPPENVILLE, Pa. – After throwing four touchdowns and running for a fifth, Brookville's Jack Krug is the D9Sports.com District 9 Football Player of the Week for Week Two of the 2019 season.
(Photo by Kyle Yates www.facebook.com/YatesPhoto)
In a 38-6 win at Punxsutawney Thursday night, Krug was 25 of 33 passing for 363 yards and the four scores while adding six carries for 30 yards and the touchdown.
Ten of Krug's passes went to teammate Robert Keth, who had 10 catches for 137 yards and three touchdowns. Keth is one of 15 players of the District 9 Honor Roll of Week Two.
The Player of the Week and Honor Roll honors will continue through the conclusion of the regular season.
D9SPORTS.COM PLAYER OF THE WEEK
Jack Krug – Brookville: 25-for-33 passing, 363 yards, 4 touchdowns; 6 carries, 30 yards, 1 touchdown – Brookville 38, Punxsutawney 6
D9SPORTS.COM HONOR ROLL
Robert Keth – Brookville: 10 catches, 137 yards, 3 touchdowns – Brookville 38, Punxsutawney 6
Austin Newcomb – Clarion: 17 carries, 200 yards, 4 touchdowns; 1 catch, 12 yards; Scored all four TDs in the second half after the game was tied at 14 at halftime – Clarion 42, Karns City 14
Oliver Billotte – Clearfield: 17 carries, 123 yards, 3 touchdowns; Scored on a short run with 1:54 to play; 9-for-18 passing, 113 yards – Clearfield 24, Central-Martinsburg 21
Travis Gleason – Coudersport: 8 carries, 98 yards, 4 touchdowns – Coudersport 67, Sheffield 6
Hayden Keck – Coudersport: 6 carries, 103 yards, 2 touchdowns; 1-for-2 passing, 30 yards – Coudersport 67, Sheffield 6
Jake Alcorn – Kane: Returned a punt 70 yards for a touchdown; Returned a kickoff 90 yards for a touchdown; 7 carries, 41 yards; 2 catches, 37 yards – Kane 47, Bradford 6
Isaak Jones – Keystone: 8-for-10 passing, 221 yards, 2 touchdowns; 2 rushing touchdowns on 9 yards rushing; Helped Keystone score its most points since 2009 – Keystone 56, Cambridge Springs 7
Alex Rapp – Keystone: 3 catches, 135 yards, 2 touchdowns – Keystone 56, Cambridge Springs 7
Cameron Magee – Otto-Eldred: 8 catches, 220 yards, 2 touchdowns – Otto-Eldred 38, Cameron County 0
Cole Sebastian – Otto-Eldred: 25-for-32 passing, 428 yards, 5 touchdowns, 1 interception; 5 carries, 43 yards – Otto-Eldred 38, Cameron County 0
Hudson Martz – Redbank Valley: 11 carries, 82 yards, 2 touchdowns – Redbank Valley 22, Elk County Catholic 6
Jake Wickett – Ridgway: Scored two touchdowns – Ridgway 42, Moniteau 7
Noah Lent – Smethport: 22 carries, 171 yards, 3 touchdowns – Smethport 27, Port Allegany 15
Jake Kline – St. Marys: 12 carries, 105 yards, 2 touchdowns; 3 catches, 10 yards; Returned a punt 47 yards for a touchdown – St. Marys 49, Brockway 22
Caden Rainey – Union/A-C Valley: 5 catches, 94 yards, 1 touchdown; 5 tackles, 1 interception – Union/A-C Valley 24, Curwensville 0
2019 PLAYERS OF THE WEEK
Week Zero: Jake Lezzer, Clearfield
Week One: Oliver Billotte, Clearfield
Week Two: Jack Krug, Brookville
Week Three: TBA
Week Four: TBA
Week Five: TBA
Week Six: TBA
Week Seven: TBA
Week Eight: TBA
Week Nine: TBA