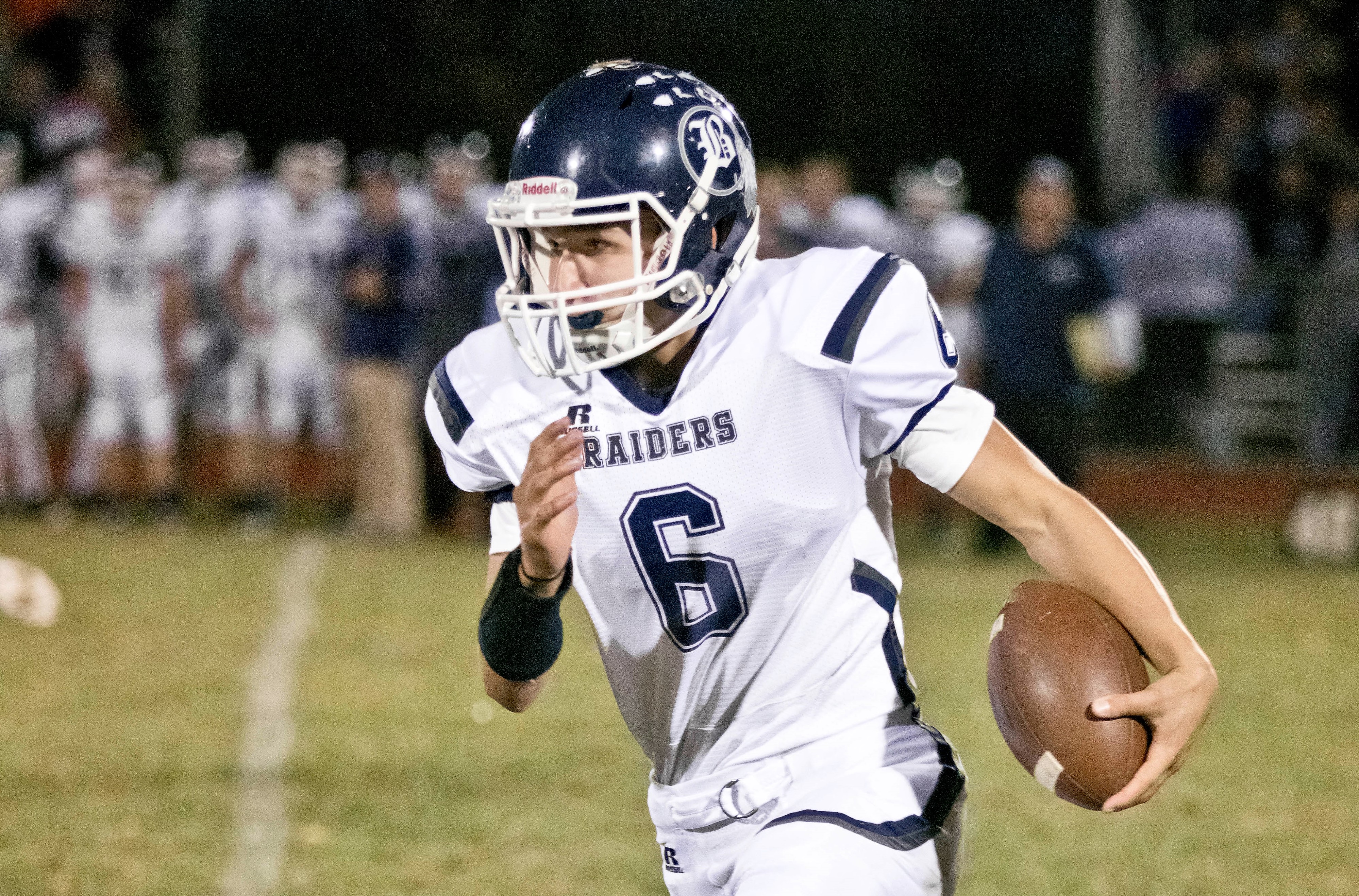 SHIPPENVILLE, Pa. – Brookville freshman Jack Krug is the Week Five 2017 D9Sports.com District 9 Football Player of the Week after accounting for six touchdowns in the Raiders 60-52 win over Clarion-Limestone.
Krug threw five touchdowns and ran for a sixth in the shootout win. He was 13 of 23 passing for 288 yards with the five touchdowns and one interception while also running for 153 yards and a touchdown. It is the second time this season Krug has earned Player of the Week honors.
Joining Krug in being honored are 16 players on the District 9 Honor Roll.
The Player of the Week and Honor Roll honors will continue through the conclusion of the regular season.  
D9SPORTS.COM PLAYER OF THE WEEK
Jack Krug – Brookville: 13-for-23 passing, 288 yards, 5 touchdowns, 1 interception; 11 carries, 153 yards, 1 touchdown – Brookville 60, Clarion-Limestone 52
D9SPORTS.COM HONOR ROLL
Bryan Dworek – Brookville: 7 catches, 244 yards, 4 touchdowns – Brookville 60, Clarion-Limestone 52
Riley Hummell – Clarion-Limestone: 28 carries, 212 yards; 7 catches, 111 yards, 3 touchdowns – Brookville 60, Clarion-Limestone 52
Brendan Makray – Clarion-Limestone: 19-for-28 passing, 309 yards, 6 touchdowns, 1 interception; Picked off a pass on defense – Brookville 60, Clarion-Limestone 52
Isaac Rumery – Clearfield: 20-for-38 passing, 349 yards, 2 touchdowns, 3 interceptions, 14 carries, 89 yards, 1 touchdown – Bellefonte 55, Clearfield 28
Stephen Kelly – Coudersport: 16 carries, 279 yards, 4 touchdowns – Coudersport 42, Cameron County 0
Kyle Hopson – DuBois: 8 catches, 166 yards, 2 touchdowns – Allderdice 28, DuBois 27, overtime
Matt Miller – DuBois: 12-for-27 passing, 203 yards, 3 touchdowns, 2 interception – Allderdice 28, DuBois 27, overtime
Stephen Bobby – Elk County Catholic: 18 carries, 184 yards, 1 touchdown; Intercepted a pass on defense – Kane 49, Elk County Catholic 9
Erik DeLong – Kane: 13 carries, 150 yards, 3 touchdowns – Kane 49, Elk County Catholic 9
Reed Williams – Kane: 12-for-17 passing, 205 yards, 3 touchdowns, 1 interception – Kane 49, Elk County Catholic 9
Dalton Beham – Karns City: 10 carries, 131 yards, 4 touchdowns; 5 catches, 68 yards, Intercepted a pass on defense; Helped Gremlins coach Ed Conto to his 200th career win – Karns City 58, Keystone 14
Sawyer Drummond – Otto-Eldred: 12-for-15 passing, 201 yards, 4 touchdowns; 7 carries, 40 yards – Otto-Eldred 40, Sheffield 6
Clint Thurston – Redbank Valley: 16 carries, 155 yards, 4 touchdowns – Redbank Valley 55, Union/A-C Valley 13
Brock Barrett – Redbank Valley: 6 carries, 153 yards, 2 touchdowns – Redbank Valley 55, Union/A-C Valley 13
Johnny Mitchell – Ridgway: 11-for-21 passing, 137 yards, 2 touchdowns, 3 interceptions; 13 carries, 73 yards, 1 touchdown – Ridgway 21, Bradford 7
Blake Kinner – Smethport: 20 carries, 147 yards, 2 touchdowns; 1 catch 28 yards – Smethport 42, Port Allegany 8
2017 PLAYERS OF THE WEEK
Week Zero: Jack Krug, Brookville
Week One: Clint Thurston, Redbank Valley
Week Two: Sawyer Drummond, Otto-Eldred
Week Three: Nick Stewart, Curwensville
Week Four: Dalton Beham, Karns City
Week Five: Jack Krug, Brookville
Week Six:
Week Seven:
Week Eight:
Week Nine: