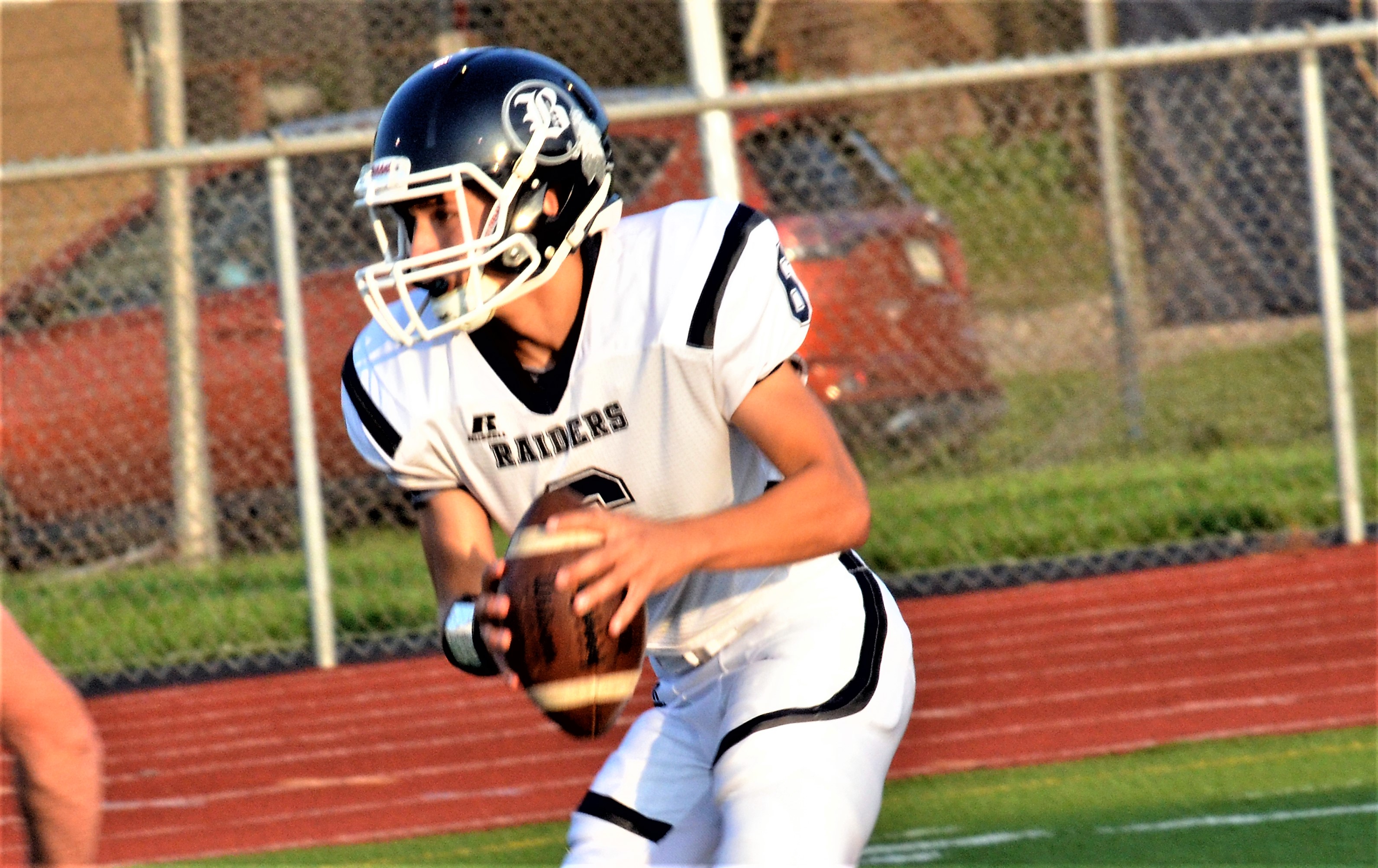 SHIPPENVILLE, Pa. – A record-setting performance as a freshman playing in his first-ever high school football game makes Brookville's Jack Krug an easy choice for the Week Zero 2017 D9Sports.com District 9 Football Player of the Week.
(Photo courtesy of Andy Close of Warren Times Observer)
Krug was on target in the Raiders 54-20 win at Warren going 25 of 37 for a school-record 372 yards and five touchdowns.
Joining Krug in being honored are 15 players on the District 9 Honor Roll including Krug's teammate and favorite target Bryan Dworek, who set the school record for catches with 12.  
The Player of the Week and Honor Roll honors will continue through the conclusion of the regular season.  
D9SPORTS.COM PLAYER OF THE WEEK
Jack  Krug – Brookville: Playing in his first high school football game, the freshman set the Brookville school record for passing yards in a game with 372 yards while going 25 of 37 with five touchdown passes – Brookville 54, Warren 20
D9SPORTS.COM HONOR ROLL
John Eakin – Bradford: 14 carries, 202 yards, 4 touchdowns – Bradford 56, Smethport 0
Cameron Baka – Brockway: 2 interceptions returning one for a touchdown – Brockway 17, Otto-Eldred 6
Bryan Dworek – Brookville: School-record 12 catches for 169 yards and three touchdowns – Brookville 54, Warren 20
Chris Peace – Clarion-Limestone: 14 carries, 133 yards, 2 touchdowns – Clarion-Limestone 64, Saegertown 6
Isaac Rumery – Clearfield: 11-for-18 passing, 181 yards, 2 touchdowns; 12 carries, 67 yards rushing, 1 touchdown; Played a key role in limiting DuBois' star wide receiver Kyle Hopson to 3 catches for 32 yards – Clearfield 21, DuBois 0
Noah Von Gunden – Curwensville: 2 catches, 81 yards, 1 touchdown; 3 carries, 17 yards, 1 touchdown; 1-for-2 passing, 34 yards, Intercepted a pass on defense – Curwensville 38, Cameron County 8
Alec Bittler – Elk County Catholic: 29 carries, 246 yards, 3 touchdowns – Elk County Catholic 27, Sheffield 12
Ange Costanzo – Kane: 6 carries, 115 yards, 1 touchdown; 2 passes, 20 yards, 1 touchdown – Kane 56, Port Allegany 6
Reed Williams – Kane: 10-for-16 passing, 172 yards, 3 touchdowns; Ran for a touchdown – Kane 56, Port Allegany 6
Sawyer Drummond – Otto-Eldred: 17-for-35 passing, 234 yards, 1 touchdown, 1 interception; 14 carries, 59 yards – Brockway 17, Otto-Eldred 6
Cameron Magee – Otto-Eldred: 11 catches, 183 yards, 1 touchdown – Brockway 17, Otto-Eldred 6
Dylan Ishman – Punxsutawney: 16-for-40 passing, 194 yards, 3 touchdowns; 13 carries, 55 yards – Penns Valley 22, Punxsutawney 21
Tyler Richardson – Punxsutawney: 8 catches, 116 yards, 1 touchdown; 2 carries, 10 yards; Recorded six tackles – Penns Valley 22, Punxsutawney 21
Neil MacDonald – Ridgway: 16 carries, 138 yards, 2 touchdowns; 1 catch, 17 yards – Ridgway 29, Coudersport 8
Kevin Evans – Sheffield: 12 carries, 92 yards, 1 touchdown; 9 catches, 100 yards – Elk County Catholic 27, Sheffield 12
2017 PLAYERS OF THE WEEK
Week Zero: Jack Krug, Brookville
Week One:
Week Two:
Week Three:
Week Four:
Week Five:
Week Six:
Week Seven:
Week Eight:
Week Nine: