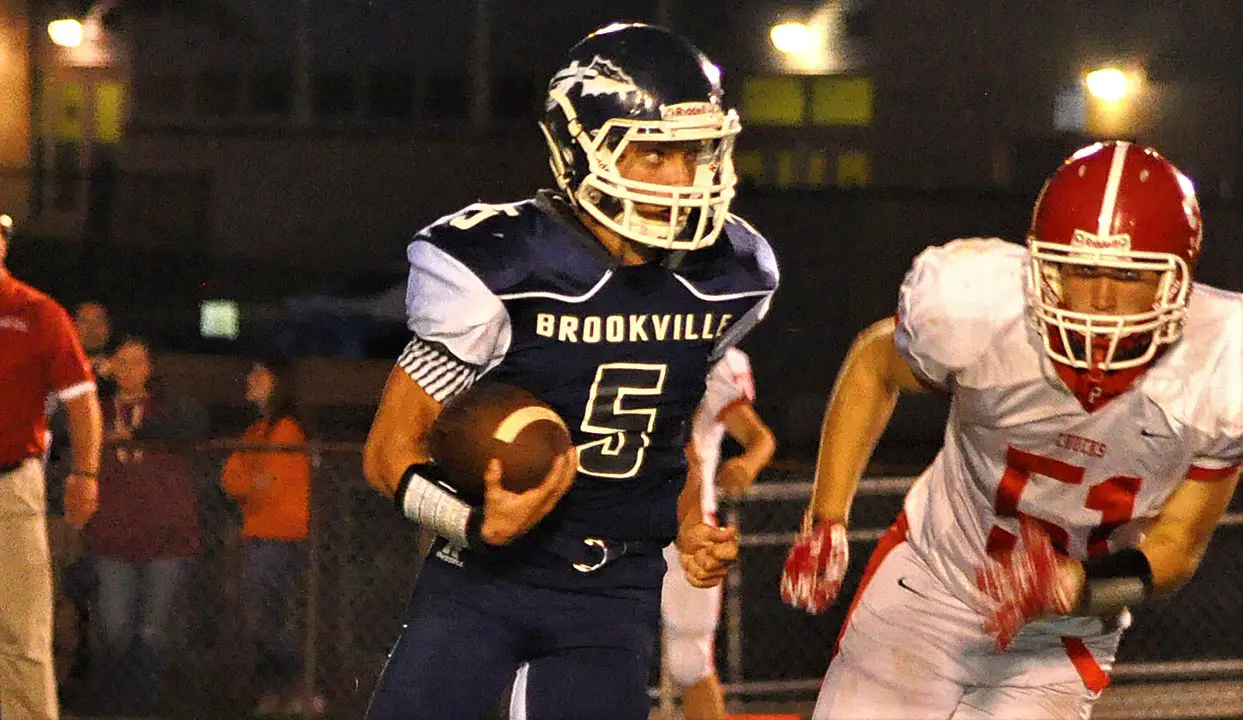 SHIPPENVILLE, Pa. – Cabe Park is the Week Six D9Sports.com District 9 Football Player of the Week after a six-catch, 285-yards, four-touchdown performance in Brookville's 63-32 win at St. Marys Friday night.
Park is the third Raiders player to earn the award this year joining quarterbacks Jack Krug (Week Zero) and Robert Keth (Week Four).
Speaking of Krug, he returned from injury to throw for 307 yards and five touchdowns in just a half of action in the victory.
Krug and 14 other players are being honored on the District 9 Honor Roll for Week Six.
The Player of the Week and Honor Roll honors will continue through the conclusion of the regular season.
D9SPORTS.COM PLAYER OF THE WEEK
---
Cabe Park – Brookville: 6 catches, 285 yards, 4 touchdowns – Brookville 63, St. Marys 32
D9SPORTS.COM HONOR ROLL
---
Jaron Ambrose – Bradford: 12 carries, 169 yards, 2 touchdowns – Bradford 34, Punxsutawney 14
Donny Pattison – Bradford: 19 carries, 216 yards, 2 touchdowns – Bradford 34, Punxsutawney 14
Peter Downer – Brockway: 12-for-25 passing, 218 yards, 2 touchdowns; Ran for a touchdown – Brockway 31, Moniteau 12
Jack Krug – Brookville: 10-for-12 passing, 307 yards, 5 touchdowns; 4 carries, 70 yards; All the yardage came in the first half as Krug returned from Week 1 injury – Brookville 63, St. Marys 32
Taye Lynch – Clearfield: 3 catches, 59 yards; Intercepted 2 passes on defense
Isaac Rumery – Clearfield: 13-for-18 passing, 191 yards, 2 touchdowns; 11 carries, 41 yards; Set the Bison career passing record with 6,103 yards bettering the previous mark of 6,088 set by Chad Kroell. – Clearfield 35, Tyrone 7
Stephen Kelly – Coudersport: 28 carries, 179 yards, 2 touchdowns – Coudersport 47, Otto-Eldred 6
Blake Passarelli – Curwensville: 27 carries, 113 yards, 3 touchdowns – Curwensville 37, Redbank Valley 21
Stephen Bobby – Elk County Catholic: 33 carries, 139 yards, 2 touchdowns – Elk County Catholic 26, Clarion-Limestone 16
Alex Breindel – Elk County Catholic: 3 catches, 26 yards, 2 touchdowns; Intercepted a pass on defense – Elk County Catholic 26, Clarion-Limestone 16
Trey Ayers – Port Allegany: 12-for-23 passing, 123 yards, 2 touchdowns; Intercepted two passes on defense – Port Allegany 30, Sheffield 12
Carter Newcome – Punxsutawney: 13 catches, 126 yards, 2 touchdowns – Bradford 34, Punxsutawney 14
Daunte Allegretto – Ridgway: 2 interceptions – Ridgway 28, Clarion 15
Blake Kinner – Smethport: 5 carries, 150 yards, 2 touchdowns – Smethport 56, Cameron County 6
Brady Cullen – Union/A-C Valley: 7 tackles, 1 sack, 1 interception – Union/A-C Valley 12, Keystone 8
2018 PLAYERS OF THE WEEK
---
Week Zero: Jack Krug, Brookville
Week One: Caleb Freeland, Clearfield
Week Two: Austin Newcomb, Clarion-Limestone
Week Three: Jake Lezzer and Isaac Rumery, Clearfield
Week Four: Robert Keth, Brookville and Archer Mills, Clarion
Week Five: Austin Newcomb, Clarion-Limestone
Week Six: Cabe Park, Brookville
Week Seven: TBA
Week Eight: TBA
Week Nine: TBA