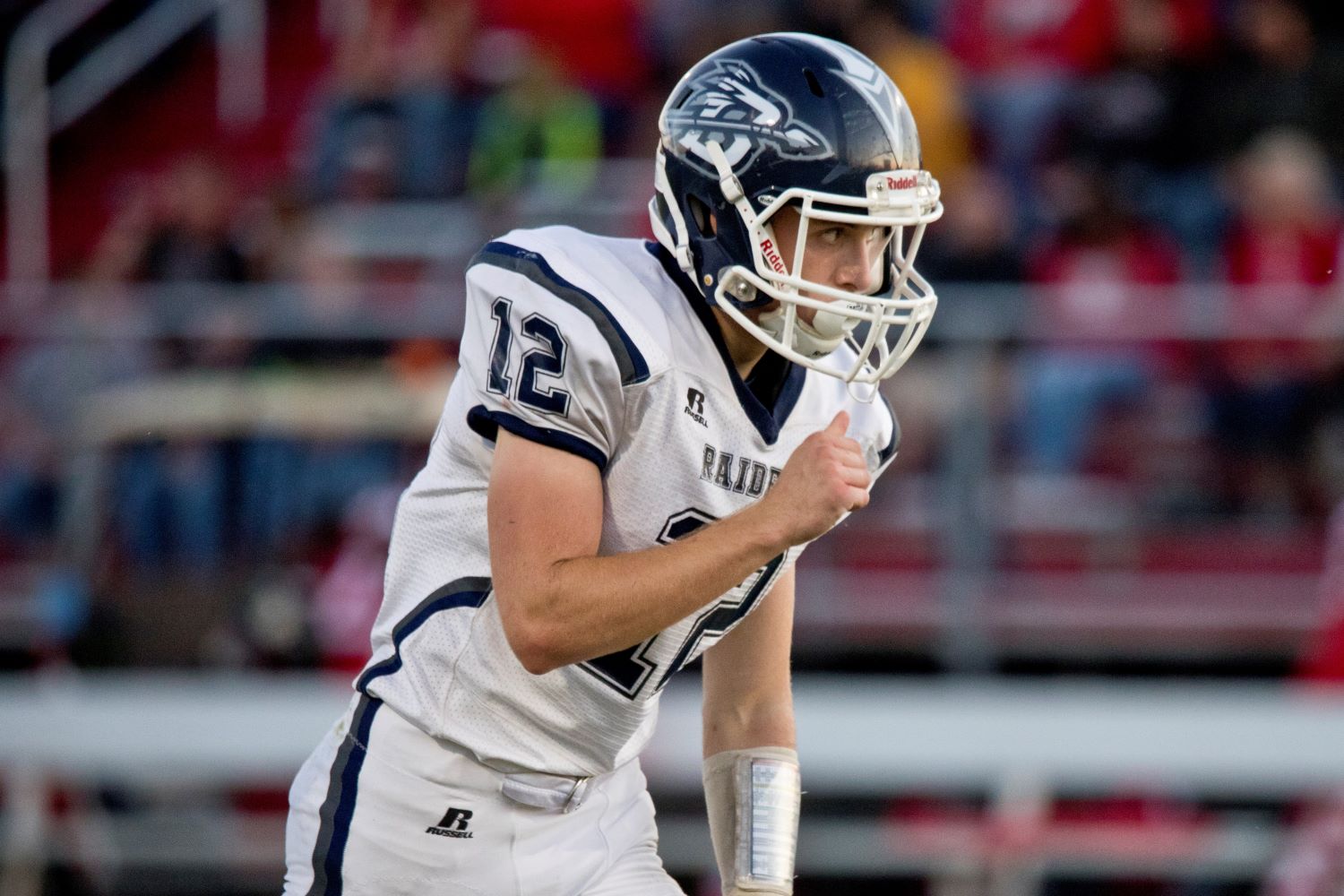 SHIPPENVILLE, Pa. – Ian Thrush did it all for Brookville in the Raiders 42-41 double-overtime win at Karns City Friday, and that is why the senior is the D9Sports.com District 9 Football Player of the Week for Week Four of the 2019 season.
(Photo by Kyle Yates www.facebook.com/YatesPhoto)
Offensively, Karns City had no answer for the speedy wide receiver who had 12 catches for 294 yards and five touchdowns. If that wasn't enough, he made the game-saving tackle in the second overtime stopping the Karns City receiver inches shy of the goal line to preserve Brookville's first regular-season win in Karns City since 1972.
The quarterback throwing the ball to Thrush, Robert Keth, is one of 15 players on the District 9 Honor Roll for Week Four.
The Player of the Week and Honor Roll honors will continue through the conclusion of the regular season.
D9SPORTS.COM PLAYER OF THE WEEK
Ian Thrush – Brookville: 12 catches, 294 yards, 5 touchdowns; Made game-saving tackle on Karns City 2-point conversion play in double overtime; Helped Brookville to first regular-season win in Karns City since 1972 – Brookville 42, Karns City 41, 2 overtimes
D9SPORTS.COM HONOR ROLL
Robert Keth – Brookville: 19-for-28 passing, 345 yards, 5 touchdowns; Also ran for a touchdown; Helped Brookville to first regular-season win in Karns City since 1972 – Brookville 42, Karns City 41, 2 overtimes
Dylan Baney – Cameron County: 15 carries, 158 yards, 3 touchdowns; 1-for-3 passing, 9 yards – Sheffield 31, Cameron County 20
Ethan Burford – Clarion: 4 catches, 90 yards, 3 touchdowns – Clarion 49, St. Marys 14
Cal German – Clarion: 9-for-13 passing, 200 yards, 4 touchdowns, 1 interception; Intercepted a pass on defense – Clarion 49, St. Marys 14
Austin Newcomb – Clarion: 16 carries, 164 yards, 1 touchdown; 3 catches, 89 yards; 2 interceptions on defense – Clarion 49, St. Marys 14
Oliver Billotte – Clearfield: 11 carries, 55 yards, 3 touchdowns; 12-for-17 passing, 154 yards, 1 touchdown – Clearfield 42, Central Mountain 20
Brett Zattoni – Clearfield: 21 carries 163 yards, 2 touchdowns – Clearfield 42, Central Mountain 20
Hayden Keck – Coudersport: Returned 2 interceptions for touchdowns; 4-for-5 passing, 117 yards, 2 touchdowns; 7 carries, 49 yards, 2 touchdowns – Coudersport 55, Port Allegany 0
Alex Kovalyak – DuBois: 23-for-33, 297 yards, 2 touchdowns; 8 carries, 30 yards, 2 touchdowns – Oil City 55, DuBois 54
Jake Alcorn – Kane: 11 carries, 138 yards, 1 touchdown; Returned an interception 95 yards for a touchdown; Returned a punt 65 yards for a touchdown – Kane 35, Punxsutawney 0
Aujamier Slappy-Washington – Sheffield: 16-for-22 passing, 348 yards, 3 touchdowns; 7 carries, 4 yards, 1 touchdown; Intercepted a pass on defense; Helped Sheffield end a 23-game losing streak – Sheffield 31, Cameron County 20
Caden Smead – Sheffield: 5 catches, 200 yards, 2 touchdowns; Returned an interception 70 yards for a touchdown; Helped Sheffield end a 23-game losing streak – Sheffield 31, Cameron County 20
Bryent Johnson – Smethport: Returned an interception 33 yards, Returned a kickoff 70 yards for a touchdown – Smethport 36, Otto-Eldred 22
Noah Lent – Smethport: 26 carries, 174 yards, 1 touchdown; 2-for-6 passing, 11 yards, 1 touchdown – Smethport 36, Otto-Eldred 22
Caden Rainey – Union/A-C Valley: 2 catches, 66 yards, 1 touchdown; 4 carries, 43 yards, 1 touchdown; Made 7 tackles on defense – Union/A-C Valley 36, Elk County Catholic 7
2019 PLAYERS OF THE WEEK
Week Zero: Jake Lezzer, Clearfield
Week One: Oliver Billotte, Clearfield
Week Two: Jack Krug, Brookville
Week Three: Christian Coudriet, St. Marys
Week Four: Ian Thrush, Brookville
Week Five: TBA
Week Six: TBA
Week Seven: TBA
Week Eight: TBA
Week Nine: TBA