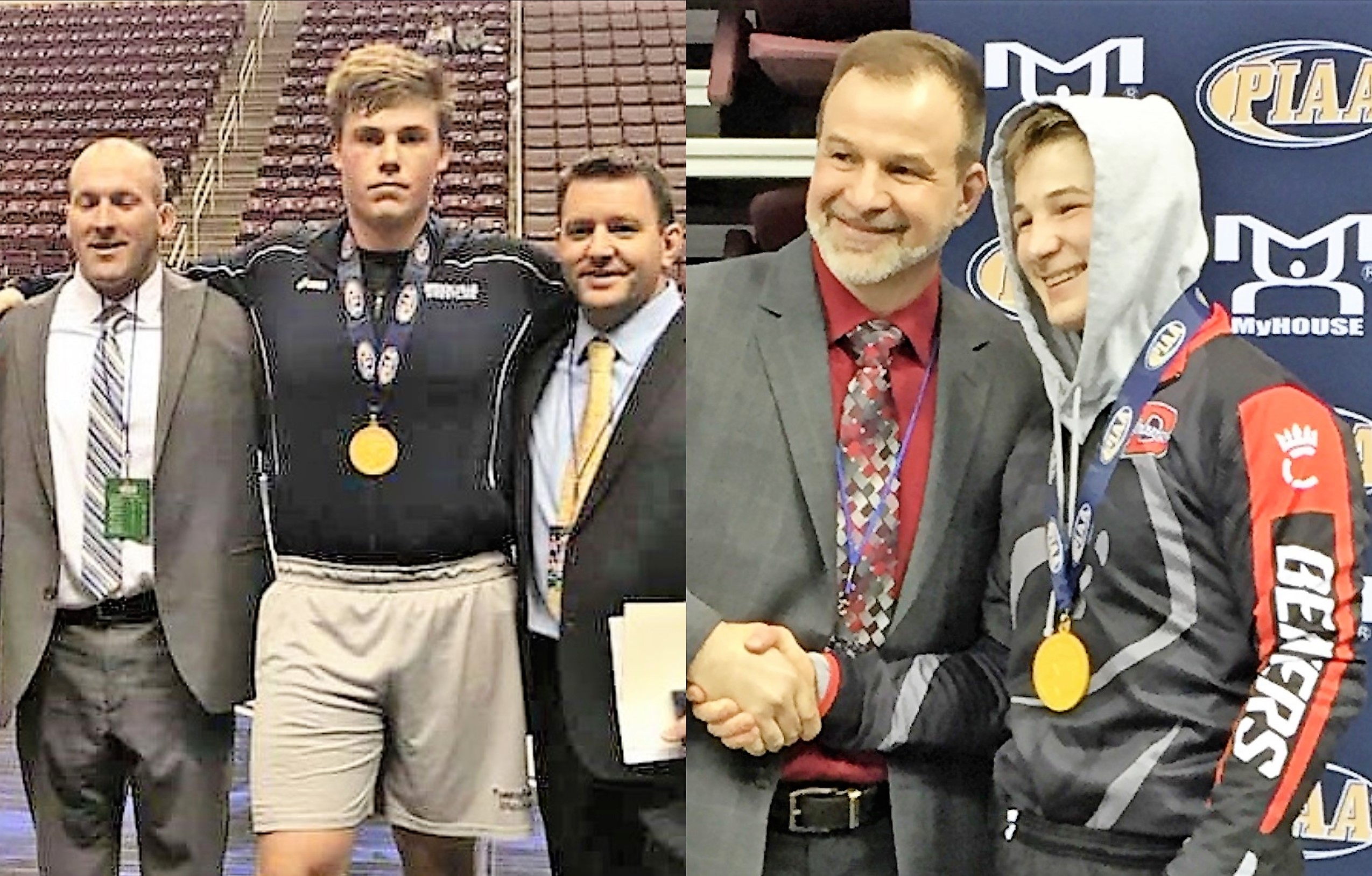 HERSHEY, Pa. – Brookville's Colby Whitehill and DuBois' Ed Scott both claimed PIAA wrestling titles Saturday at the Giant Center in Hershey, Pa.
(Photo of Brookville's Colby Whitehill (left) and DuBois' Ed Scott. Whitehill photo courtesy of Brookville Athletic's. Scott photo courtesy of DuBois AD Chuck Ferra)
Whitehill became the seventh PIAA wrestling champion in Brookville school history and the first Raider underclassman to claim a title when he topped Mount Union's Jack Ryan, 5-2, at 285 pounds in Class 2A.
Scott took home the Class 3A 138-pound championship when he pinned Dashawn Farber of Nazareth at 3:25.

District 9 wrestling coverage on D9Sports.com is brought to you by Luton's Plumbing, Heating, and Air Conditioning.
Whitehill finished his season unbeaten a 39-0 by going 4-0 at the championships.
He started competition Thursday with by pinning Burgettstown's Riley Kemper at 1:46. Then, on Friday, he beat Meyersdale's Jalen Stephens, 5-3, before defeating Southern Columbia's Lear Quinton, 8-4, to set up the finals match against Ryan, the Southwest Region champion who came into the bout with a 39-1 mark.
Scott, meanwhile, also went 4-0 to win his championship, including winning a pair of big-time matches Saturday.
Also finishing the season unbeaten at 39-0, Scott pinned Pocono Mountain's Steven Storm in the opening round at 4:37 Thursday before winning a tight 5-4 decision over Owen J. Robert's Antonio Petrucelli Friday to reach the semifinals. Then Saturday morning, Scott beat Northampton's Devon Britton in the semifinals, 6-4, to reach the championship bout where he downed Farber.
While Whitehill and Scott won their title matches, Kane's Alec English fell in the 160-pound match when Frazier's Thayne Lawrence defended his title with a 7-2 decision. English finished his Kane career with 111 wins including going 35-2 this season.
Two additional District 9 wrestlers earned medals in Class 2A with Brockway's Anthony Glasl taking fifth at 126 pounds and Brockway's Garrett McClintick ending up sixth 185 pounds.
Glasl won his fifth-place match when he turned around a loss earlier in the tournament to Brandon Chelstos of Notre Dame-Green Pond with a 5-2 decision in the fifth-place match. Chelstos had beaten Glasl, 8-3, in the opening bout Thursday relegating Glasl to the wrestlebacks right off the back. But the Rover junior, who finished the season 38-4, fought his way to the podium by going 5-1 in the consolation bracket including winning his first four wrestlebacks. It was quite an accomplishment for Glasl, who had to injury default in the Regional finals last weekend.
McClintick fell in his fifth-place bout to Derek Yingling of West Branch, 6-1 in overtime in sudden victory.
In Class 3A, three additional wrestlers earned medals.
Tyler Dilley took fifth place at 132 pounds when he knocked off Drew Clearie of Nazareth, 5-0, in the fifth-place bout. Dilley finished the season 36-7.
DuBois' Trenten Donahue took sixth at 126 pounds falling to J.J. Wilson of Cedar Cliff, 4-2, in the fifth-place bout. Donahue finished the year 37-8.
Bradford's Dillon Keane finished seventh thanks to an 8-4 win in the seventh-place bout over Kiski Area's Nick Delp. Keane finished the year 39-2.