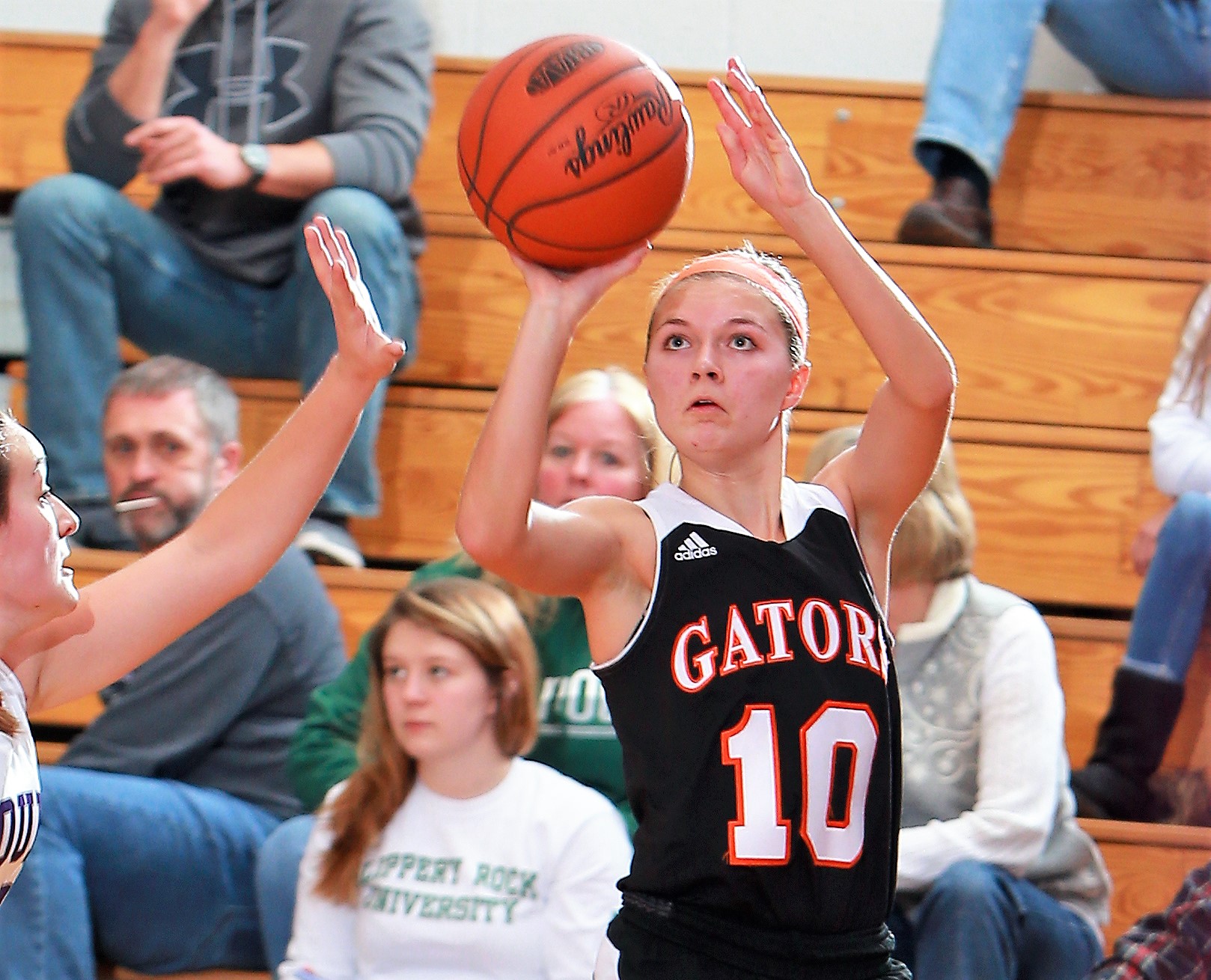 ST. MARYS, Pa. – For most of the season. Autumn Buchsenschutz and Cailey Barnett have been the leaders for the Port Allegany basketball team.
(Cover photo of Port Allegany's Autumn Buchsenschutz. Photo by Paul Burdick. Check out more of Burdick's work here)
(Click here for other D9 Scores/Stories from Feb. 21)
That stayed the same Tuesday night in the Lady Gators 60-46 win over Curwensville at Elk County Catholic High School in the lone District 9 Class 2A quarterfinal game.
Buchsenschutz, who was saddled with three fouls early in the second quarter, scored a game-high 26 points, including 21 in the second half, while Barnett connected on three first-half pointers and scored 10 of her 12 points before halftime lifting Port to a 29-21 halftime lead.
"We got some wide-open looks in the first half," Port Allegany head coach Jason Luther said. "We say if you are hot, you let it fly. We got wide open looks in the flow and stuck them. That forced them to adjust defensively. After that, we got to the basket handily. Our shooting led to great opportunities at the basket, and we were able to convert them. They played us a lot in man defense, and we spread it out and it played to our advantage. In the second half, Autumn kept getting layup after layup."
Thanks to Barnett's early shooting, she hit a pair of threes in the first quarter, the Lady Gators led by six, 16-10, after one.
"After all the nerves, all the anxiety you could call it of playing a playoff game – Autumn was the only player we had with playoff experience – after all that wore off, we settled in and did what we had to do."
Hannah Dixon led Curwensville with 22 points with Madison Weber adding 17.
"Dixon is a heck of an athlete," Luther said. "She has a little hesitation start-stop move/ She shoots the ball well.
"The Weber girl is tough. She is 5-foot-11, and she earned every one of her points. Barnett guarded her most of the night and made her earn every one of her buckets despite giving up four inches."
The fourth-seeded Lady Gators (14-9) will take on top-seeded Coudersport (21-1) in the semifinals. Port lost to the Lady Falcons twice during the regular season.
Curwensville, the fifth seed, finishes the year 10-13.
PORT ALLEGANY 60, CURWENSVILLE 46
Score by Quarters
Curwensville 10 11 12 13 – 46
Port Allegany 16 13 16 15 – 60
CURWENSVILLE – 46
Hannah Dixon 6 7-8 22, Christine Limbert 3 1-4 7, Nichole Wormuth 0 0-0 0, MiKayla Warren 0 0-0 0, Madison Weber 7 1-4 17, Maddie McCracken 0 0-0 0, Madison Olson 0 0-0 0, Tarah Jacobson 0 0-0 0. Totals 16 9-16 46.
PORT ALLEGANY – 60
Jenna Sprankle 1 0-0 2, Erin Stauffer 3 1-3 7, Autumn Buchsenschutz 10 3-3 26, Maleah Daniels 0 0-0 0, Cailey Barnett 4 1-2 12, Leah Garzel 2 2-2 6, Bri Roys 0 1-2 1, Cierra Lannager 0 0-0 0, Hannah Lathrop 1 4-6 6, Emily Buchsenschutz 0 0-0 0. Totals 21 12-18 60.
Three-pointers: Curwensville 5 (Dixon 3, Weber 2). Port Allegany 6 (A. Buchsenschutz 3, Barnett 3)