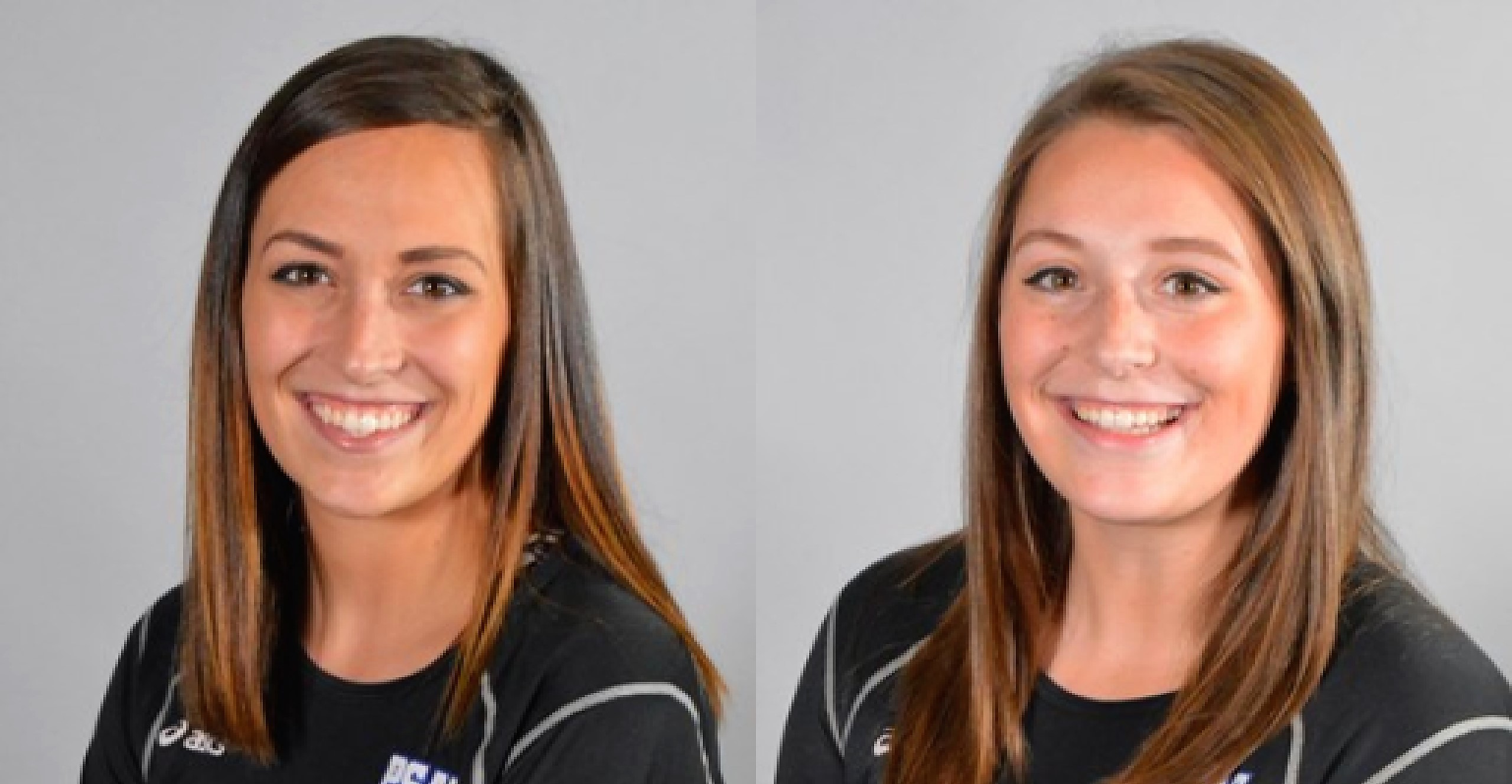 INDIANAPOLIS, Ind. – A pair of Clarion High School graduates will take part in the NCAA Division II Volleyball Championships as members of the IUP Crimson Hawks.
(Cover photo: Ellie (left) and Olivia Burns. Individual photos courtesy of IUP Athletics)
Sisters Ellie and Oliva Burns – as well as their cousin, Madison Burns, are members of the first IUP volleyball team since 2010 to advance to the NCAA Regionals and will play in the Atlantic Region as the No. 4 season.
IUP (24-9), coached by former Clarion University head coach Scott Pennewill, was the top seed in the PSAC Tournament before being upset in the opening round of the PSAC Tournament by eighth-seeded Edinboro, 3-2.
The Crimson Hawks are one of six PSAC teams selected for the NCAA Tournament, although Clarion failed to qualify for the dance for the second consecutive season after going to at least the Regional semifinals in each of the previous four seasons prior to 2016 while qualifying for the NCAA D-II bracket seven times in a row prior to 2016 and 12 times in 14 years between 2002 and 2015.
IUP will take on fifth-seeded West Chester at a time to be announced Nov. 30 at Wheeling Jesuit.
The other five PSAC schools in the tournament are No. 2 seed Gannon, No. 3 seed Pitt-Johnstown, No. 6 seed Seton Hill and No. 7 seed Shippensburg. Rounding out the eight-team Atlantic Region field are No. 1 Wheeling Jesuit and No. 8 Winston-Salem. The other first-round matchups are Wheeling Jesuit vs. Winston-Salem, Gannon vs. Shippensburg and Pitt-Johnstown vs. Seton Hill. Pitt-Johnstown won the PSAC Championship Sunday beating Gannon.
Ellie Burns, a graduate transfer, has played a key role in IUP's success and is third on the team with 2.74 digs per set (288 total digs) while adding 34 set assists, 28 service aces and eight kills.
Olivia Burns, a true freshman, has seen limited action this season but has appeared in 10 matches with 40 digs, a kill, three set assists and five service aces.
Their cousin, Madison Burns, a freshman from Virginia, has played in six matches with 17 kills, six digs and four blocks.
The NCAA Tournament consists of 64 teams made up of eight eight-team regions. This marks the eighth time in the last nine years the league has produced six postseason teams.
First round action will commence on Thursday, Nov. 30 with the Atlantic Region Final slated for Saturday, Dec. 2.
Atlantic Region Final Rankings
1. Wheeling Jesuit
2. Gannon
3. Pitt-Johnstown
4. IUP
5. West Chester
6. Seton Hill
7. Shippensburg
8. Winston-Salem
NCAA FIRST ROUND – THURSDAY, NOV. 30 (Wheeling, W. Va.)
No. 1 Wheeling Jesuit vs. No. 8 Winston-Salem – TBD
No. 2 Gannon vs. No. 7 Shippensburg – TBD
No. 3 Pitt-Johnstown vs. No. 6 Seton Hill – TBD
No. 4 IUP vs. No. 5 West Chester – TBD
NCAA SECOND ROUND – FRIDAY, DEC. 1 (Wheeling, W. Va.)
Winner of No. 2 GU/No. 7 SU vs. Winner of No. 3 UPJ/No. 6 SHU
Winner of No. 1 WJU/No. 8 W-S vs. Winner of No. 4 IUP/No. 5 WCU
NCAA SWEET 16 – SATURDAY, DEC. 2 (Wheeling, W, Va.)
Semifinal Winners