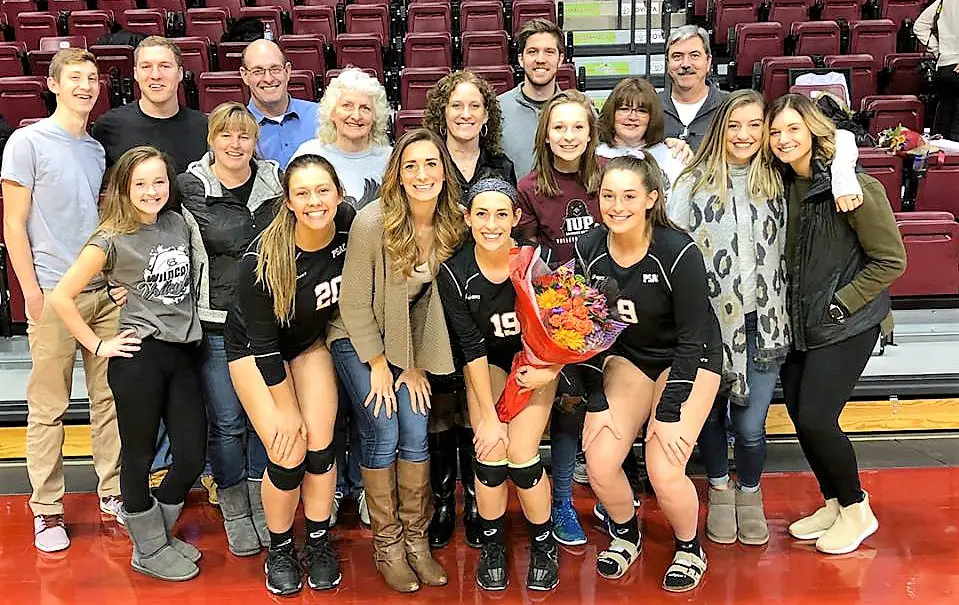 By Chris Rossetti
INDIANA, Pa. – It's a gift.
(The Burns family posses for a picture after IUP's Senior Night match. Ellie Burns is center wearing No. 19. Her sister Olivia Burns is to her right wearing No. 9 and her cousin, Madison Burns is to her left wearing No. 20.)
That is how Ellie Burns sees the opportunity to play volleyball on the same team with her younger sister, Olivia Burns, something that didn't happen when the two were students at Clarion Junior/Senior High School with Ellie being four years older than Olivia.
"You get to play with someone you have never played with other than sand doubles," Ellie said recently as the sisters enjoyed time together at an Indiana coffee shop Monday. "I made her be my sand partner this summer to practice."
The sisters, two of three Burns sisters to play collegiate volleyball – their oldest sister, Karly, was a standout at Mercyhurst and their mom, Jodi Pezek Burns, was an All-Region player at Clarion and also served two stints as the Golden Eagles head coach – have played roles in helping IUP to the NCAA Division II Tournament – the Crimson Hawks (24-9) play West Chester in the opening round Thursday – for the first time since 2010 while getting to suit up together for the first time in their careers.
"It's support," Olivia said of playing with her sister. "It makes me better having someone who is coaching you and being your best friend at the same time and being a player. Having a sister who is really experienced and four years older than me is, honestly, really nice. I get coaching from her. I get the sister side and then I get the player side. Those consistently make me better. I feel like having Ellie just always pushes me because she is so competitive herself."
The story really starts with their mom, who was an outstanding high school player at Norwin High School in the WPIAL winning a pair of state titles before coming to Clarion and helping the Golden Eagles take home a PSAC Championship in 1988 as a sophomore and earning All-Region honors in 1989 and 1990. Jodi, who finished her career ranked No. 1 in kills in school history at the time, later went on to twice coach Clarion and is a member of the school's Hall of Fame.
But both Ellie and Olivia said they never felt pressure from their mother to play volleyball and she was always supportive of whatever they wanted to do.
"My mom's biggest thing was do what you want to do," Ellie said. "She never wanted to be our pressure to play volleyball. It was almost like it would get to the point where she would take a step back and not be that mom. You would actually want her to tell me what I am doing. But she always sits in the stands and occasionally gives you feedback if you want. She is very humble. She doesn't want us to be forced to do something."
Olivia said all her mom ever did was give them the opportunity if they wanted it.
"She was like if you want to do try this then try it," Olivia said. "Mom was never like, 'you are playing volleyball!'"
Ellie said she is so competitive that the fact that her mom was a good player just made her want to be a better player.
"I'm so competitive, I want to be better than my mom," Ellie said.
Ellie's competitiveness actually took her to the NCAA Division I level at Pitt, but her career seemed to be over in 2015.
That was just around the time Olivia's college career started taking shape when IUP head coach Scott Pennewill, who replaced Jodi as the head coach at Clarion after Jodi had Olivia, came calling.
"Before Liv was looking to commit, mom is good friends with coach (Pennewill)," Ellie said. "And coach is like, I want Liv, and I knew Liv was leaning towards it. She had some other option, but she was leaning towards IUP."
With her younger sister thinking about playing at IUP, Ellie who had gotten into coaching once her career at Pitt ended, knew she wanted to go to graduate school for Speech Pathology, which IUP happens to have a great program in.
"Coach was like, I would kill to have Ellie," Ellie recalled. "I was like, I have a year's eligibility left, why not play with my sister and cousin (yes to add to the family tree Olivia and Ellie's cousin Madison, who played high school ball in Virginia and whose mom is Clarion University graduate Gerri Condo, is also a freshman for the Crimson Hawks)."
But while Olivia and Madison had spots secured at IUP, it was a waiting game for Ellie.
"My GPA and results from Pitt were phenomenal," Ellie said. "But it was still a waiting game to see if I would get into school. We knew Liv was coming here and they reserved a room, but we didn't tell anyone in the world (that I was trying to come here too). We couldn't until I got in, and we didn't want to tell people I was playing again until it actually happened."
"It was a bonus," Olivia said. "Going to play with your sister and then going and playing with someone who is still a Burns, still has that Burns name. At one point (Madison and I) talked about going to school together and playing together and then it didn't look like it was going to happen. Then it did."
According to Pennewill, knowing the background of both Olivia and Ellie made them easy fits.
"Over the year of looking at athletes, looking at recruitment of good teammates, there are some traits I'm looking for that they possessed," Pennewill said. "Some of that is being from a coach's volleyball family, but I'm looking at the ability to be comfortable and uncomfortable in learning, being able to develop and being dedicated to a work ethic to succeed."
Once Olivia had committed, Pennewill said taking Ellie when she showed interest was pretty much a given.
"I didn't think about it at all other than how can I get this to work quickly," Pennewill said. "With knowing the family and knowing these kids from the time they were little … (Ellie's) body of work, the fact she was willing to use that last year of eligibility (made it easy.)"
According to Pennewill, having someone who has coached as well as played makes a world of difference.
"Foreign countries get this," Pennewill said. "There are many cases where older kids teach younger kids with no adults around. Anytime you can get a player to become not only a student of the game but also a teacher of the game, you are just creating a knowledge depth of how to play that is just so, so valuable. That is what you see with Ellie. She has now been on both sides of the bench if you will. She is going to be able to do things that, heck, I might not even be aware of out on the floor because she knows how to approach that as a coach."
While the sisters are thrilled to play with each other, it's been tough on Ellie knowing that her presence probably has meant less playing time for Olivia because the two share a position.
"It's been difficult in my role because I know if I wasn't here Liv would be playing," Ellie said. "It's one of those things that is difficult in my aspect because I want to enjoy my last year but at the same time, it's difficult to see her across the net equally fighting. But it's also cool at the same time because there was a match where I didn't perform well, and I got subbed out and she came in. It made it easier for me to cheer for my sister going in for me. I wasn't producing, but I knew she would."
Olivia says that while not playing as much isn't always easy, knowing that Ellie is, makes it so much better and she has learned a lot from watching her older sister.
"If I'm not playing but having someone I love, I mean really love and am happy for it's fine," Olivia said. "I learn so much from her since she has more of that experience than I do. I just learn everything from her. Honestly, her playing right now and me watching makes me learn so much."
Pennewill believes Olivia has a bright future at IUP and has played a key role in practice helping to prepare the Crimson Hawks.
"Olivia came into a senior-laden team," Pennewill said. "It's going to dictate some things and you are going to have to perform at a level that is going to be a cut above. In the practice gym, she is a competitor, and again we come back to when the water rises the ship goes with it. She is part of that. Once we move into the spring, you are going to see the learning curve shoot again because the opportunity will be there."
The sisters are excited to be part of the revival of IUP volleyball – in addition to being back in the tournament for the first time since 2010 the Crimson Hawks won the PSAC Southwest division and were the No. 1 seed in the PSAC Playoffs before being upset by Edinboro in the quarterfinals.
"Coming from Clarion High School and the program we have there and the idea of starting something here at IUP and me being a part of it, it's a privilege," Olivia said.
Again with Ellie, she views the entire year as a gift.
"It's more of a gift," Ellie said. "This fifth year is a gift. It wasn't guaranteed. In 2015, I thought my college volleyball career was done, it just didn't work out. Getting to play again is a bonus. Literally, it's bonus ball. My goal is to make it never end."