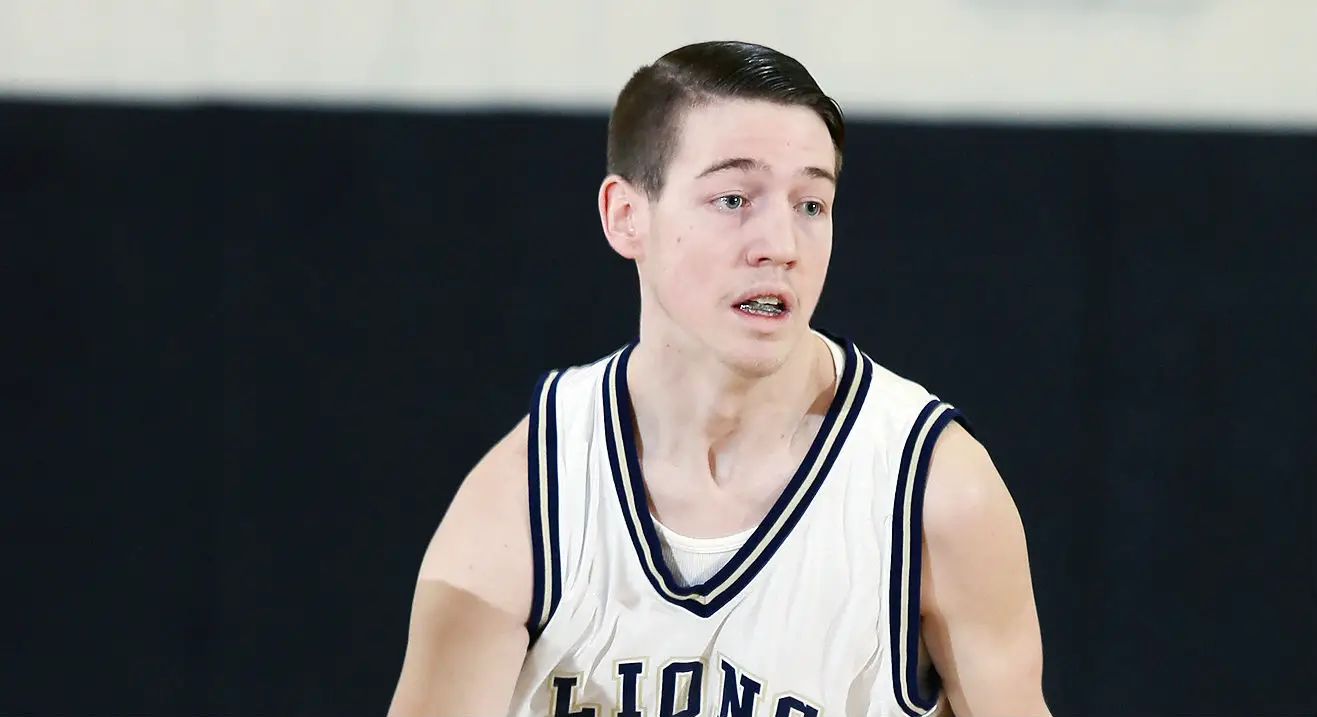 By Chris Rossetti
CLARION, Pa. – Emotions must be running high inside the Clarion-Limestone boys' basketball program right now.
After failing to get out of the District 9 Class A semifinals in two of the last three years, the Lions finally broke through Wednesday night outscoring top-seeded Elk County Catholic by nine in overtime to get a 49-40 victory over the Crusaders.
"It is big for the C-L program," Lions head coach Joe Ferguson said. "We've been building and building to a point, but we couldn't get over that (semifinal) hurdle a couple of times over the last three years. It's big. It speaks volumes for the program in general. Give the kids all the credit. They played their hearts out, both sides tonight.
The win for the fourth-seeded Lions (22-3), who will meet North Tier League champion Cameron County (23-2), a 44-32 winner over Venango Catholic in the other semifinal, wasn't pretty nor easy.
For starters, C-L blew a seven-point lead in the final two minutes of regulation and then had to withstand an ECC (24-2) chance to win the game at the free-throw line with 3.3 seconds left after Dan Callen fouled Ryan Seelye with the Lions holding a 1-point lead, 38-37. Seelye missed the first free throw before forcing overtime by hitting the second.
The Lions, though, shook off the loss of momentum and held ECC without a field goal in overtime while outscoring the Crusaders 11-2.
"The one things is we are a senior-laden team," Ferguson said. "We have had the experience. When they have been down and played ugly this season, the seniors have settled in and don't lose their head. That's what happened tonight. They just kept control and did a great job."
Ugly would pretty much describe the game, as neither team could shoot straight.
C-L connected on 31.5 percent of its shots (17 of 54) including an awful 5 of 26 first-half performance. But ECC was even worse going 13 of 54 (24.1 percent) from the field including 6 of 22 in the opening half allowing the Lions to actually hold a 17-15 halftime lead.
"I don't believe we were at our sharpest tonight," Ferguson said. "I think the atmosphere played into it a lot. That aura about Elk County was playing into it. But the kids preserved through that."
The Crusaders came out firing in the early parts of the second half and scored the first eight points of the half to take a 23-17 lead on a Nate DaCanal layup just over two minutes into the half.
But C-L settled down and ended the quarter on a 13-7 run thanks to six points from Kolton Stiglitz, who finished with 10 points, five rebounds and six blocked shots, to take a 30-27 lead into the fourth quarter.
"We just couldn't keep shooting as bad as we did," Ferguson said. "We talked about shot selection. We had absolute horrible shot selection tonight. But when it came down to crunch time, they started playing the way they were supposed to be playing."
The Lions then quickly extended the lead to seven, 36-29, 2 ½ minutes into the fourth quarter.
At that point the scoring stopped. Neither team scored again until DaCanal hit a 3-pointer with 2:02 left in regulation to cut the Crusader deficit to 36-32.
Stiglitz hit a jumper with 1:33 to play to make it a seemingly comfortable 6-point lead, 38-32, for the Lions, but DaCanal, a sophomore who finished with 17 points and 13 rebounds, drained another triple with 1:20 to go to make it a 38-35 game.
Dan Callen then turned the ball over for C-L, and DaCanal was fouled with 57.3 seconds to play and hit both charity shots to make it a one-point game, 38-37. Jesse Pezzuti then missed the front end of a one-and-one for C-L with 21.2 seconds left, and after a scramble for a loose ball Seeyle was fouled in the waning seconds of regulation.
"It was nerves more than anything," Ferguson said. "You can imagine with the screaming and everything that is going on, you don't play in front of this kind of a crowd all of the time."
In overtime, a Callen free throw gave the Lions the lead for good, and then Josh Kahle got an old-school 3-point play with a layup, a foul and a free throw with 2:44 left to put C-L up four, 42-38.
After a pair of missed ECC shots, Callen's layup with 1:34 to go made it a 44-38 game, and C-L was able to hit just enough free throws down the stretch before Pezzuti scored the horn to set the final score.
Kahle led C-L with 11 points and six rebounds. Pezzuti added 10 points and four steals, while Callen had five points but 18 rebounds. Leading-scorer RJ Laugand had nine points, four rebounds, two assists and two steals.
Mitch Struble added seven points and three assists for ECC but was 3 of 14 shooting, while Dan Singer and Seeyle each had seven tallies as well. The Crusaders were just 10 of 20 from the free-throw line and were outscored 15-3 on second-chance points despite having 17 offensive rebounds to C-L's 12.
NOTES – Unofficial word after the game was the Class A title game would be at 8 p.m. Saturday night. District 9 is expected to make an official announcement Thursday morning … ECC's loss means the AML will not be represented in a Class A or Class AA boys' title game for the first time since 1996. The last time an AML team didn't play in the Class A title game was in 1998 when Keystone beat Coudersport. But Kane topped ECC in the AA title game that year. In 1996, Coudy beat Port Allegany for the Class A title and Keystone beat Curwensville, which hadn't entered the AML yet, in the Class AA game … The 49 points were a season-low for C-L, which entered the game averaging 73.7 ppg and had been held under 60 just twice.
CLARION-LIMESTONE 49, ELK COUNTY CATHOLIC 40, Overtime
Score by Quarters
C-L 10 7 13 8 11 – 49
ECC 4 11 12 11 2 – 40
Clarion-Limestone – 49
RJ Laugand 2-11 5-6 9, Josh Kahle 4-12 3-5 11, Jesse Pezzuti 0-1 10, Kolton Stiglitz 5-9 0-0 10, Dan Callen 1-5 3-4 5, Noah Rankin 1-5 2-4 4, Cesar Lopez 01 0-0 0. Totals 17-54 13-20 49.
Elk County Catholic – 40
Mitch Struble 3-14 0-3 7, Ian Herzing 1-2 0-0 2, Dan Singer 2-9 2-4 7, Ryan Seeyle 3-8 1-2 8, Nate DaCanal 4-11 7-8 17, Ben Hoffman 0-0 0-0 0, Jeff Wehler 0-3 0-0 0, Mitchell Smith 0-2 0-0 0, Kyle Huff 0-5 0-3 0. Totals 13-54 10-20 40.
Three-pointers – C-L 2-16 (Jesse Pezzuti 2-6, Laugand 0-5, Kahle 0-3, Stiglitz 0-1, Callen 0-1). ECC 4-16 (DaCanal 2-4, Singer 1-1, Struble 1-7, Herzing 0-1, Huff 0-1).