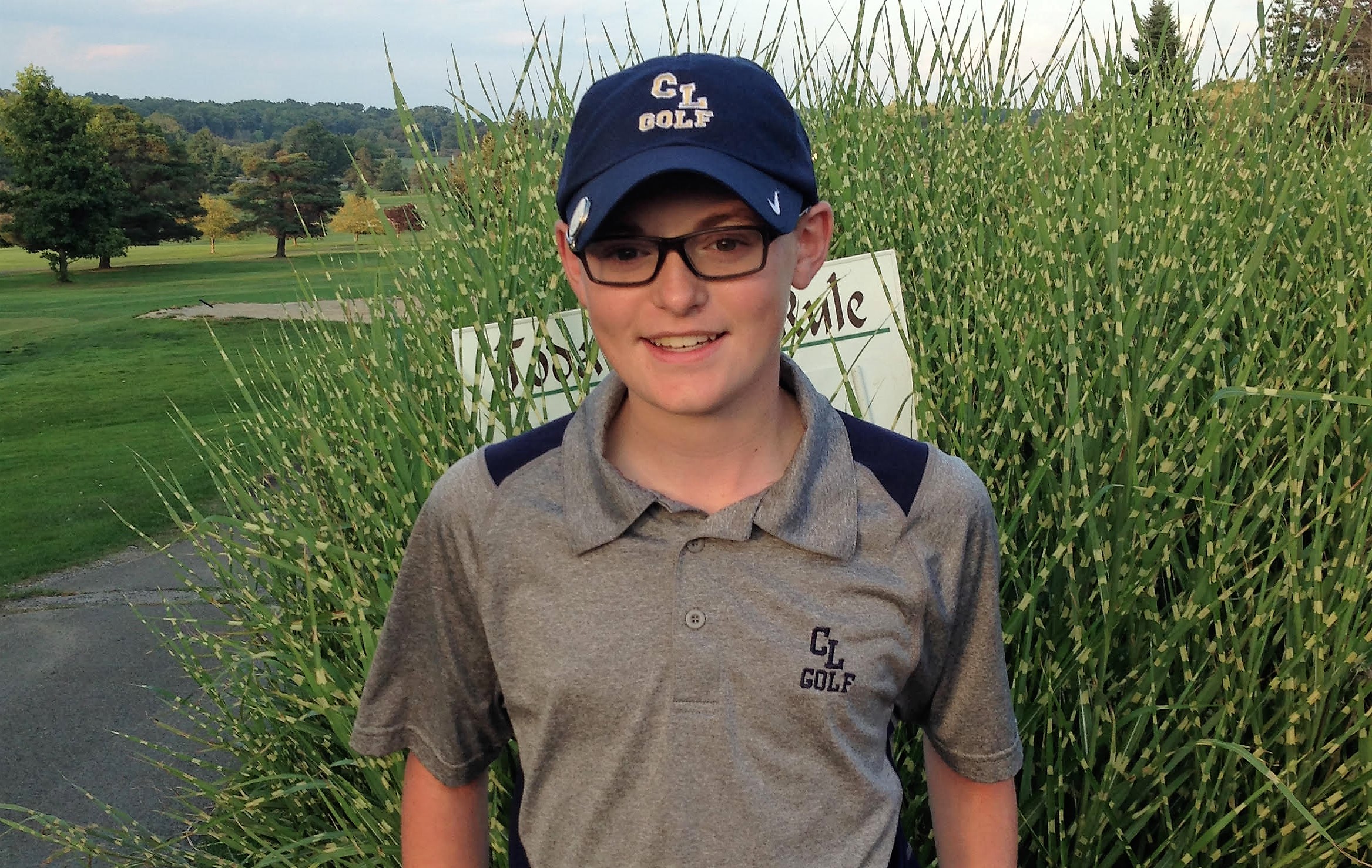 The next-to-the-last week of the KSAC boy's golf season featured matches at Wanango Country Club (Tuesday, Sept. 11) and Hi-Level Golf Course (Thursday, Sept. 13).
(Photo of C-L's Hayden Siegel. Photo by Mindy Hess)
Moniteau and Clarion-Limestone's (C-L) split the Megamatches, with the Warriors winning at Wanango and the Lions taking the victory at Hi-Level.
It was a big week for C-L's Hayden Siegel, as the Lions' sophomore took medalist honors at both events.
Tuesday, September 11: Wanango Country Club (Reno)
The Moniteau Warriors won their third Megamatch of the season, posting a 245, to edge the Clarion Bobcats by two strokes. Forest Area (249) came home in third ahead of fourth place Clarion-Limestone (C-L) by a single stroke. Karns City (268) was fifth.
Individually, C-L's Hayden Siegel shot a two-over par 38 on the 3,181 yards, par 36 front nine to win the individual competition. Clarion's Josh Craig (41) took second, followed by Bobcat teammate Jackson Fox and Moniteau's Ethan McDeavitt, who both put up 44s, to tie for third. C-L's Ian Callen (45) rounded out the top five.
Moniteau's McDeavitt was joined in the top ten by teammates Gage Neal (46) at seventh and Nate Tack (47), who ended the round in a three-way tie for eighth. Also contributing to the Warriors' winning team score were Slade Hutchinson (52) and Tyler McFadden (56).
Mitch Geiger's 50, Lake Staub's 53, and Cam Lapinto's 59 were combined with those of fellow Bobcats' Craig and Fox to give the Clarion its second-place total of 247.
Forest Area's third-place effort was paced by Zyler Hargenrader's team-low 45. Hargenrader was joined by Landon Lauer (50), Trevor Amsler (51), Preston Schmader (51), and Jake Flick (52) on the team's five-person score sheet.
C-L had a team score of 250, relegating them to fourth. In addition to Siegel and Ian Callen's top five scores, the Lions also benefitted from 51s by Hayden Callen and Kayden Park. Anna Burns and Sydney Simpson both carded 65s.
Karns City took fifth. Josh Whitmire put up a 48, Justin Patton a 50, Seth Mennor a 52, Alex Olczak a 54, and Trevor Callihan and Hunter Dunlap 64s.
Cranberry (273) took sixth, Keystone (290) seventh, and Venango Catholic (357) eighth. AC Valley/Union competed but did not have enough golfers to register a team score. The Berries Cam Walney and the Vikings Thomas Fink each posted 47s, placing them in a tie with Moniteau's Tack for eighth. Keystone's Ian Larson (53) and AC Valley/Union's (52) Brock Weigle had the low scores for their teams.
Thursday, September 13: Hi-Level Golf Course (Kossuth)
Clarion-Limestone's (C-L) Hayden Siegel took medalist honors for the second consecutive match and third time this season when he completed the 2,370-yard par 34 front nine at one under. Three other C-L golfers finished in the top five, helping the Lions (203) to their fourth megamatch victory of the year.
Moniteau took second, 11 strokes behind the victorious Lions. Clarion (218) was in third and Forest Area (233) fourth. Keystone (243), playing on its home course, finished a season's best fifth.
Moniteau's Ethan McDeavitt's (35) runner-up finish was his second top five of the week. By taking third C-L's Ian Callen (37) earned the distinction of being the only golfer to earn top-five status in each of 2018's seven events. Kaden Park was the third Lion in the top five, his 38 good for fourth. C-L' Hayden Callen, Clarion's Lake Staub, and Moniteau's Nate Tack and Hunter Fitzingo all carded 40s for a share of fifth.
C-L's winning effort included the scores of not only Siegel, Park, and the Callen brothers, but also Anna Burns's round of 55.
Moniteau's 214 was paced by McDeavitt's, Tack's and Fitzingo's scores and also included the 49 of Gage Neal and 50 of Slade Hutchinson.
The Bobcats were led to third place by Staub, with Jackson Fox (42), Josh Craig (44), Login Dehner (45), and Cam Lapinto (47) all contributing sub-50 rounds. Mitch Geiger, the other member of the team, posted a 49, though his tally did not count toward the Bobcats' total. As such, Clarion was the only squad at Hi-Level to have all competitors shoot below 50.
Forest Area was 15 strokes behind Clarion, with their top five golfers each registering sub-50 scores. These included Landon Lauer's 44, Zyler Hargenrader's and Trevor Amsler's 46s, Preston Schmader's 48, and Chris Pederson's 49.
Panther golfers Ian Larson (45), Troy Johnson (46), Owen Easton (48), Nate Ion (50), and Justin Weaver (54) had rounds counting toward Keystone's fifth place finish.
Cranberry (245) ended up sixth, Karns City (252) seventh, and Venango Catholic (303) eighth. AC Valley/Union also had golfers compete, but not enough to register a team score. Devon O'Brien shot a 43 for Cranberry, good enough for tenth individually. Karns City had two golfers record low rounds of 45, Justin Patton and Seth Mennor. Thomas Fink posted a 45 for Venango Catholic and Brock Weigle a 53 for AC Valley/Union.
Despite jumping into the conference lead following Tuesday's match at Wanango, Moniteau (54.5) finished the week in second behind C-L (55.0) after the Lions' performance at Hi-Level. Though Clarion has yet to win a match they have finished in the top three at six of seven events, staking their claim to third (52.0). Forest Area (48.5) is fourth and Karns City (31.5) holds down fifth.
At the end of last week, C-L's Siegel and Clarion's Craig were deadlocked for first in KSAC scoring average. By the end of the week, Siegel had claimed the top spot with a 40.86. Craig follows a 42.86.
C-L's Ian Callen (43.14) sits in third, McDeavitt (43.29) of Moniteau is fourth, and Hayden Callen is fifth with a 44.29.
Moniteau's Tack (44.43) holds down sixth. C-L's Park and Clarion's Fox have identical 45.43 averages, knotting them for seventh. Clarion's Staub (46.14) is in ninth and Hargenrader (47.14) of Forest Area ended the week ranked tenth.
The last week of the KSAC boy's season has the golfers teeing it up at Foxburg Country Club on Tuesday, Sept. 18 and competing at Lake Arthur Golf Club (Butler) on Thursday, Sept. 20.
GIRLS MEGAMATCH CANCELLED
The KSAC girls were scheduled to have a Megamatch at Foxburg Country Club on Monday, Sept. 10. With the remnants of Tropical Storm Gordon drenching Western Pennsylvania, however, the match was canceled, the second time this season weather has impacted the girl's golf schedule.
This week looks to be busy for the young ladies, with three matches scheduled in a four-day span. They are scheduled to take on Lake Arthur Golf Club (Butler) on Monday, Sept. 17 and then tee it up at Hi-Level Golf Course (Kossuth) on Wednesday, Sept. 19 before finishing the week at Clarion Oaks Golf Club on Thursday, Sept. 20.