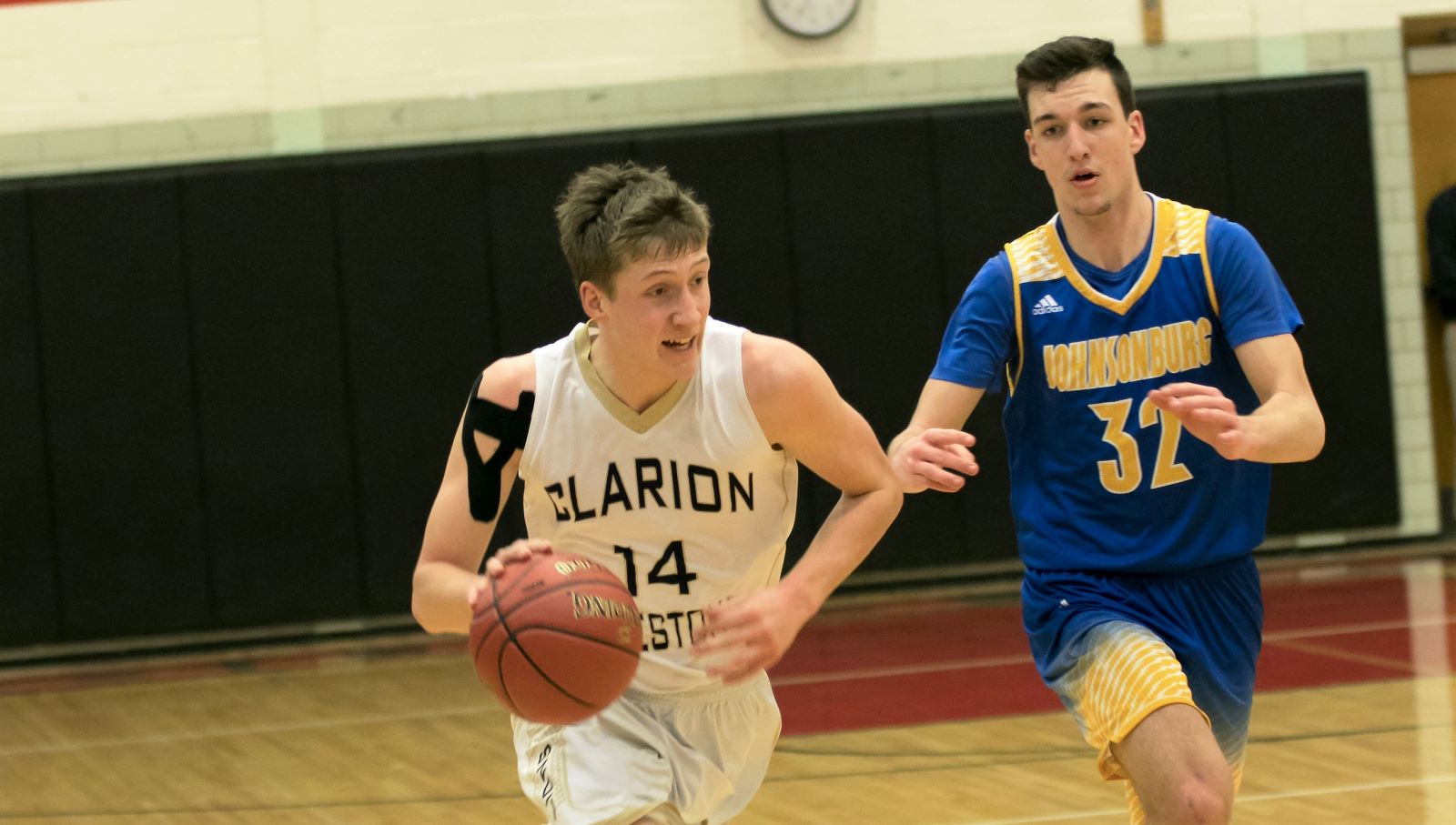 DUBOIS, Pa. – Trailing by seven, 30-23, late in the third quarter, C-L went on a 13-5 run and eventually captured a 42-41 win over Johnsonburg in the District 9 Class 1A boys' consolation game at DuBois High School.
(C-L's Ian Callen dribbles down court in the second half with Johnsonburg's Gabe Watts trailing. Callen played a key role in the Lions comeback win. Photo by Jared Bakaysa of JB Graphics. See more of Bakaysa's work here)
Relisten to the game:
The game ended in a bit of a controversial fashion when Gabe Watts' made 3-pointer was waved off by the referees, who said Watts' shot from about three feet behind the line was just a fraction of a second late.
"After it went in, I was like oh my goodness," C-L senior Ian Callen said. "But when he waved it off, it was just so much excitement for our team."
If C-L had hit its free throws, the last-second shot wouldn't have mattered, but the Lions missed three straight front ends of one-and-ones in the final 44.2 seconds, including one by Deion Deas with 3.7 seconds left that gave Watts the final chance.
The Lions, who used the run to take a four-point lead, 36-32, early in the fourth quarter, found themselves tied at 38 following a Gino Gregori basket for Johnsonburg with 2:37 to play.
But Ian Callen broke the tie with a basket with 1:46 left, and then Ian Callen found Curvin Goheen for two more points following a timeout at the 1:04 mark to make it 42-38.
"I don't feel like there is much responsibility on my shoulders," Ian Callen said. "Anyone on the court can score for us. I think that is huge."
Watts, though, drilled a 3-pointer with 32 seconds left following a missed Ian Callen free throw to cut the deficit to one.
Ian Callen then missed another free throw with 28.7 seconds to play, and following a timeout by Johnsonburg, Watts had a pass to Bliss intercepted by Deion Deas with 3.7 seconds left.
Johnsonburg looked in complete control of the game when Austin Green scored on a fastbreak with just over three minutes left in the third quarter to put the Rams ahead 30-23.
But Deas started the C-L run with a 3-pointer at the 2:50 mark, and Ian Callen then got a steal and a basket to make it 30-28. Deas then tied the game with 12 seconds left in the quarter on another steal and basket.
"I think we were being more disciplined," Ian Callen, who finished with 12 points and five rebounds said. "In the locker room, coach said you guys have to start playing together. We were getting selfish and not getting good shots. He said start rotating, start screening, get open and take the open shot and they started falling for us."
Watch all of Ian Callen's postgame thoughts.
Johnsonburg, though, took the lead into the fourth quarter when Logan Notarianni scored off a Nick Bliss pass at the third-quarter horn.
C-L, though, scored the first six points of the fourth quarter taking the lead, 33-32, on a Deas 3-pointer at the start of the quarter. Ian Callen then hit another 3-pointer with 5:30 to play to push the advantage to 36-32.
Gregori answered the Ian Callen three with a three of his own, and Watts hit one of two free throws with 3:14 left to tie the game at 36.
Ian Callen gave the Lions the lead back with a basket with 2:51 left before Gregori then knotted the game one last time.
Both teams move into the PIAA Playoffs. C-L will play District 6 champion Juniata Valley with Johnsonburg taking on WPIAL champion Nazareth Prep.
CLARION-LIMESTONE 42, JOHNSONBURG 41
Score by Quarters
Johnsonburg 11 12 9 9 – 41
Clarion-Limestone 7 14 9 12 – 42
JOHNSONBURG – 41
Isaac Schloder 3 5-5 12, Gino Gregori 2 0-2 5, Austin Green 5 0-0 14, Gabe Watts 1 1-2 3, Nick Bliss 1 0-0 2, Eric Christoff 1 0-0 3, Logan Notorianni 1 0-0 2. Totals 14 6-9 41.
CLARION-LIMESTONE – 42
Julian Laugand 1 0-0 3, Deion Deas 7 0-1 18, Ian Callen 5 1-4 12, Curvin Goheen 1 0-0 2, Hayden Callen 2 1-2 7, Mitch Knepp 0 0-0 0, Ayden Wiles 0 0-0 0. Totals 16 2-7 42.
Three-pointers: Johnsonburg 7 (Green 4, Schloder, Gregori, Christoff). C-L 8 (Deas 4, Hayden Callen 2, Ian Callen, Laugan).
Rebounds – Johnsonburg 31 (Schloder 9, Watts 9, Gregori 5, Bliss 4, Green 3, Christoff 1), C-L 18 (Laugand 5, I. Callen 5, Goheen 3, H. Callen 3, Knepp 1, Deas 1).