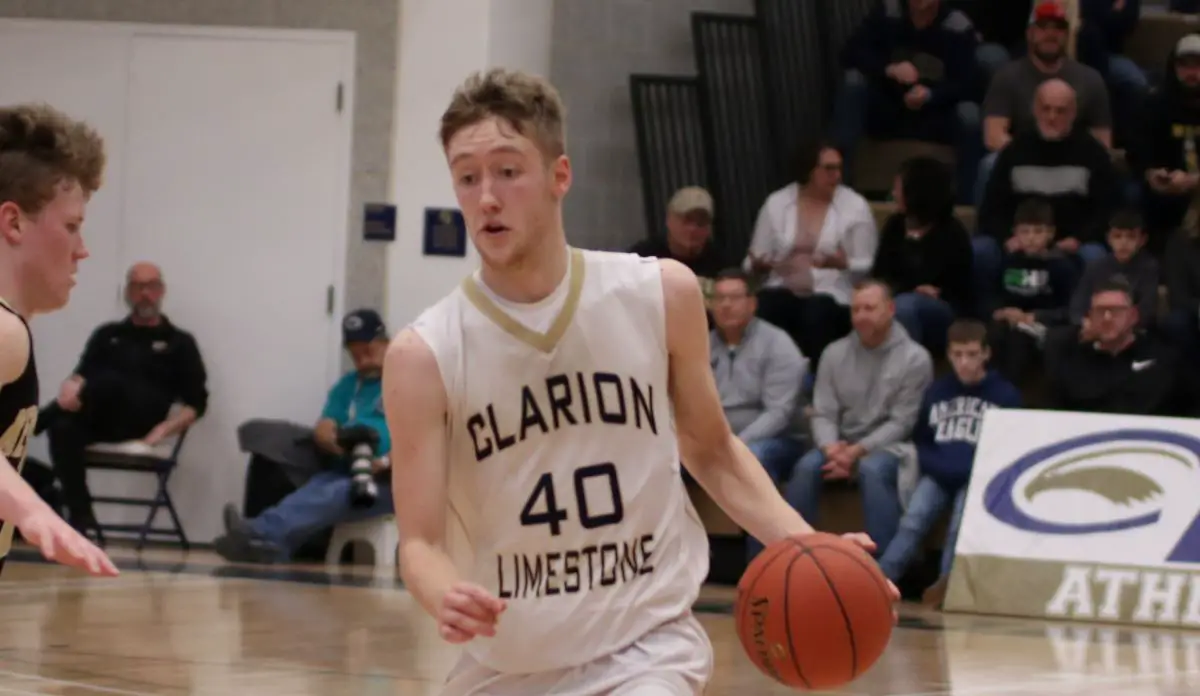 LANCASTER, Pa. – Clarion-Limestone junior Hayden Callen was named a third-team Class 1A Pennsylvania Sports Writer's All-State player Monday.
(Photo by Jared Bakaysa of JB Graphics. See more of Bakaysa's work here)
Callen helped C-L to a 21-6 overall record, the KSAC North title, a second-place KSAC finish, a third-place ending in District 9 Class 1A, and the PIAA playoffs in 2019-2020 by averaging 19.7 points, 8.6 rebounds, 3.7 steals, 2.6 assists, and 2.6 blocks per game. The 6-foot-4 forward shot 42.3 percent from the field and 80.6 percent from the free-throw line and enters his senior season with 1,211 career points.
Hayden Callen joins his older brother, Dan Callen, in earning All-State honors. Dan Callen was a second-team Class 2A selection in 2017.
The All-State teams are the result of nominations and voting from a panel of sportswriters throughout the state.
2019-20 CLASS 1A PA SPORTS WRITERS BOYS' BASKETBALL
First team
Kaden DiVito, 5-11 Sr. G, Cornell
Tanner Colflesh, 6-1 Jr. G, Turkeyfoot Valley
Davion Hill, 6-0 Fr. G, St. John Neumann
Angelo Reeves, 6-6 Jr. F Vincentian Acad.
Tristan McDannell, 5-11 Sr. G Bishop Carroll
Elijah Sechler, 5-11 Jr. G, Berlin Brothersvalley
Second team
David Hill, 6-1 Jr. G, St. John Neumann
Nathan Blasick, 6-3 Sr. G, Halifax
Vinnie Cugini, 5-11 Fr. G, Aquinas Academy
Grant Sareyka, 5-11 Sr. G, The Christian Academy
Vince Fyock, 6-0 Jr. G Shade
Symir Preister, 6-4 Jr. G, Sankofa Freedom
Third team
Isaiah Langston, 6-2 Sr. F, Cornell
Kegan Hertz, 6-6 Jr. F, Nativity BVM
Malik Cook-Stephens, 6-3 Jr. G, Chester Charter
Hayden Callen, 6-4 Jr. F, Clarion-Limestone
Darian Keyser, 6-6 Sr. F, Jamestown
Isiah Mitchell, 5-9 Sr. G, The Christian Acad.
Marquis Ratcliff, 6-5 Soph. F, Nativity BVM
Player of the Year: Kaden DiVito, Cornell
Coach of the Year: Dan Spangler, Chester Charter.