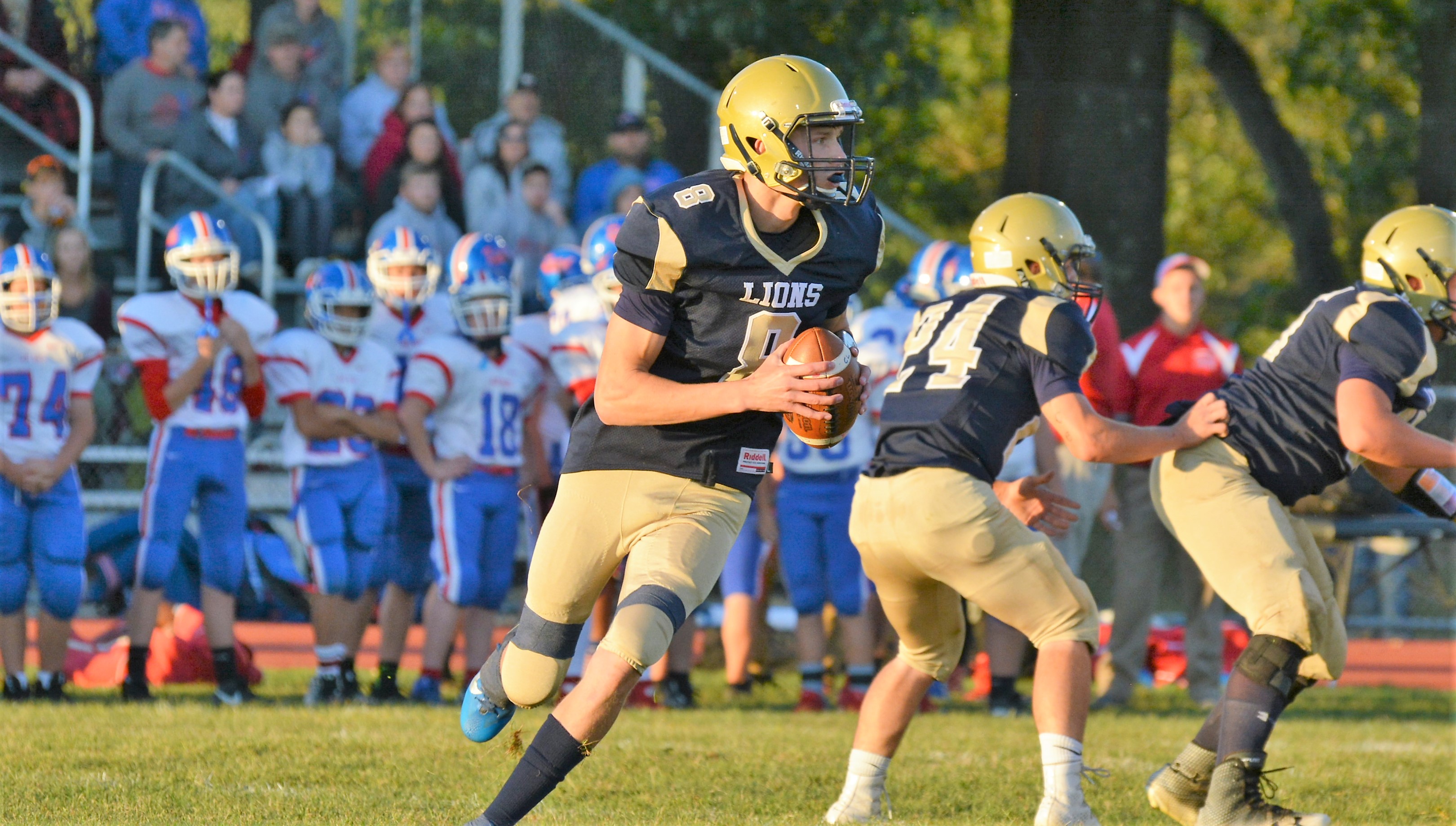 SHIPPENVILLE, Pa. – When a high school football team is down 24 points with less than 18 minutes to play, the game is over.
Cover photo by Ronda Beimel
Well, 99 out of 100 times it is over.
But Clarion-Limestone's Brenden Makray made sure his Lions weren't out of it down 32-8 with under six minutes to play in the third quarter at Punxsutawney Friday night rallying C-L to a stunning two-touchdown, 48-32, victory by leading the Lions to 30 points in less than a 10-minute span.
That is why Makray is the Week Nine D9Sports.com District 9 Football Player of the Week.
The final Player of the Week for the 2017 season, Makray went 17-for-34 passing for 354 yards, four touchdowns and an interception including throwing the go-ahead 76-yard touchdown to Kyle Kerle with 6:10 to play. In the process, Makray became C-L's all-time leading passer with 4,446 yards in his career passing Hayden Johnston for the top spot.   
Kerle, who became the first C-L player to ever have 1,000 receiving yards in a season (1,004) joins Makary in being honored by being one of 15 players on the District 9 Honor Roll. Their C-L teammate, Austin Newcomb, is also on the Honor Roll.
D9SPORTS.COM PLAYER OF THE WEEK
Brenden Makray – Clarion-Limestone: 17-for-34 passing, 354 yards, 4 touchdowns, 1 interception; Became C-L's all-time leading passer with 4,446 yards; Led the Lions on a comeback from a 32-8 deficit with under six minutes to play in the third quarter – Clarion-Limestone 46, Punxsutawney 32
D9SPORTS.COM HONOR ROLL
Bryan Dworek – Brookville: 11 catches, 136 yards, 2 touchdowns – Brookville, Keystone 6
Jack Krug – Brookville: 20-for-32, 360 yards, 4 touchdowns – Brookville 63, Keystone 6
Spencer Miller – Clarion: 9-for-11 passing, 135 yards, 2 touchdowns; 3 carries, 11 yards, 1 touchdown – Clarion 44, St. Marys 6
Kyle Kerle – Clarion-Limestone: 5 catches, 140 yards, 2 touchdowns; Became C-L's single-season receiving leader with 1,004 yards; Caught the go-ahead touchdown as C-L rallied from a 32-8 deficit with under six minutes to play in the third quarter – Clarion-Limestone 46, Punxsutawney 32
Austin Newcomb – Clarion-Limestone: 13 carries, 135 yards, 2 touchdowns; 2 catches, 28 yards – Clarion-Limestone 46, Punxsutawney 32
Isaac Rumery – Clearfield: 5-for-11 passing, 172 yards, 3 touchdowns; 7 carries, 8 yards, 1 touchdown – Clearfield 45, Karns City 20
Nick Stewart – Curwensville: 33 carries, 328 yards, 3 touchdowns – Curwensville 48, Philipsburg-Osceola 19
Erik DeLong – Kane: 19 carries, 167 yards, 2 touchdowns; Helped Kane win its third straight AML Title – Kane 33, Otto-Eldred 0
Reed Williams – Kane: 18-for-32, 235 yards, 1 touchdowns, 1 interception; Ran for two touchdowns; Helped Kane win its third straight AML Title – Kane 33, Otto-Eldred 0
Chance Nagy – Moniteau: 20-for-40, 208 yards, 3 touchdowns; Threw the game-winning touchdown in the second overtime after leading team from two scores down in the third quarter – Moniteau 35, Redbank Valley 34, 2 overtimes
Dylan Ishman – Punxsutawney: 9-for-18 passing, 170 yards, 4 touchdowns; 14 carries, 68 yards – Clarion-Limestone 46, Punxsutawney 32
Brock Barrett – Redbank Valley: 4 catches, 102 yards, 1 touchdown; 4 carries, 47 yards, 2 touchdowns – Moniteau 35, Redbank Valley 34, 2 overtimes
Keaton Kahle – Redbank Valley: 5-for-12 passing 148 yards, 1 touchdown, 1 interception; 3 carries, 133 yards, 1 touchdowns – Moniteau 35, Redbank Valley 34, 2 overtimes
Andy Breier – Ridgway: 3 catches, 131 yards, 3 touchdowns – Ridgway 41, Union/A-C Valley 14
Johnny Mitchell – Ridgway: 5-for-9, 133 yards, 4 touchdowns – Ridgway 41, Union/A-C Valley 14
2017 PLAYERS OF THE WEEK
Week Zero: Jack Krug, Brookville
Week One: Clint Thurston, Redbank Valley
Week Two: Sawyer Drummond, Otto-Eldred
Week Three: Nick Stewart, Curwensville
Week Four: Dalton Beham, Karns City
Week Five: Jack Krug, Brookville
Week Six: Erik DeLong, Kane and Clay Garing, Karns City
Week Seven: Matt Miller, DuBois
Week Eight: John Eakin, Bradford
Week Nine: Brenden Makray, Clarion-Limestone