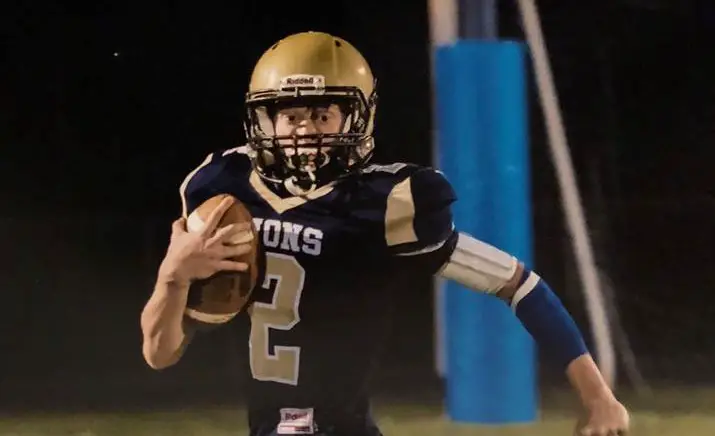 SHIPPENVILLE, Pa. – Austin Newcomb did a little bit of everything for Clarion-Limestone in the Lions 50-6 win over Keystone Friday night, and that all-around performance earns him the Week Two 2018 D9Sports.com District 9 Football Player of the Week award.
(Photo by Cameron Kirkland)
Newcomb scored three touchdowns on offense while racking up 327 totals yards of offense. He ran the ball 16 times for 212 yards and two scores and added three catches for 115 yards and a touchdown. On defense, he made nine tackles and had three pass defenses and on special teams, he blocked a field goal.
Joining Newcomb in being honored this week are 15 players on the District 9 Honor Roll for Week Two including teammate Ayden Wiles, who scored four touchdowns of his own in the victory.
The Player of the Week and Honor Roll honors will continue through the conclusion of the regular season.
D9SPORTS.COM PLAYER OF THE WEEK
---
Austin Newcomb – Clarion-Limestone: 16 carries, 212 yards, 2 touchdowns; 3 catches, 115 yards, 1 touchdown; 9 tackles, 3 passes defended, 1 blocked field goal – Clarion-Limestone 50, Keystone 6
D9SPORTS.COM HONOR ROLL
---
Donny Pattison – Bradford: 12 carries, 134 yards, 3 touchdowns; 1 catch, 10 yards; Returned a kickoff for a touchdown and had 117 yards of kickoff return yardage; 4 tackles – Bradford 43, Kane 14
Peter Downer – Brockway: 10 of 26 passing, 247 yards, 3 touchdowns – Brockway 34, St. Marys 7
Zane Puhala – Brockway: kicked 2 field goals (38 yards, 35 yards and was 3 of 3 on extra point – Brockway 34, St. Marys 7
Ayden Wiles – Clarion-Limestone: 16 carries, 145 yards, 3 touchdowns; 2 catches, 32 yards, 1 touchdown – Clarion-Limestone 50, Keystone 6
Hayden Keck – Coudersport: 4-for-4 passing, 106 yards, 2 touchdowns; 2 carries, 27 yards, 2 touchdowns – Coudersport 61, Sheffield 6
Avery Francisco – Curwensville: 9 carries, 72 yards, 2 touchdowns; 8 tackles, 1 sack – Curwensville 14, Union 13
Alex Kovalyak – DuBois: 15 of 26 passing, 251 yards, 3 touchdowns, 1 interception – DuBois 31, Warren 8
Cameron Magee – Otto-Eldred: 3 catches, 31 yards, 3 touchdowns; 1 carry, 74 yards, 1 touchdown – Otto-Eldred 55, Cameron County 0
Chase Sebastian – Otto-Eldred: 3-for-3 passing, 163 yards, 2 touchdowns; 6 carries, 38 yards 0 Otto-Eldred 55, Cameron County 0
Cole Sebastian – Otto-Eldred: 9 of 13 passing, 160 yards, 4 touchdowns; 1 catch, 61 yards, 1 touchdown – Otto-Eldred 55, Cameron County 0
Max London – Punxsutawney: 4 catches, 52 yards, 3 touchdowns; 1 carry, 11 yards; Intercepted a pass with 1:14 left to seal the victory; 6 tackles – Punxsutawney 23, Brookville 21
Alex Gianvito – Punxsutawney: Kicked game-winning 20-yard field with 1:32 left to beat Brookville in Route 36 Trophy Game; 10 carries, 59 yards; 7 tackles – Punxsutawney 23, Brookville 21
Hunter Buzard – Redbank Valley: Intercepted 2 passes; 1 catch, 5 yards; 3 carries, 11 yards – Redbank Valley 24, Elk County Catholic 20
Paul Grecso – Ridgway: 8 of 11 passing, 119 yards, 3 touchdowns – Ridgway 36, Moniteau 14
Brad LaFleur – Smethport: 6 tackles, 3 sacks – Smethport 40, Port Allegany 0