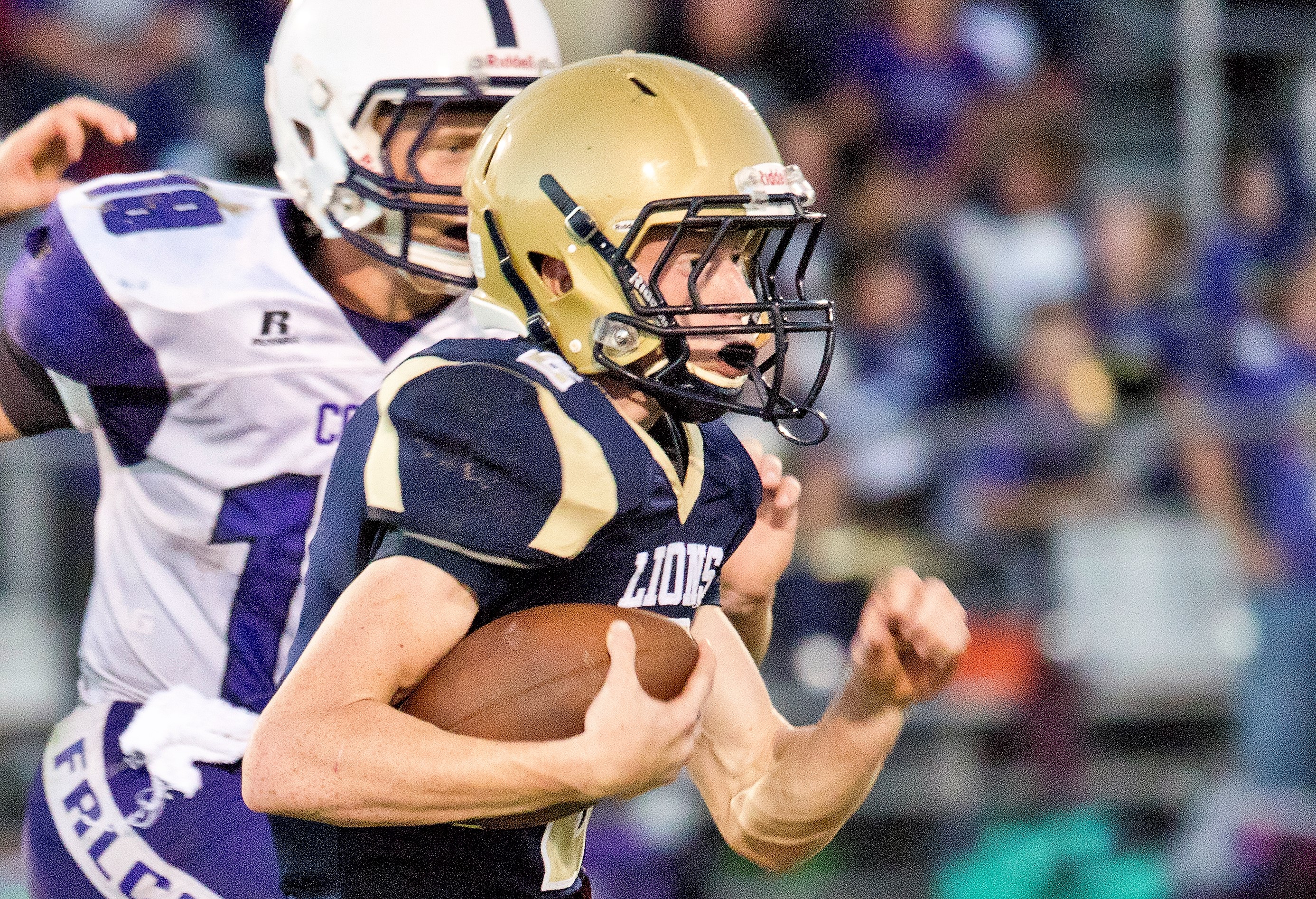 SHIPPENVILLE, Pa. – No one would blame Clarion-Limestone's Austin Newcomb if he went home Saturday night and created himself in Madden 2018.
(Photo by Kyle Yates www.facebook.com/YatesPhoto)
After all, the game Newcomb played Saturday in Duke Center against Otto-Eldred was video-game like.
Newcomb accounted for 410 all-purpose yards and five touchdowns including 321 offensive yards and four scores in the Lions 74-34 win over the Terrors that set the C-L school record for points scored in a game. He ran 23 times for 265 yards and four touchdowns, caught four passes for 56 yards and returned a kickoff 74 yards for a touchdown (he had 15 additional return yards on the night). If that wasn't enough, he was also a force on defense making 10 tackles, picking off a pass, causing a fumble and recovering a fumble.
With this week's award, Newcomb becomes the first repeat winner this year having also taken home Player of the Week honors in Week Two.
Joining Newcomb in being honored this week are 15 players on the District 9 Honor Roll for Week Five.
The Player of the Week and Honor Roll honors will continue through the conclusion of the regular season.
D9SPORTS.COM PLAYER OF THE WEEK
---
Austin Newcomb – Clarion-Limestone: 23 carries, 265 yards, 4 touchdowns; 4 catches, 56 yards; Returned a kickoff 74 yards for a touchdown; Caught four 2-point conversion; Made 10 tackles on defense with an interception, a fumble recovery and a fumble caused – Clarion-Limestone 74, Otto-Eldred 34
D9SPORTS.COM HONOR ROLL
---
Donny Pattison – Bradford: 23 carries, 191 yards, 3 touchdowns – Bradford 34, Brockway 13
Zane Puhala – Brockway: Kicked two field goals, one from 36 yards out and the other from 34 yards out; 1-for-1 on PATs – Bradford 34, Brockway 13
Robert Keth – Brookville: 13 of 26 passing, 360 yards, 5 touchdowns – Brookville 35, Moniteau 24
Cabe Park – Brookville: 5 catches, 190 yards, 2 touchdowns; Scooped and scored on an offensive fumble from 21 yards out – Brookville 35, Moniteau 24
Archer Mills – Clarion: 9 of 13 passing, 129 yards, 3 touchdowns – Clarion 35, Kane 7
Ayden Wiles – Clarion-Limestone: 18 carries, 175 yards, 4 touchdowns – Clarion-Limestone 74, Otto-Eldred 34
Taye Lynch – Clearfield: 4 catches, 163 yards, 3 touchdowns; Returned a kickoff 62 yards for a touchdown; 10 yards rushing – Clearfield 49, Bellefonte 21
Isaac Rumery – Clearfield: 10 of 13 passing, 266 yards, 5 touchdowns; 4 carries, 18 yards, 1 touchdown – Clearfield 49, Bellefonte 21
Stephen Bobby – Elk County Catholic: 6 carries, 42 yards, 3 touchdowns; Kicked a 28-yard field goal – Elk County Catholic 65, Cameron County 0
Jayden Blazosky – Keystone: 3 catches, 77 yards, 1 touchdown; 3 carries, 31 yards, 1 touchdown; Intercepted a pass on defense – Keystone 52, Sheffield 0
Isaak Jones – Keystone: 9 of 14 passing, 178 yards, 4 touchdowns – Keystone 52, Sheffield 0
Cole Sebastian – Otto-Eldred: 27 of 38 passing, 262 yards, 4 touchdowns – Clarion-Limestone 74, Otto-Eldred 34
Paul Gresco – Ridgway: 9 of 12 passing, 107 yards, 3 touchdowns, 1 interception – Ridgway 42, Punxsutawney 16
Colby Best – Union/A-C Valley: 13 tackles, 1 sack, 1 interception – Union/A-C Valley 34, Port Allegany 6
Luke Bowser – Union/A-C Valley: 5 of 11 passing, 109 yards, 2 touchdowns; 8 carries, 19 yards, 2 touchdowns – Union/A-C Valley 34, Port Allegany 6
2018 PLAYERS OF THE WEEK
---
Week Zero: Jack Krug, Brookville
Week One: Caleb Freeland, Clearfield
Week Two: Austin Newcomb, Clarion-Limestone
Week Three: Jake Lezzer and Isaac Rumery, Clearfield
Week Four: Robert Keth, Brookville and Archer Mills, Clarion
Week Five: Austin Newcomb, Clarion-Limestone
Week Six: TBA
Week Seven: TBA
Week Eight: TBA
Week Nine: TBA