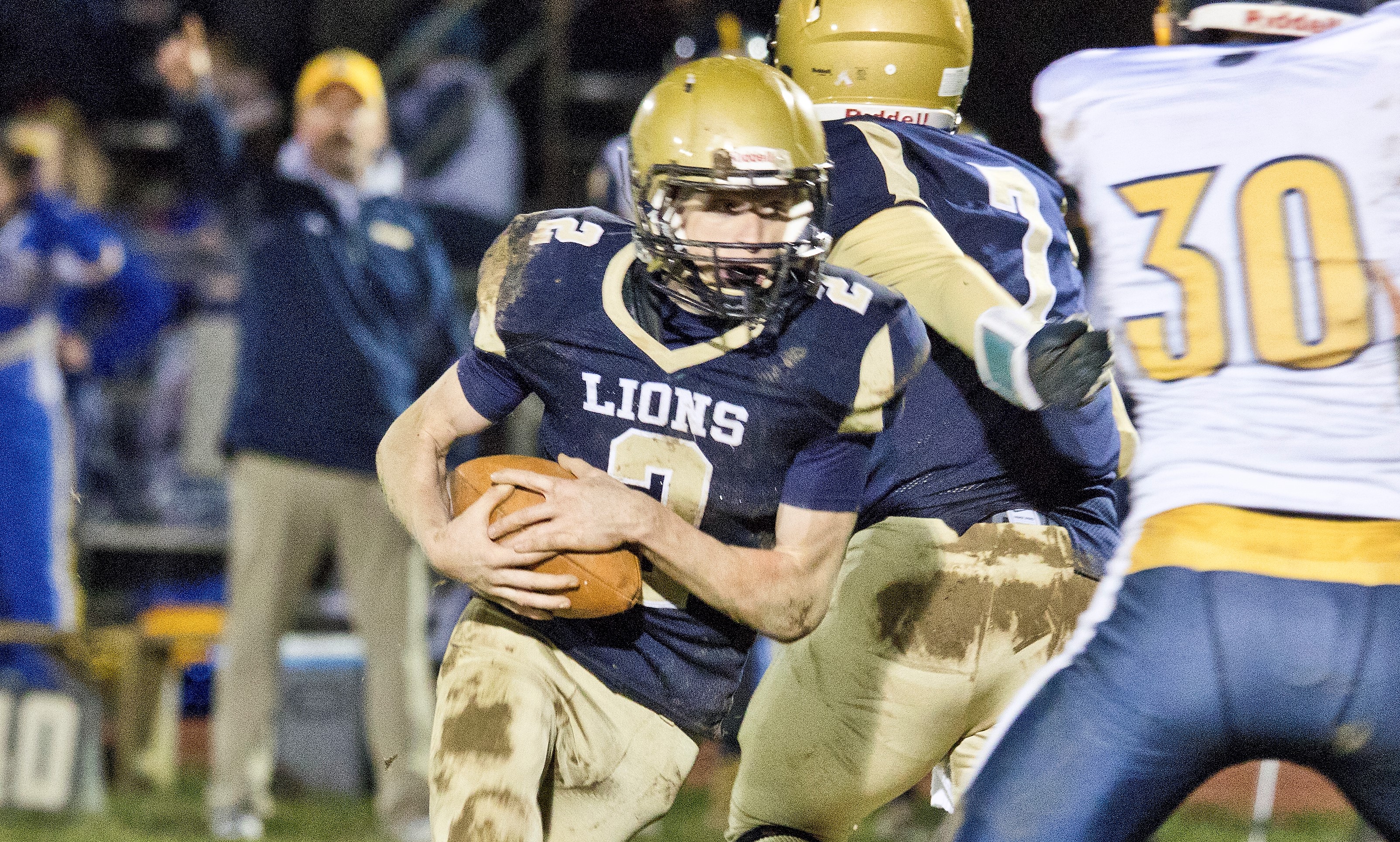 BROCKWAY, Pa. – Despite being limited to just the first half because of an injury, Clarion-Limestone junior Austin Newcomb became the all-time single-season rushing leader in District 9 history Friday night.
(Photo by Kyle Yates www.facebook.com/YatesPhoto)
Going into Friday night's District 9 Class 1A semifinal vs. Coudersport, a 22-12 Lions' loss, Newcomb was 158 yards shy of tying the D9 single-season rushing mark of 2,600 yards set by Curwensville's Alex Holland in 2010.
Newcomb set the record on his 17th carry of the first half, a 7-yard gain giving him 161 yards on the night at that time. He went on to finish the first half with 23 carries for 185 yards giving him unofficially 2,627 yards on the year. He also scored a pair of touchdowns giving him 35 rushing touchdowns and 43 total touchdowns on the year. The 43 touchdowns were two shy of the District 9 record of 45 set by Clearfield's Dave Richards in 2002.
"It's just amazing," Clarion-Limestone head coach Dave Eggleton said. "When I knew he was hurt for the second half, I thought there was probably no shot at (the record). I didn't realize he had that many yards. I've never seen a kid so quietly just put up numbers like he does. I'm just blessed to have him on my football team. I know that. Our line too. Give credit to Austin, our o-line, the fullbacks, it's a big accomplishment for everyone on the team."
TOP FIVE SINGLE-SEASON RUSHERS IN DISTRICT 9 HISTORY
1. Austin Newcomb, Clarion-Limestone, 2018 – 2,627 yards (unofficial total)
2. Alex Holland, Curwensville, 2010 – 2,600 yards
3. Nate Sipes, Curwensville, 2004 – 2,511 yards
4. Dave Richards, Clearfield, 2002 – 2,506 yards
5. Zach Tibben, Curwensville, 2013 – 2,345 yards