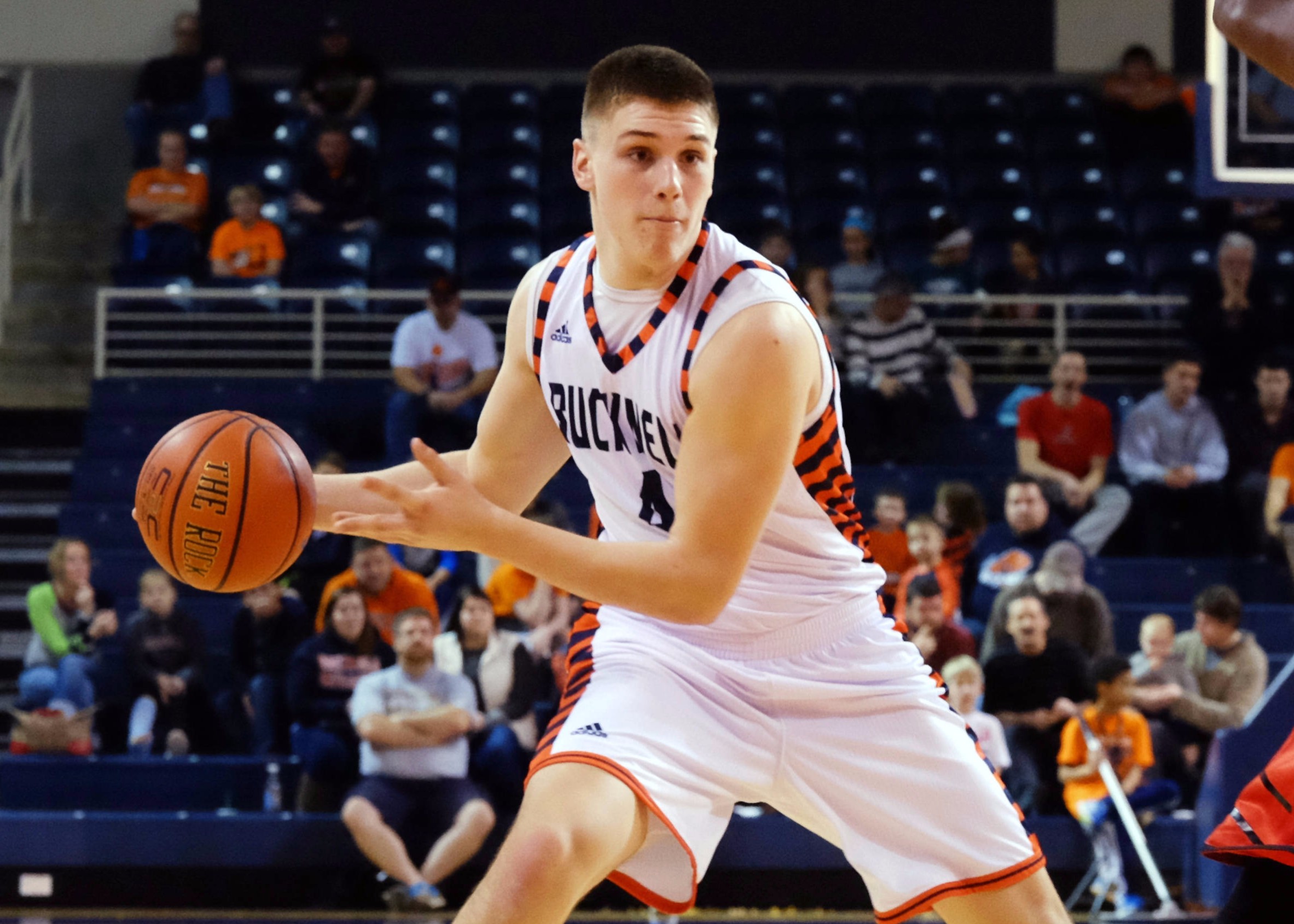 LEWISBURG, Pa. – After helping the Bucknell men's basketball team to a share of the Patriot League regular-season title, seniors Kimball Mackenzie and Nate Sestina, a Cameron County graduate, both picked up some all-conference recognition on Monday. Mackenzie was voted to the All-Patriot League First Team, while Sestina earned Second Team honors.
(Photo of Nate Sestina. Photo courtesy of Bucknell Athletics) 
Also cited was junior Bruce Moore Bruce Moore, who was named to the five-man All-Defensive Team.
Mackenzie picked up his second all-conference citation. He was a Third Team choice as a sophomore, and now he has bounced back from an injury-plagued junior campaign to make the First Team for the first time. Mackenzie's selection means that Bucknell has had at least one First Team player in 33 of the last 36 seasons, dating back to the team's tenure in the East Coast Conference.
Mackenzie enters the postseason averaging a career-high 16.9 points per game, which is the third-highest figure in the Patriot League. Mackenzie leads the team with 67 3-pointers, and he ranks fourth in the Patriot League in free-throw percentage at .861.
Mackenzie has scored in double figures in 27 of the team's 30 games this season, including seven 20-point games, and he has hit big shots in crunch time when the team has needed them. In the second halves of games, he averages 9.3 points per game while shooting just under 90 percent from the foul line. Most recently, his two free throws with 10 seconds remaining gave the Bison a 62-61 win over Army and a co-regular-season title in the Patriot League.
A native of Oakville, Ontario, Mackenzie scored his 1,000th career point earlier this season, and he has since moved all the way up to 20thplace on Bucknell's career scoring list with 1,255 points. He also ranks sixth in school history in 3-point field goals with 195, and his career free-throw percentage .856 is second-best.
Sestina earned his first career all-conference honor after serving the last three years as a valuable backup center behind three-time First Team All-Patriot League pick and 2017 Patriot League Player of the Year Nana Foulland. Sestina has made the most of the opportunity, averaging 15.5 points and a team-high 8.4 rebounds per game this season.
Sestina ranks second in the league in rebounding and seventh in scoring, and he also ranks in the top 10 in field-goal percentage (7th, .534), free-throw percentage (8th, .816) and blocked shots (5th, 1.0).
Sestina made history in Bucknell's Jan. 14 win over Holy Cross, when he scored a career-high 32 points on perfect 11-for-11 shooting from the field, which set the school record and tied the Patriot League record for most attempts without a miss. He has scored 20 or more points in a game eight times this season and recorded 10 double-doubles, including in the team's regular-season-ending win over Army in which he grabbed a career-high 17 rebounds. Two of those double-doubles came against TCU and Rhode Island at the Hawaiian Airlines Diamond Head Classic, where he made the All-Tournament Team after leading the Bison to a third-place finish.
Moore has started all 30 games for the Bison at the power forward position, and he is averaging 10.0 points and 5.0 rebounds per game. He has scored in double figures 15 times, with a high of 19 points in a key road win at Lehigh, and he has five double-digit rebounding games, all in Patriot League play.
Moore's strength and versatility makes him a centerpiece of the Bison defense. He has the ability to guard all five positions on the floor when needed, and he is also an effective shot-blocker. Moore's defensive prowess was on display in Bucknell's road victory at America East power Vermont early in the season, when he helped hold Catamounts star Anthony Lamb to 2-for-14 shooting.
Bucknell has now had at least one All-Defensive Team member in each of the four years since the inception of the award.
Capturing the Patriot League's major awards were Colgate's Rapolas Ivanauskas (Player of the Year), Holy Cross' Jehyve Floyd (Defensive Player of the Year), Colgate's Tucker Richardson (Rookie of the Year), and Colgate's Matt Langel (Coach of the Year).
Joining Mackenzie on the First Team were Ivanauskas, American's Sa'eed Nelson, Lehigh's Lance Tejada, and Loyola's Andrew Kostecka.
Second Team honorees were Sestina, Floyd, Boston University's Max Mahoney, and Colgate's Jordan Burns and Will Rayman.
The Third Team consists of Army's Tommy Funk, Lafayette's Justin Jaworski, Navy's Hasan Abdullah, and Lehigh's Jordan Cohen and Kyle Leufroy.
Named to the All-Rookie Team were Richardson, American's Jacob Boonyasith, Boston University's Jonas Harper, Loyola's Jaylin Andrews, and Navy's John Carter.
Joining Moore on the All-Defensive Team were Rayman, Floyd, Kostecka and Abdullah.
Bucknell finished the regular season 19-11 overall and 13-5 in the Patriot League. Colgate also went 13-5 in league play, and the Raiders will be the No. 1 seed for the upcoming Patriot League Tournament based on a better record against fourth-place American (Bucknell and Colgate split their two meetings, and both swept third-place Lehigh).
The Bison will be seeded No. 2, and they will host a quarterfinal game on Thursday at 7 p.m. against an opponent to be determined. Bucknell will play the winner of Tuesday's first-round game between No. 7 Lafayette and No. 10 Holy Cross.
This year's regular-season title was Bucknell's fifth in a row and eighth in the last nine years. The Bison will be looking to capture the Patriot League Tournament crown and earn a trip to the NCAA Tournament for the third year in a row.
2018-19 Men's Basketball All-Patriot League Tea and Major Awards
Player of the Year: Rapolas Ivanauskas, Colgate (Jr., F)
Defensive Player of the Year: Jehyve Floyd, Holy Cross (Sr., F)
Rookie of the Year: Tucker Richardson, Colgate (Fr., G)
Coach of the Year: Matt Langel, Colgate
First-Team All-Patriot League
Sa'eed Nelson, American (Jr., G)
Kimball Mackenzie, Bucknell (Sr., G)
Rapolas Ivanauskas, Colgate (Jr., F)
Lance Tejada, Lehigh (Sr., G)
Andrew Kostecka, Loyola Maryland (Jr., G)
Second-Team All-Patriot League
Max Mahoney, Boston University (Jr., F)
Nate Sestina, Bucknell (Sr., C)
Jordan Burns, Colgate (So., G)
Will Rayman, Colgate (Jr., F)
Jehyve Floyd, Holy Cross (Sr., F)
Third-Team All-Patriot League
Tommy Funk, Army West Point (Jr., G)
Justin Jaworski, Lafayette, (So., G)
Jordan Cohen, Lehigh (Jr., G)
Kyle Leufroy, Lehigh (Sr., G)
Hasan Abdullah, Navy (Sr., G)
All-Defensive Team
Bruce Moore, Bucknell (Jr., F)
Will Rayman, Colgate (Jr., F)
Jehyve Floyd, Holy Cross (Sr., F)
Andrew Kostecka, Loyola Maryland (Jr., G)
Hasan Abdullah, Navy (Sr., G)
All-Rookie Team
Jacob Boonyasith, American (Fr., G)
Jonas Harper, Boston University (Fr., G)
Tucker Richardson, Colgate (Fr., G)
Jaylin Andrews, Loyola Maryland (Fr., G)
John Carter Jr., Navy (Fr., G)