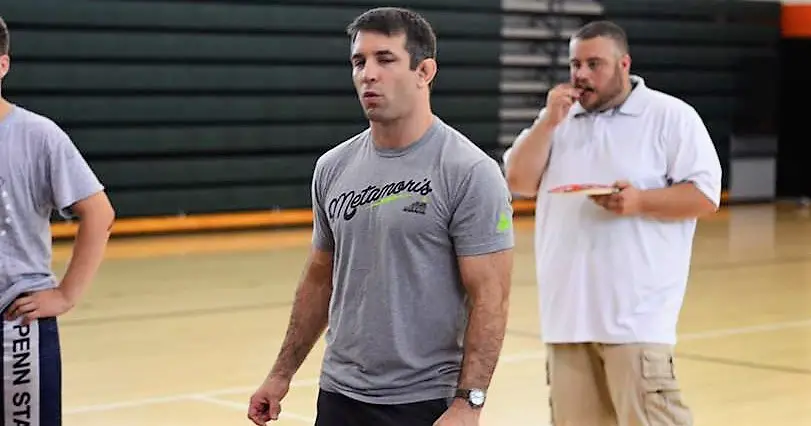 CLARION, Pa. – By day Isaac Greeley spends his life helping people avoid or overcome pain as one of the chiropractors at The Rehab Centre, which has five locations including one in Clarion.
But in his off hours, Greeley, a Roulette, Pa., native and a 1994 graduate of Port Allegany High School, lives a life that one might not expect from a chiropractor.
He helps run The Mat Factory, a wrestling, MMA and Brazilian Jiu Jitsu club in Lower Burrell outside of Pittsburgh while also doing some Brazilian Jiu Jitsu fighting of his own and also dabbles as an assistant wrestling coach for powerhouse Burrell High School.
And Greeley has a big fight coming up July 28 Center Ice Arena in Delmont, Pa., when he takes part in the Fight to Win Pro 42 Pittsburgh.
"I got picked through an application process," Greeley explained. "I was actually picked for a prior event in Cleveland, but I couldn't do it because one of my MMA fighters, Dominic Mazzotta, had a Bellator fight the same day. So, I reapplied, and they picked me for the Pittsburgh card."
Greeley, a black belt, gets a stiff test at Pro 42, which starts at 6 p.m. when he takes on Chris Bower, a fellow black belt out of Frederick, Md., who is a four-time Pan-American Games champion.
"He is definitely going to be a big test for me," Greeley said. "I'm just looking to do my best, compete my best. It's really at the stage of the game where I'm 41 and have competed my whole life. I definitely want to win, but I want to represent myself and push myself and get myself out of my comfort zone. That is sort of what my motto has always been in my coaching. Get yourself uncomfortable, and you grow from that. I'm really excited for the challenge and see what it brings. He is a world-level competitor."
Greeley doesn't fight as much as he might want to, this is only the second competition of the year for him.
"I'm just excited to get back on the mat," Greeley said. "I've done some competitions. I usually like to compete at least once a year. That has always been my goal, and Jiu Jitsu has been a great way to continue to do it. I have competed this year already, but this is a big stage."
Greeley, who went on the compete in college in wrestling at Pitt-Johnstown and is a member of that school's athletic hall of fame as a member of the 1999 NCAA Division II National Championship team (he was also an All-American that year at 149 pounds), got started in Brazilian Jiu Jitsu after he finished chiropractic school and moved to Pittsburgh.
"I kind of fell into it," Greeley said. "I started training with one of my friends who I have coached high school wrestling with at Burrell for 15 years now, Chris Como. We started training on the side with it. At the time, this was 2002, no one really knew what it was. I didn't really have a great understanding of what it was either. But it was a great transition from wrestling. It's a little less physical, a little bit more therapeutic for what I was doing. I was still doing a lot of wrestling, and it translated well. I fell in love with it and ended up getting my black belt in 2012. I have been having a lot of fun with it and really enjoy it. It's just a great supplement to my training. It's great therapy, and it's a great break from all the external stress I get from work and family and everything else."
About seven years ago, Greeley decided to share his love of wrestling, MMA and Jiu Jitsu my opening the Mat Factory.
"We started as a wrestling club and added Mixed Martial Arts and Brazilian Jiu Jitsu," Greeley said. "We have kids age four through people training for the World Champions and Olympics in wrestling. We have high-level grapplers who compete around the world, and MMA fighters who compete in UFC and Bellator. We have had a nice run with a lot of great competitors, a lot of great athletes. We have a very family-type atmosphere down there, and we have great instructors at all of our levels. We've been very blessed.
"It started out more as an excuse for me to get away from home and work and train and work out, and it's now grown to be bigger than what I had envisioned. We've changed a lot of lives and helped people become healthy and helped people with a lot of different issues."
Helping people and honoring people is something Greeley treasurers, and that is evident in a summer wrestling camp he holds at his high school alma mater, Port Allegany with one of his former coaches, Sean Lathrop.
The camp started in 1996 and became a non-profit camp named after former Ridgway wrestler Bruno Iorfido after Iorfido was killed in a car accident 14 years ago. The camp, which is held at the end of June, attracts wrestlers from all over the country and even the world and scholarships are given out to each year to college wrestlers who have reached their sophomore year.
"Bruno was a really special person," Greeley said. "He was one of our camp counselors, and he really touched mine and Shawn's lives. We decided to make the camp a non-profit camp. All the profit is given away as scholarships college sophomores and above who demonstrate the same types of characteristics that Bruno did. The same type of moral values Bruno had. The same type of hard work ethic that Bruno did. To date, we have given over 30 scholarships out. Over $30,000 in scholarships that we have given out over the last 14 years. It has continued to grow."
Teaching campers how to approach life is one of the goals of the camp, according to Greeley.
"It's a great week to get the message about Bruno and how he lived," Greeley said "We are trying to get more kids at that transitional age to understand wrestling is great. But it's better to be a good person and be prepared for life and how to approach things by doing things the right way."
What started as a humble camp with 17 campers has grown into a national camp with campers coming from all over the country and even the world.
"We had kids comes from Georgia, North Carolina this year," Greeley said. "We had wrestlers training for the World Championships coming from Palu and Uzbekistan. We had four athletes training for the World Championships there and one who wrestled in the Olympics who came to camp to train. We also have tons of college wrestlers, All-Americans, National Champions, who come up and donate their time."
Greeley also said that with six NCAA Division I and Division II coaches at the camp this year, it's a great way for wrestlers to get exposure.
"It's a great way for the coaches to see the diversity of the kids," Greeley said. "For recruiting purposes, it's great to get these kids in front of great coaches."
Greeley said he couldn't be happier with the way Port Allegany at the surrounding communities have accepted the camp and the campers.
"It's been amazing," Greeley said. "It brings a lot of warmth to my heart to be able to bring people from all over the country back home and have them fall in love with the small town. We have Coudersport, Smethport, Port Allegany. We have people spread out through all three of those towns. I bring up around 100 people myself between cooks, coaches, clinicians and campers. It's a pretty big thing. We have people spread out probably over a 50-mile radius. People are donating their houses or their camps. The people there are very special. They are very honest. They are very hardworking. They are blue collar for the most part. That's something that the wrestlers really appreciate, being around people like that.We are really blessed to have it."
Greeley said above all, having fun is important at the camp.
"We have a lot of characters there who really make the week fun," Greeley said. "They are telling stories, playing game. Sean Lathrop is obviously a huge part of that."