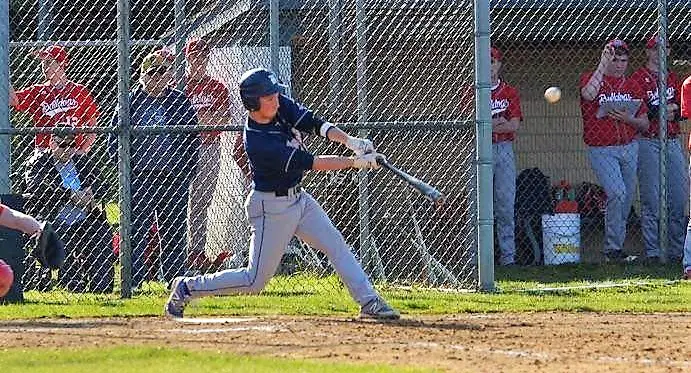 DUBOIS, Pa. – Ben Caun's sacrifice fly in the bottom of the seventh innings lifted Brookville to a 4-3 win over Conemaugh Township in the opening round of the PIAA Class 2A baseball playoffs Monday afternoon at Showers Field in DuBois.
Conemaugh Township had forced Brookville to bat in the bottom of the seventh when Cody Platt tied the game with a one-out, solo home run onto the porch beyond the left-field fence in the top of the seventh to knot the game at three.
CT had a chance to take the lead in the top of the seventh when it had runners on second and third with two outs, but Aaron Park, who gave up the game-tying homer, was able to strike out Shaun Berzonski to preserve the tie.
Park started the Brookville rally in the bottom of the seventh with a one-out walk. Adam Mackin courtesy ran for Park, and the Raiders then tried to sac with Ben Reitz that the pitcher threw wild to first putting runners at the corners for Caun, who lofted a sac fly to centerfield to win the game.
"It's been an exciting ride here lately," Brookville manager Bruce Ferry said. "It's been a long time since we've won a state playoff game. I guess and the kids were on the bus on the way over were still talking about no one thinking they're any good. So as long as they believe that story, we'll keep riding it. It's fun."
Brookville's two aces – senior Ben Reitz and Park, a freshman – held Conemaugh Township, which was coming off a 10-0 win over North Star in the District 5 title game, in check most of the afternoon.
Reitz went the first four innings allowing two runs before turning the game over to Park with a 3-2 lead. He went four innings allowing four hits, two runs, both earned. He walked one and hit three while striking out four.
The freshman Park, who went three innings allowing three hits and a run while walking four and striking out three, pitched his way through danger in both the fifth and sixth stranding a man at second in the fifth and the bases loaded with two outs in the sixth before falling allowing his lone run on the Platt homer in the seventh.
Bryan Dworek helped the cause in the sixth by throwing out Jeff Tresnicky at home plate for the second out of the inning on a single to center by Shaun Berzonski. After the single, Park walked a pair to load the bases but struck out Foster on three pitches.
Conemaugh Township struck first in the first Jordan Poznanski led off the game with a double and scored on double play hit by Cameron Banjak to second baseman Brady Caylor who went to shortstop Seth Dunkle to first baseman Tanner LaBenne.
That could have been trouble for Brookville considering the Indians hadn't given up more than two runs in a game since April 28 and hadn't given up more than one since May 4.
But the Raiders were able to scratch out a pair of runs against 6-foot-4 sophomore lefty Devin Foster, who entered the game with a 0.38 ERA and 108 strikeouts in 56 innings in the bottom of the first thanks in part to a two-out throwing error on second baseman Ethan Leasure that scored Dunkle, who had a one-out single, and LaBenne, who walked twice.
Brookville then added a run in the third off Foster when Caun singled off the glove of the third baseman into no man's land behind shortstop with two outs scoring LaBenne, who singled on one out, from second base to make it 3-1. Foster was finished after the third having allowed three runs, one earned, on four hits and two walks while striking out three.
Conemaugh Township got that run back in the fourth after loading the bases with one out, as Dylan Drenner grounded out. As The Indians, however, stranded a pair of runners against Reitz, who got Poznanski to fly out to end the threat.
Brookville had an opportunity to add some insurance runs in the fifth when it loaded the bases against Cody Platt, but the junior was able to get Tyler Park to ground into a force out to third.
The win, Brookville's first PIAA victory since 1999 when it beat Fort LeBoeuf 4-2 at Punxsutawney before falling to Waynesburg 4-2 in the quarterfinals at Pullman Park in Butler, moves the Raiders into the PIAA quarterfinals where it will take on the winner of Tuesday's game between WPIAL champion California and District 10 runner-up Saegertown. That game, which was postponed Monday, is set for 11 a.m. Tuesday at Neshannock High School.
BROOKVILLE 4, CONEMAUGH TOWNSHIP 3
Score By Innings
Conemaugh 100 100 1 – 3
Brookville 201 00 1 – 4
Conemaugh Township – 3
Jordan Poznanski ss 3120, Devin Foster p-rf 4020, Cam Banjak c 3000, Cody Platt rf-p 4111, Jake Grosik 3b 3100, Brandon Stahl 1b 3010, Jeff Tresnicky cf 2000, Shaun Berzonski lf 3010, Dylan Drenner dh 2001, Ethan Leasure 2b 0000, Bailey Kist cr-ph 0000. Totals: 27-3-7-2.
Brookville – 4
Bryan Dworek cf 4000, Seth Dunkle ss 3110, Tanner LaBenne 1b 3220, Logan Byerly pr 0000, Aaron Park p-3b 2010, Adam Mackins cr 0100, Ben Reitz p-3b 3010, Ben Caun lf 2012, Tyler Park rf 3000, Dane Lyle c 3000, Brady Caylor 2b 3010. Totals: 26-4-7-2.
Errors: Conemaugh Township 2, Brookville 1. LOB: Conemaugh Twp 11, Brookville 9. DP: Brookville. 2B: Poznanski 2, Foster. HR: Platt. SAC: Reitz, Caun. SB: Caylor, Stahl 2, Tresnicky. HBP: Banjak (by Reitz), Grosik (by Reitz), Berzonski (by Reitz).
PITCHING
Conemaugh Township
Devin Foster -3 IP, 4 H, 3 R, 1 ER, 2 BB, 3 K, 0 HP
Cody Platt-3.2 IP, 3 H, 1 R, 0 ER, 3 BB, 3 K, 0 HP.
TOTALS – 6.2 IP, 7 H, 4 R, 1 ER, 5 BB, 6 K, 0 HP
Brookville
Ben Reitz – 4 IP, 4 H, 2 R, 2 ER, 1 BB, 4 K, 3 HP
Aaron Park – 3 IP, 3 H, 1 R, 1 ER, 4 BB, 4 K, 0 HP
TOTALS – 7 IP, 7 H, 3 R, 3 ER, 5 BB, 8 K, 3 HP
Winning pitcher: Aaron Park
Losing pitcher: Cody Platt