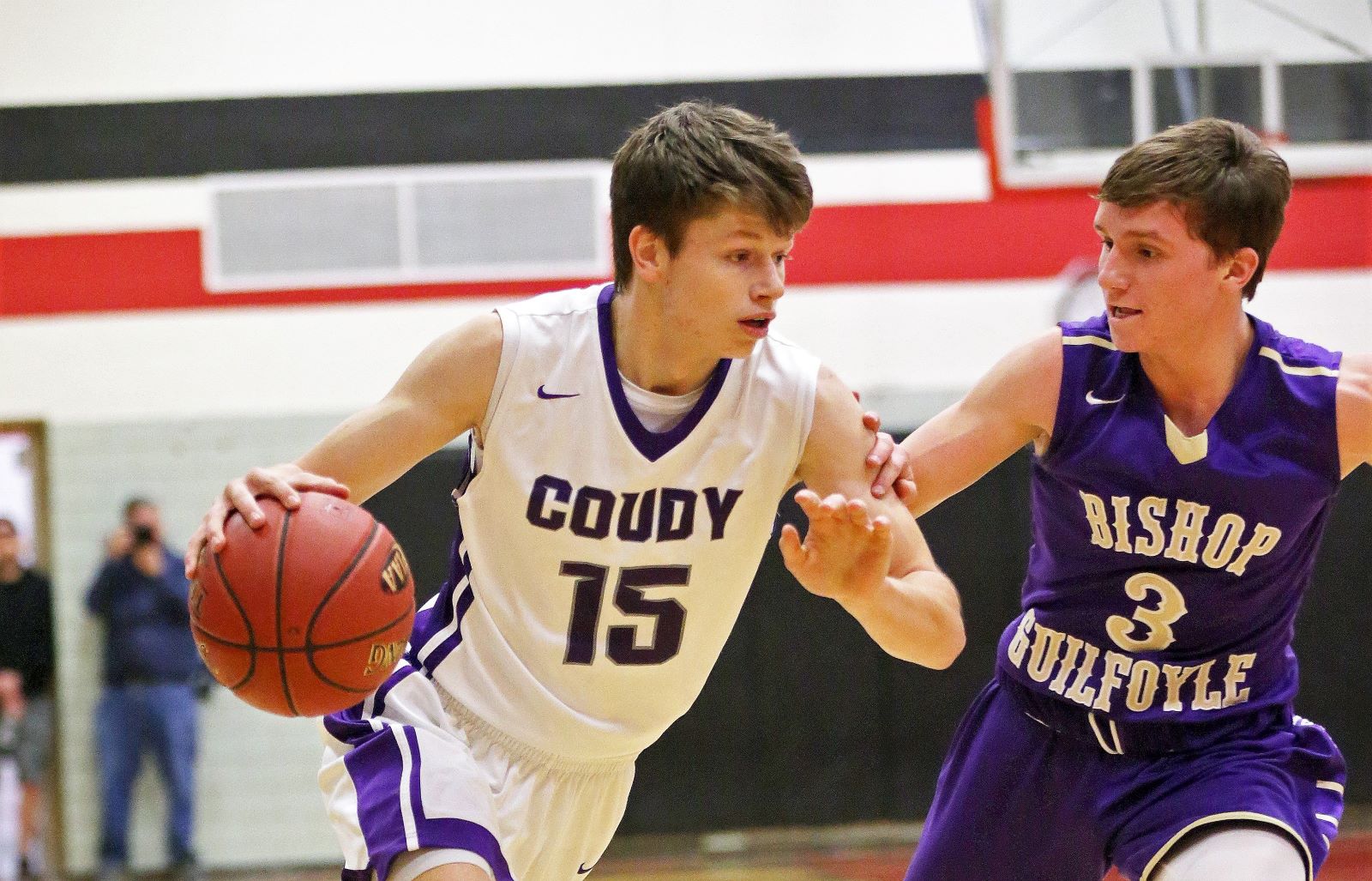 DUBOIS, Pa. – Owen Chambers is the new king of District 9 boys' basketball scoring.
(Photo: Owen Chambers drives towards the hoop during the first half Wednesday. Chambers became District 9's all-time leading scorer with 2,269 career points during the game. Photo by Paul Burdick. Check out more of Burdick's work here)
With a pair of free throws at the 1:52 mark of the third quarter of a 77-65 PIAA Class 2A second-round loss to Bishop Guilfoyle, Chambers passed Johnsonburg graduate Calvin Grumley to become the all-time leading scorer in District 9 history.
Chambers, who needed, 19 points coming into the night to break Grumley's record of 2,557 career points set from 2004-2007, finished the night with a game-high 30 points to give him 2,269 career tallies.
"It means a lot," Chambers said. "Something you can only dream of. But it's not possible, it's a team accomplishment, my past teammates, all the way back to ninth grade through the years to get me there."
Chambers scored 13 points in the first half – at first, it was 16 (more on that later) – and then connected on two free throws in and a 2-pointer in the third quarter before getting fouled just one point away from tying the record and two from breaking it.
"I knew I was right there coming out of halftime," Chambers said. "I knew I was close. I didn't realize it was that close."
When Chambers set the record, the entire Coudersport rooting section was on its feet.
"It makes me feel great," Chambers said. "The whole town of Coudersport is behind me. They all know what it is like."
Watch all of Chamber's postgame interview.
As for the game itself, Bishop Guilfoyle (25-2) used an 11-0 run in the final two-and-half minutes of the first half to break open a one-point game and take a 34-22 halftime lead.
Back-to-back baskets by Andrew Yanoshak started the spurt before Kyle Ruggery knocked down a 3-pointer and Will Helton added back-to-back baskets, the first off a turnover and then another off an offensive rebounds with 16.5 seconds to play.
Chambers appeared to stop the bleeding at the first-half horn when he nailed what was originally called a good 3-pointer by the referee at center court opposite the scorer's table who indicated strongly that the basket counted even though it appeared to possibly leave Chamber's hands after the horn. It looked like that call was going to stand until the Bishop Guilfoyle coaching staff started complaining and then referees decided to huddle up. Whatever was said in the huddle caused the official who made the call to change his mind, and the basket was waved off leaving Coudersport down 34-22 at halftime.
The deficit grew to 14, 36-22, in the opening moments of the second half on another basket by Helton before a quick 6-0 spurt by Coudersport that included four points from Chambers and an offensive rebound and putback from Kolby VanWhy brought the Falcons back within eight, 36-38.
But Luke Ruggery, a St. Francis recruit, answered with a basket, and then Jessiah Witherspoon hit a 3-pointer while being fouled and hit the free throw before Luke Ruggery hit another 3-pointer and all of a sudden the lead was 19, 45-26.
Bishop Guilfoyle extended the lead to 22, 60-38, late in the quarter before taking a 20-point, 60-40, advantage to the fourth quarter.
Coudersport behind the hot shooting of sophomore Hayden Keck tried to rally in the fourth. Keck hit three 3-pointers in the quarter and Chambers added 11 points.
One of Keck's threes with 2:32 to play cut the deficit to 13, 67-54, and on the play, Travis Gleason was fouled with Coudersport in the double bonus giving the Falcons an opportunity for a rare 5-point play. But Gleason missed both free throws and Coudersport never could get the deficit under 10.
Keck added 20 points for Coudersport with Luke Ruggery leading Bishop Guilfoyle with 22, Witherspoon adding 21 and Helton 11.
Bishop Guilfoyle will take on District 10 champion Farrell, a 70-64 winner over Serra Catholic, in the quarterfinals Saturday, March 16, at a site and time to be announced.
Coudersport finishes its season 24-3.
BISHOP GUILFOYLE 77, COUDERSPORT 65
Score by Quarters
Bishop Guilfoyle 12 22 26 17 – 77
Coudersport 8 14 18 25 – 65
BISHOP GUILFOYLE – 77
Luke Ruggery 7 3-4 22, Kyle Ruggery 2 2-2 8, Jessiah Witherspoon 7 3-6 21, Michael Montecalvo 2 5-6 9, Will Helton 4 2-2 11, Andrew Yanoshak 3 0-0 6, J.T. Johnston 0 0-0 0. Totals 25 15-20 77.
COUDERSPORT – 65
Owen Chambers 9 10-11 30, Hayden Keck 7 2-2 20, Daniel Frame 0 0-2 0, Dillon Keglovits 1 0-0 3, Travis Gleason 3 0-3 6, Derek easton 0 0-0 0, Jon Lent 0 0-0 0, Dalton Keglovits 0 0-0 0, Kolby VanWhy 2 2-2 6. Totals 22 14-20 65.
Three-pointers: Bishop Guilfoyle 12 (L. Ruggery 5, Witherspoon 4, K. Ruggery 2, Helton). Coudersport 7 (Keck 4, Chambers 2, Dillon Keglovits).