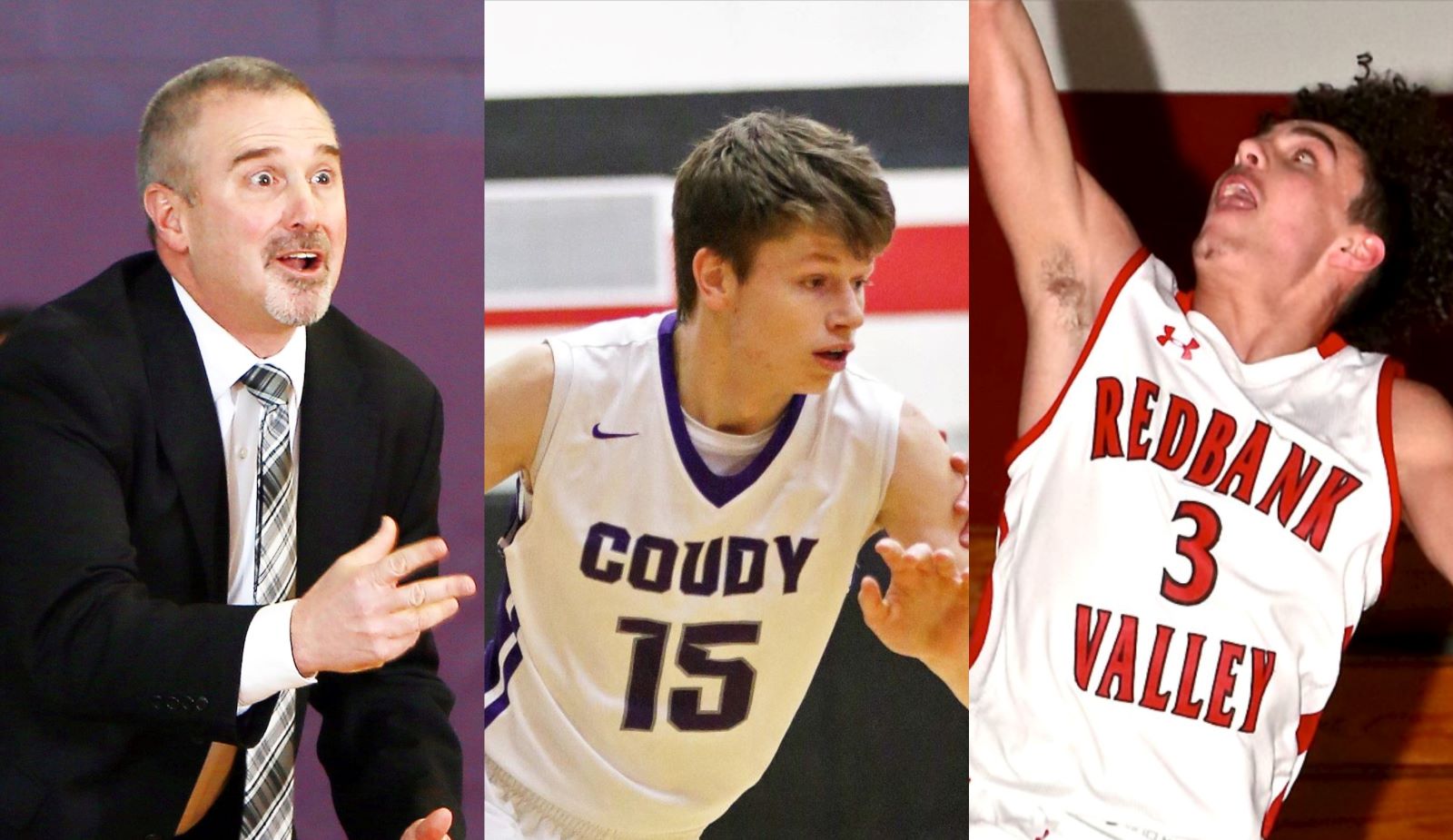 SHIPPENVILLE, Pa. – Coudersport's Owen Chambers, Redbank Valley's Chris Marshall and Ridgway's Tony Allegretto are the major All American Awards & Engraving D9Sports.com District 9 boys' basketball award winners for the 2019 season.
(Photo from left: Tony Allegretto, Owen Chambers, Chris Marshall. Allegretto and Chambers photos by Paul Burdick. Marshall photo by Mike Maslar)
Chambers, a senior, is the All American Awards & Engraving D9Sports.com District 9 Player of the Year for the second consecutive season joining Elk County Catholic's A.J. Straub (2001, 2002) and Jesse Bosnik (2006, 2007) and Keystone's Garrett Heath (2003, 2004) as the only two-time winners of the award in its 20-year history.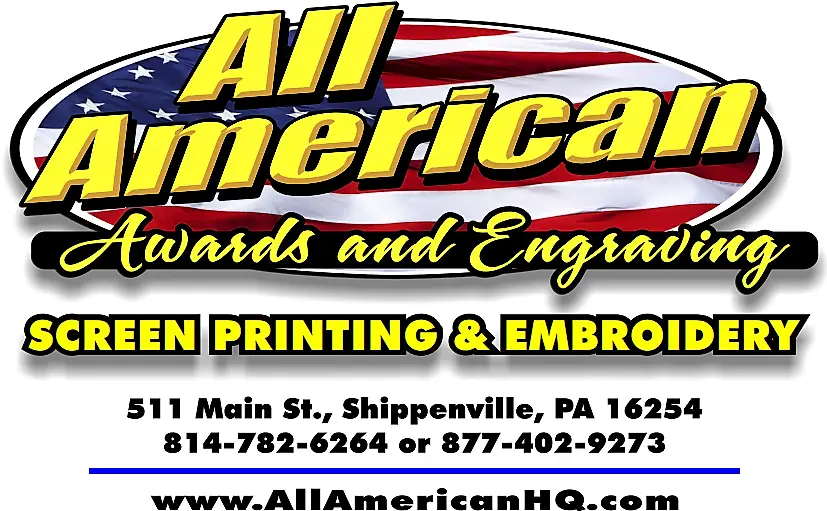 Marshall, a freshman, is the All American Awards & Engraving D9Sports.com District 9 Rookie of the Year, and Allegretto is the Chuck Daly Coach of the Year Presented by the Chuck Daly Foundation.
In addition to the major awards, first-, second- and third-team All American Awards & Engraving D9Sports.com All-District 9 teams were chosen.
Joining Chambers on the first team were Clarion-Limestone's Ian Callen, Clearfield's Cade Walker, DuBois' Chase Husted, DuBois Central Catholic's Justin Miknis and North Clarion's Kyle Mills.
On the second team were Bradford's Tyler Gigliotti, Cameron County's Jake Walters, Clarion-Limestone's Hayden Callen, Elk County Catholic's Alex Breindel, Johnsonburg's Austin Green and Ridgway's Daunte Allegretto.
The third team consisted of Brookville's Aaron Park, Clarion-Limestone's Deion Deas, Clearfield's Karson Rumsky, Coudersport's Hayden Keck, ECC's Regis Wortman and Ridgway's Jake Reynolds.
This is the 20th year of the postseason District 9 awards and the 19th they have been housed at D9Sports.com (the first year, 2000, the awards were awarded by the Tri-County Sunday out of DuBois). It marks the 11th consecutive year All American Awards & Engraving has been the title sponsor of the awards.
The 2012 Clarion Area Chamber of Business and Industry Business of the Year in the Economic Development Division, All American Awards & Engraving is located on Route 322 in Shippenville.
The company, which specializes in all kinds of awards, trophies and engraving products as well as screen printing and embroidery, will put just about anything on just about anything. It can be found on the web at www.allamericanhq.com or by calling 1-877-402-9273.
D9Sports.com is in its 19th year of covering athletics within the PIAA's District 9. The independent media site, which became part of the EYT Media family of sites (www.exploreClarion.com, www.exploreJeffersonPa.com, www.exploreVenango.com) in December 2015 is not affiliated with the PIAA or PIAA District 9 in any way.
NOTES – In order to be eligible for the award or the all-district team, a player must participate in at least 60 percent of his team's total games. In order to be eligible for Rookie of the Year, a Player must be either a freshman or a sophomore who saw limited or no time as a freshman.
ALL AMERICAN AWARDS & ENGRAVING PLAYER OF THE YEAR: Owen Chambers, Senior, Coudersport
Chambers led Coudersport to the NTL title, a second-place finish in District 9 Class 2A and the second round of the PIAA Class 2A playoffs by averaging 30.7 points, 4.2 rebounds, 3.1 assists and 2.6 steals per game. In the process, he became the first District 9 boys' player to average at least 30 points per game since Cameron County's Brandon Housler scored 31.1 ppg in 1999.
Chambers, who shot 53.2 percent (290 of 545) from the field, 43.7 percent (115 of 263) from 3-point range and 84.9 percent (135 of 159) from the free-throw line, also became District 9's all-time leading scorer with 2,269 career points.
On the season, he scored 30 or more points 16 times, 35 or more seven times and twice reached 40 in a game while leading the Falcons to a 24-3 overall record.
ALL AMERICAN AWARDS & ENGRAVING ROOKIE OF THE YEAR: Chris Marshall, Freshman, Redbank Valley
Marshall burst onto the District 9 scene in 2019 playing for his dad, Emmanuel Marshall, at Redbank Valley. He averaged 12.7 points, 2.8 rebounds, 2.1 steals, 1.9 assists and 0.6 blocks per game while making 23 3-pointers for a surprising Bulldogs squad that finished 13-10 and qualified for the District 9 Class 2A playoffs.
He got stronger after the New Year, averaging 14.3 points per game after Jan. 1, just a tenth of a point off the team lead during that span.
On the year, Marshall scored 20 or more points four times, including twice reaching 27, including in a District 9 quarterfinal loss to Karns City.
ALL AMERICAN AWARDS & ENGRAVING CHUCK DALY COACH OF THE YEAR PRESENTED BY THE CHUCK DALY FOUNDATION: Tony Allegretto, Ridgway
Allegretto is Coach of the Year for the third time also earning the award in 2014 and 2012. He helped the Elkers to the AML Title, the District 9 Class 2A title and the PIAA Class 2A quarterfinals by preaching a team-first, patient attack with a strong defensive philosophy.
Ridgway finished the season 26-4 despite not having a player average more than 11.3 points per game. It was the Elkers defense, that kept opponents under 40 points per contest through the regular season, that was the catalyst to victory.
ALL AMERICAN AWARDS & ENGRAVING FIRST-TEAM ALL-DISTRICT
Ian Callen, Sr., Clarion-Limestone (17.2 ppg, 7.8 rpg, 5.3 spg, 3.1 apg, 1.9 bpg)
Cade Walker, Jr., Clearfield (18.1 ppg, 7.0 rpg, 1.0 apg, 1.0 spg)
Owen Chamber, Sr., Coudersport (Player of the Year; 30.7 ppg, 4.2 rpg, 3.1 apg, 2.6 spg, 53.2 percent shooting; 43.7 percent 3-point shooting (115 made), 84.9 percent free-throw shooting; Finished his career with a District 9 best 2,269 career points)
Chase Husted, Jr., DuBois (15.1 ppg, 9.2 rpg, 1.5 apg, 0.8 spg)
Justin Miknis, Sr., DuBois Central Catholic (21.3 ppg, 7.7 rpg, 3.9 apg, 3.0 spg; Shot 48 percent from the field; Shot 77 percent from the free-throw line
Kyle Mills, Sr., North Clarion (18.8 ppg, 11.2 rpg, 3.0 bpg)
ALL AMERICAN AWARDS & ENGRAVING SECOND-TEAM ALL-DISTRICT
Tyler Gigliotti, Jr., Bradford (18.2 ppg, 3.7 rpg, 2.4 apg, 1.4 spg; Shot 44.3 percent from the field; Shot 83.9 percent (115 of 137) from the free-throw line
Jake Walters, Sr., Cameron County (15.4 ppg, 10.2 rpg, 1.3 bpg, 1.3 apg)
Hayden Callen, So., Clarion-Limestone (16.7 ppg, 8.0 rpg, 3.9 bpg, 2.8 spg, 2.0 apg)
Alex Breindel, Sr., Elk County Catholic (13.0 ppg, 4.3 rpg, 1.4 apg, 1.3 spg; Made 83 3-pointers; Shot 75.6 percent from the free-throw line)
Austin Green, Jr., Johnsonburg (18.6 ppg, 5.9 rpg, 3.3 spg, 2.0 apg)
Daunte Allegretto, Sr., Ridgway (9.2 ppg, 4.6 apg, 3.2 rpg, 2.2 spg; Shot 71.9 percent from the free-throw line)
ALL AMERICAN AWARDS & ENGRAVING THIRD-TEAM ALL-DISTRICT
Aaron Park, Jr. , Brookville (11.4 ppg, 7.9 rpg, 2.6 apg; Shot 54.5 percent from the field)
Deion Deas, Jr., Clarion-Limestone (19.4 ppg, 3.0 rpg, 2.6 apg, 2.4 spg)
Karson Rumsky, So., Clearfield (15.5 ppg, 3.0 rpg, 2.0 spg, 1.0 apg)
Hayden Keck, So., Coudersport (15.0 ppg, 5.0 apg, 3.5 spg, 3.1 spg; Shot 55.7 percent from the field; Shot 45.6 percent from 3-point range while making 41)
Regis Wortman, Jr., Elk County Catholic (12.6 ppg, 3.7 rpg, 2.0 spg, 1.8 apg; Shot 56.1 percent from the field; Shot 78.1 percent from the free-throw line)
Jake Reynolds, Sr., Ridgway (11.3 ppg, 4.5 rpg, 1.9 apg, 1.6 spg; Shot 48.4 percent from the field; Shot 47.6 percent from 3-point range)