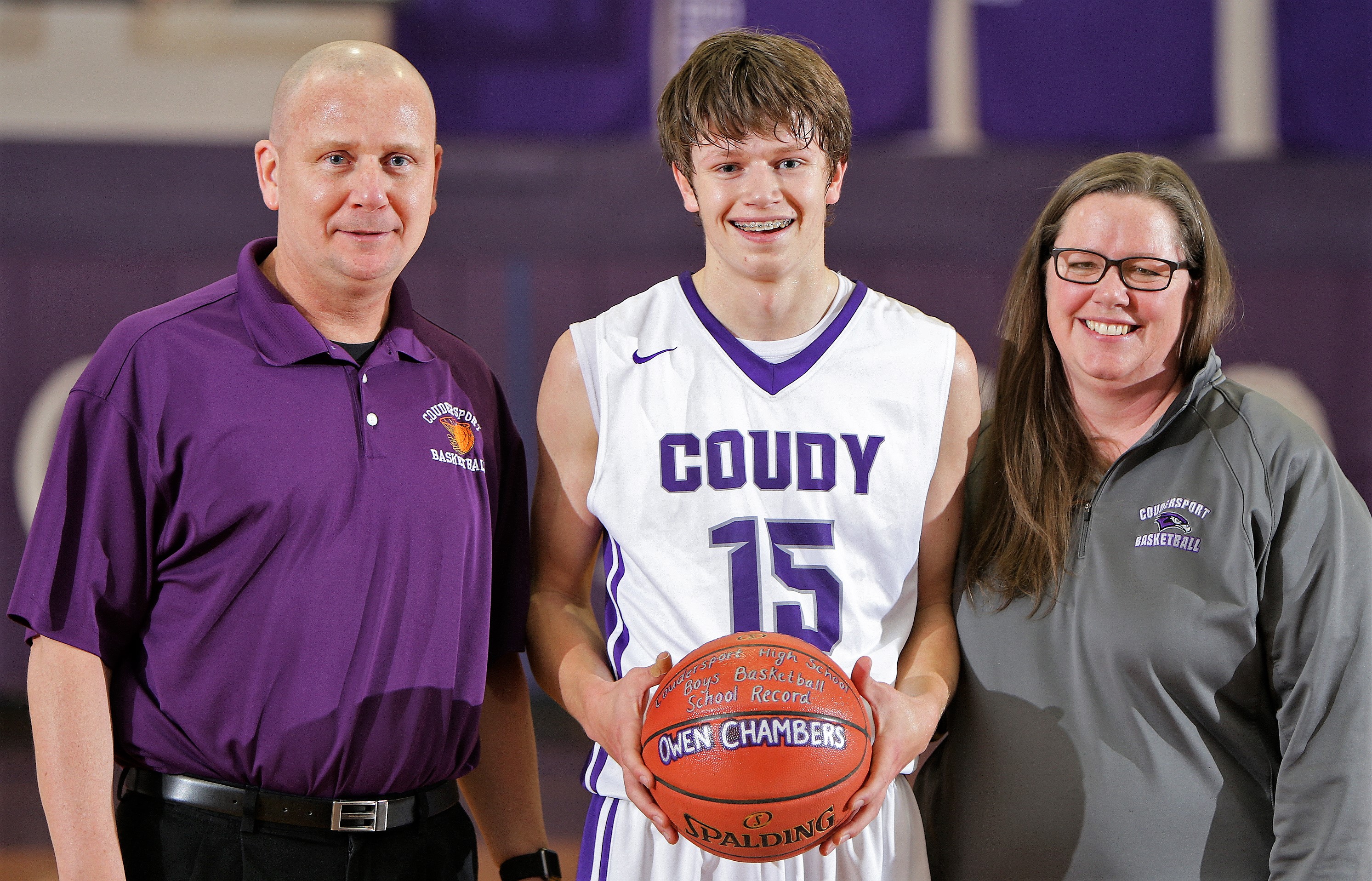 COUDERSPORT, Pa. – Coudersport senior Owen Chambers set the school record for points in a career during Monday night's 81-76 win over visiting Johnsonburg.
(Photo of Owen Chambers (centers) blanked by his dad, Mark (left), and mom, Jennifer, after setting Coudersport's school record for scoring in a career by a boys' basketball player. Photo by Paul Burdick. Check out more of Burdick's work here)
Chambers scored 40 points in the victory, including 30 in the second half, to give him 1,911 in his career surpassing the previous school mark of 1,907 set by Ryan Jones, who graduated in 2006.
The outburst leaves Chambers 86 points shy of becoming just the fifth District 9 boys' basketball player to score 2,000 career points and the first since Elk County Catholic's Jesse Bosnik did it in 2007.
Chambers, who already ranks fifth all-time in D9 in scoring, is averaging a District 9-leading 31.7 points per game through 15 games. With seven more regular-season games remaining and then at least one postseason contest, Chambers is on pace to score 2,167 career points and could make a push towards the District 9 scoring record of 2,255 points set by Johnsonburg's Calvin Grumley, who graduated in 2007.
DISTRICT 9 BOYS' BASKETBALL 2,000-POINT ALL-TIME SCORERS
1. Calvin Grumley, Johnsonburg (2007) – 2,255
2. Garrett Heath, Keystone (2004) – 2,215
3. Brandon Housler, Cameron County (1999) – 2,084
4. Jesse Bosnik, Elk County Catholic (2007) – 2,083