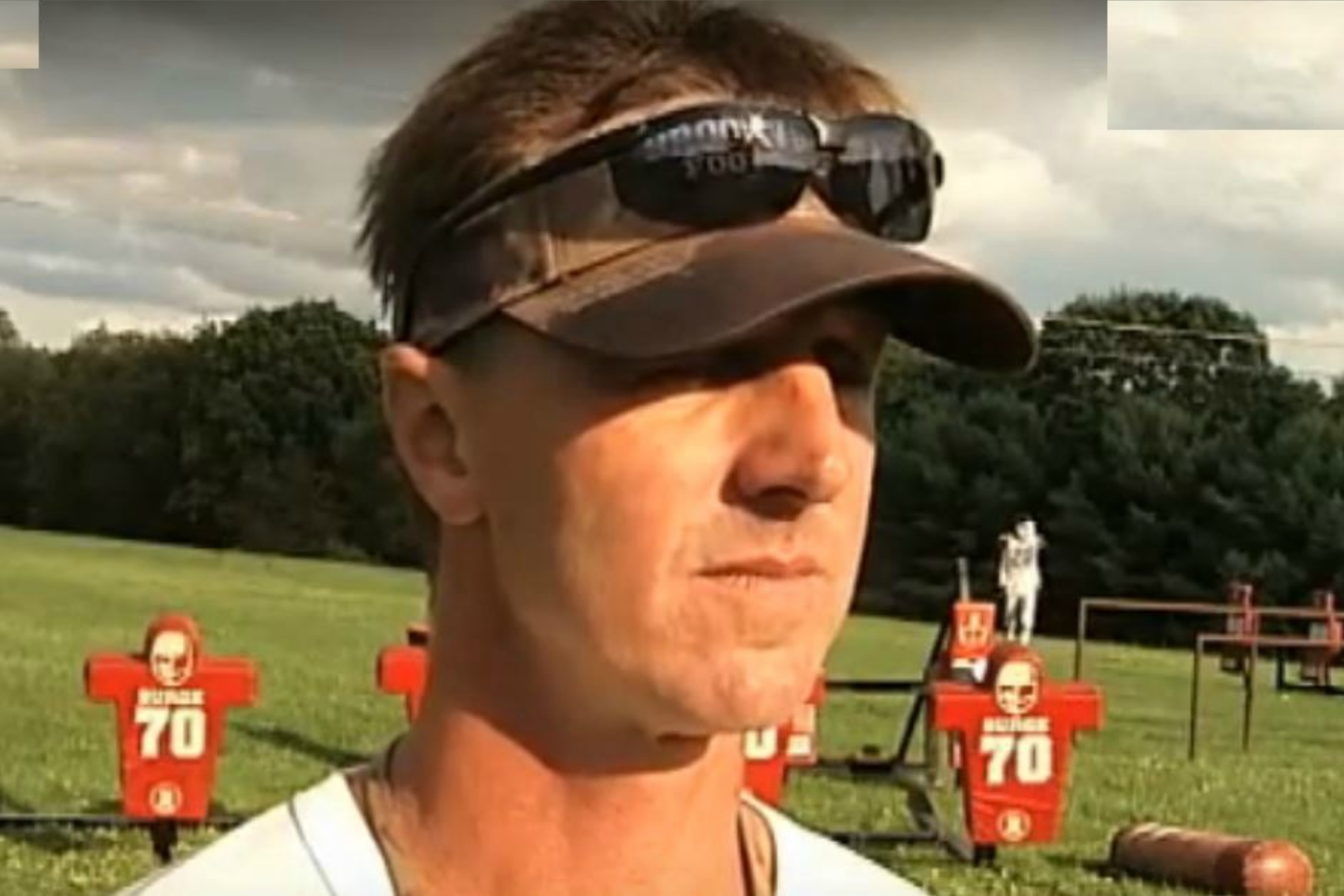 ST. MARYS, Pa. (D9Sports) – Former Brookville and Keystone head football coach Chris Dworek is the new football coach at St. Marys.
Photo courtesy of WJAC-TV, Johnstown
Dworek was hired this week to replace Tony Defilippi, who had coached the Dutch for the past five seasons and for 10 overall going 33-69 in the 10 years at St. Marys including 18-31 during the recently completed second stint with three winning seasons (2014-16) but two winless season (2017 and 2018 – 0-19 combined record).
An assistant coach with Brookville this past season, Dworek spent 19 seasons as the head coach of the Raiders from 1996 through 2014 compiling a record of 107-98 with three District 9 Class 2A titles (1998, 2004, 2006) and five title-game appearances in 2A. He also spent one year as the head coach at Keystone and has served as either a head coach or assistant coach at either the high school or college level for 28 years including assistant-coaching stops at Greensburg Central Catholic and Clarion University.
"When I was done at Brookville, I took a year off on purpose to see if I missed it," Dworek said. "I missed it, and a friend asked if I would help with the youth program in Brookville. When I did that, I definitely knew I would coach again. Then in 2016, when I coached running backs at Clarion University, it hit me, I wanted to be a head coach again. I saw that Clarion was doing a lot of the same things in terms of how practices were run and things like that that we had done at Brookville. I learned a lot of those things at coaching clinics. I knew I wanted to be a head coach again right there and then because it seemed like we were on the right track."
Dworek, who played college football at Clarion University, was inducted into the Central PA Football Coaches Association Hall of Fame in 2013.
"We are very pleased to announce that Chris Dworek has accepted our invitation to be our head football coach," St. Marys athletic director Terry Straub said. "Chris is a proven success with a wealth of coaching experience. We are very excited about what he can bring our community and the student-athletes he will lead."
Dworek understands the challenge he is facing at St. Marys, where the Dutch have lost 21 in a row since beating of all people, Brookville, 35-0, Oct. 21, 2016.
"The No. 1 thing is coaching and helping kids and trying to create great memories for the kids," Dworek said. "The rest is secondary."
Dworek said the challenge will be fun and reminds him of his first head coaching job at Keystone in 1995.
"It's fun trying to help kids and make them better and improve," Dworek said. "In 1995, when I took over at Keystone, they had gone 0-17-1 in the two years prior. I knew there was talent there. It was a neat challenge. I also know there is talent at St. Marys. The JV teams have been tough the last few years, and I understand the junior high teams have been good. I've been in that situation before, and it's neat to see how they respond, how we are going to work in the summer and do things in practice and work all the time."
Dworek said he believes the key to building a good program starts in the offseason and in the weight room.
"It's a year-round weightlifting program," Dworek said. "That is so important for football players, really for all athletes, the way things are these days. I have no clue how (the program) was or is at St. Marys. Obviously, if it is pretty good, I'd like to continue that. But the biggest thing is when you are strong enough and fast enough, it's a pretty good feeling to have. Good teams are like that. They are really good and really disciplined in the weight room."
According to Dworek, he is always evolving as a head coach and people shouldn't be surprised if he ends up incorporating some of the high-powered offense that former Brockway and DuBois head coach Frank Varischetti brought to Brookville the last two years as the offensive coordinator.
"I absolutely learn things," Dworek said. "I don't mind admitting I learn all the time. I like to self-evaluate. I don't mind criticism. I take it and learn from it. I have learned a lot. It's been neat learning some of the concepts and the way the offense we ran at Brookville (the last two years) was pretty flexible."
Dworek said Varischetti's offense at Brookville also reminds him of what Redbank Valley ran when Jake Dougherty was the quarterback for the Bulldogs.
"They did a lot of similar things like how they really did some different things during the cadences," Dworek said. "To see how we did things (at Brookville) it was really neat to see how flexible it was."
Dworek sounded like a coach who wants to try some of those concepts at St. Marys.
"We had a lot of open gyms (at Brookville) where the kids learned stuff in the spring and put it to use in the summer," Dworek said. "I hope to install and implement that and see how the St. Marys kids react to something like that."
According to Straub, St. Marys is planning on hosting a formal meet and greet for the community with Dworek at 6:00 p.m. February 5 prior to the school board meeting. Final details on that are still being worked out.