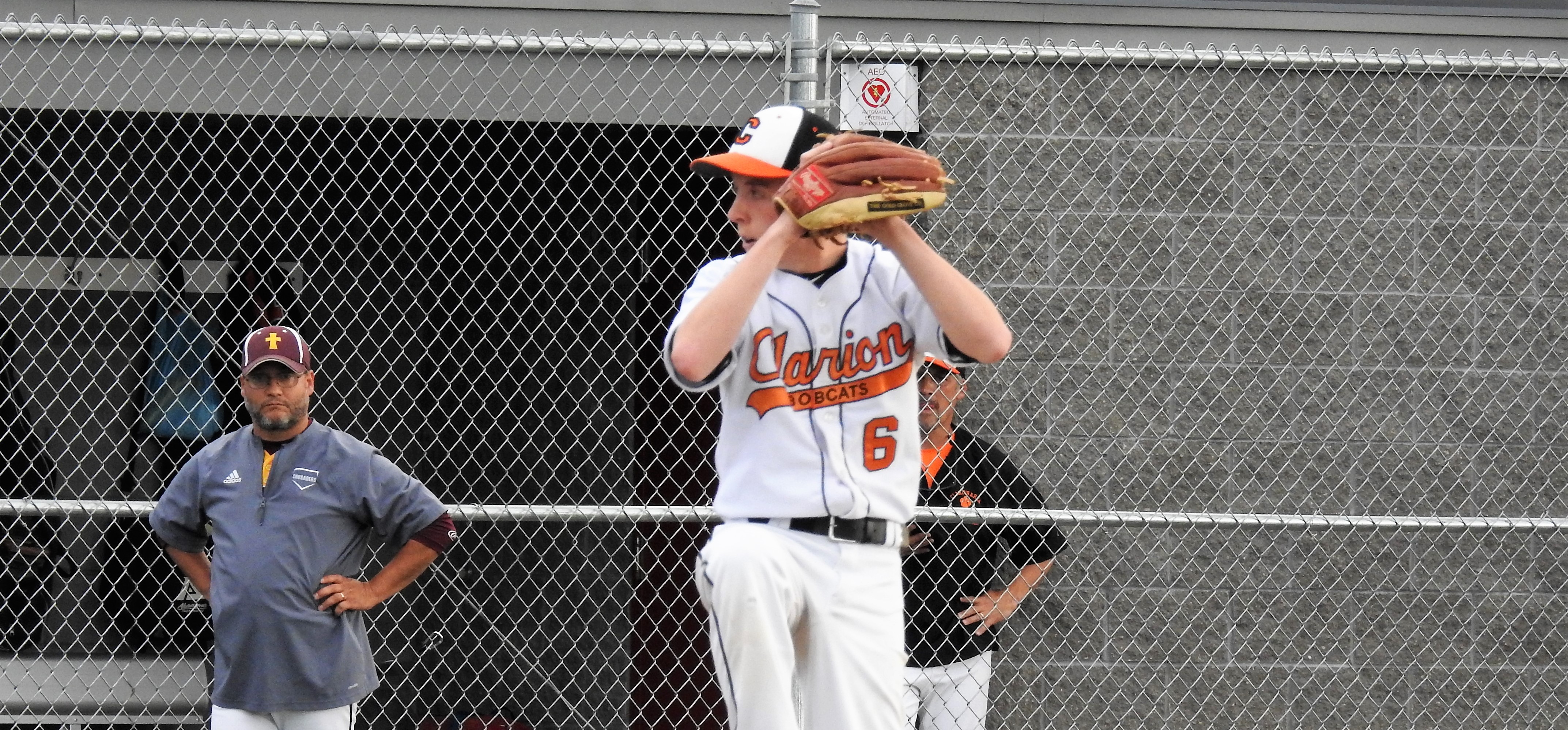 By Cory Geer
DUBOIS, Pa – Clarion is headed to the PIAA semifinals for the first time in school history.
Reed Anthony threw a three-hit shutout, and the Bobcats defeated Elk County Catholic, 3-0, in PIAA Class 1A quarterfinals Thursday night at Showers Field in DuBois.
"It just feels awesome to be apart of this," Clarion manager Rob Jewett said.
Reed Anthony was a big reason for the victory, as he struck out seven and walked only one.
"It's incredible," Reed Anthony said. "Our school has never made it this far before. It's special, and I'm enjoying every minute of it."
That was nothing different for the Clarion ace, who has allowed four earned runs all year while lowering his ERA to 0.44.
"Reed really fills the zone up," Jewett said. "We made some really good defensive plays behind Reed. Dominic Fleming made a nice diving play, and Spencer Miller (who made a first-inning error) redeemed himself with a double play."
Clarion's offense, after being shut down in the first two innings in order, broke through in the third against ECC starter Alec Wehler.
Skyler Rhoades led off the inning with a walk, and Clarion played some small ball with Kyle Patterson laying down a bunt that went right back to Wehler. Wehler tried to get the lead runner and was unsuccessful with Rhoades beating the throw to second base.
With runners on first and second, the Bobcats tried to bunt again, and this time Fleming was hit by the pitch to load up the bases.
Spencer Miller took advantage of the Crusaders miscues hitting a sacrifice fly to bring in Rhoades. Clarion continued to add on getting RBI singles from Ryan Anthony and Sterling Conner to make it 3-0.
"Earlier I told the guys that we were going to have to manufacture runs the old-school way," Jewett said. "The guys have really bought into it and it is paying off for us."
Anthony continued to dominate on the mound, making quick work of the Crusaders.
In innings three through seven Anthony didn't allow a runner to advance into scoring position, and he ended the Crusaders season rather quickly in the seventh striking out Eric Gerber, getting Gabe Kraus to ground out and Nate DaCanal to strike out.
Clarion will play Greensburg Central Catholic, a 7-2 winner over Oswayo Valley, in the semifinals Monday at a site and time to be determined.
CLARION 3, ELK COUNTY CATHOLIC 0
Score by Innings
Elk CC 000 000 0 – 0
Clarion 003 000 x – 3
ELK COUNTY CATHOLIC – 0
Frank Singer lf 3000, Brad Dippold ss 3000, Dan Stauffer c/p 2000, Ryan Heary 1b 3000, Eric Gerber 3b 3010, Gabe Kraus dh 3010, Jordan Nasoni rf 0000, Nate DaCanal 2b 2000, Alec Wehler p 2010, Will Uberti cr 0000, Brennen Klawuhn c 0000. Totals 23-0-3-0.
CLARION – 3
Spencer Miller ss 2001, Ryan Anthony 2b 2111, Reed Anthony p 3000, Sterling Conner cf 3011, Cam Craig 3b 2000, Nate Datko lf 2010, Skylar Rhoades rf 2100, Kyle Patterson c 0100, Dominic Fleming 1b 1000. Totals 17-3-3-3.
LOB: ECC 4. Clarion 4. Errors: ECC 3. Clarion 1. SAC: DaCanal, Patterson, Datko. SF: Miller. SB: Dippold, Reed Anthony. CS: Patterson, Cam Craig. HBP: Fleming by Wehler. DP Turned: ECC 1 (Dippold-Heary). Clarion 1 (Ryan Anthony-Fleming-Miller).
PITCHING
ECC
Alec Wehler – 5 IP, 3 H, 3 R, 1 ER, 3 BB, 2 K, 1 HP
Dan Stauffer – 1 IP, 0 H, 0 R, 0 ER, 1 BB, 0 K, 0 HP
TOTALS – 6IP, 3 H, 3 R, 1 ER, 4 BB, 3 K, 1 HP
Clarion
Reed Anthony – 7 IP, 3 H, 0 R, 0 ER, 1 BB, 7 K, 0 HP
Winning pitcher: Reed Anthony
Losing pitcher: Alec Wehler