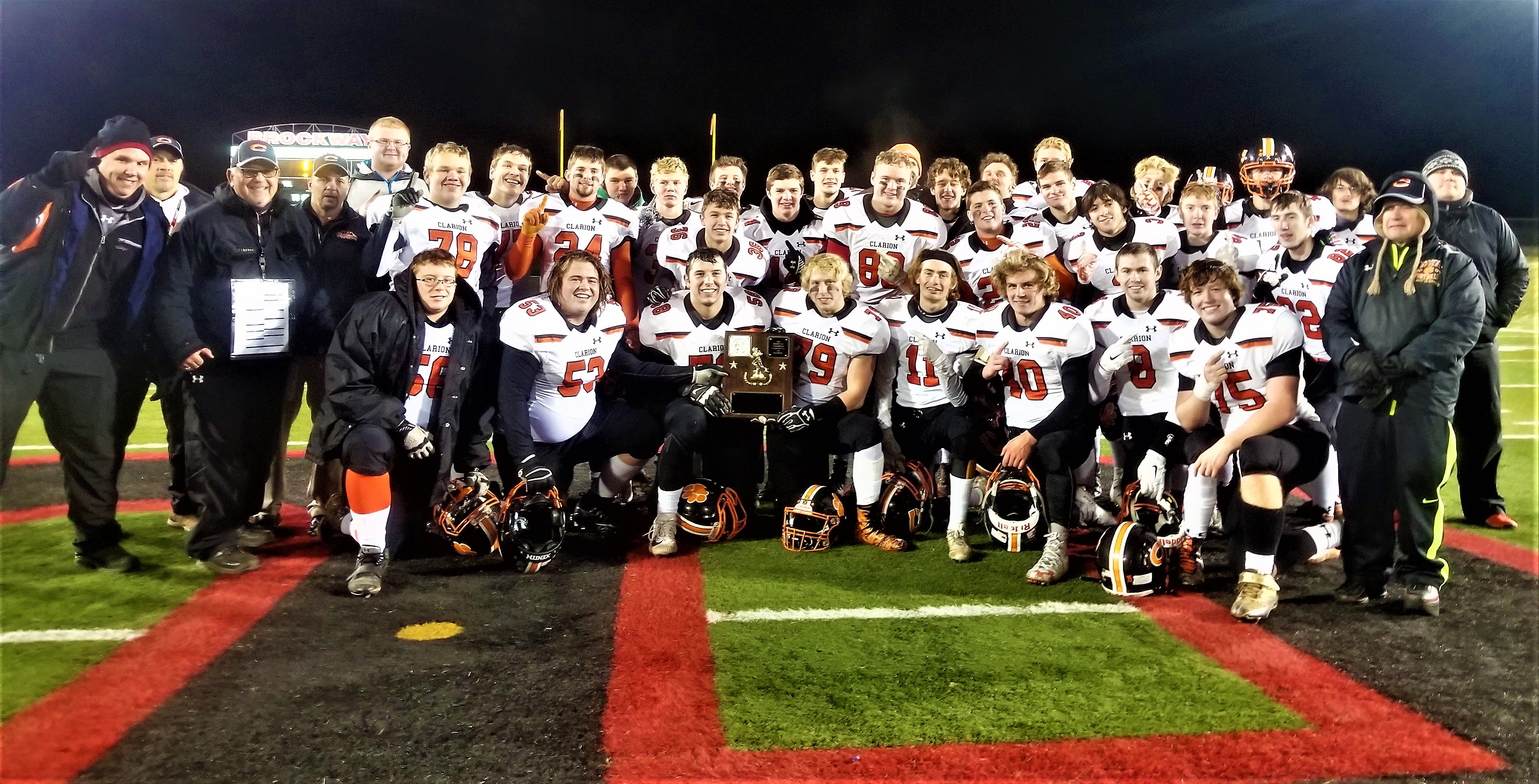 BROCKWAY, Pa. – It took a giant to beat a giant.
Clarion ended Kane's streak of three straight District 9 titles and 39 consecutive wins against a D9 opponent and in the process won its first D9 Class 2A championship and its fourth overall D9 title with a 28-21 slugfest win over the Wolves in the title game Friday night at Brockway's Varischetti Field.
"This was huge," Clarion senior quarterback/defensive back Spencer Miller, who led the way with 105 yards rushing and a touchdown, 75 yards passing and a score and an interception on defense, said. "We thought we could have had it last year (when Clarion lost to Kane 21-14 in a game Miller missed with an injury). So, to come back this year and have another shot at them was like a miracle. Last year, I didn't get to play, so I just wanted to come out here and have my best game and win it."
Win it the Bobcats did, but in a game worthy of the only two undefeated teams left in District 9, the contest wasn't decided until the final minutes of play.
Clarion broke a 21-all tie when Sam Minich scored on a 4-yard run on fourth-and-2 with 2:42 to play, and the Clarion defense bent – Kane drove from its 26-yard line to the Clarion 11 on the final drive – but didn't break with Logan Minich, Sam's twin brother, knocking down a fourth-down pass from Kane's Reed Williams with just over 19 seconds to play.
"We talked before the game that it was going to be a great football game," Kane head coach Todd Silfies said. "I don't think we knew it was going to be THAT great of a football game. Hats off to Clarion. They had a great scheme. They have incredibly talented young men on their squad and a lot of depth as well as a great coaching staff, everybody knows that. At the end of the day, this is one that obviously stings right now. But, the last four years is probably the most enjoyable four years of my life. I can't take anything away from this year's seniors. I can't be displeased with one single factor or thing with this group of young men. They are just a special bunch."
Clarion (11-0) dominated early – more on that later – and led 14-0 until the final couple of minutes of the first half when Kane (11-1) took advantage of a pair of turnovers to get back within a point, 14-13, at halftime. The Bobcats then went ahead 21-14 midway through the third quarter before Kane punched right back on its ensuing drive to tie the game at 21 heading into the final 12 minutes.
Then, after both teams got stops on defense, Clarion took over at the Kane 48 with 6:58 to play and proceeded to drive 10 plays for the eventual game-winning score.
The drive had a couple of factors in it including Kane's Anthony Smith of East Forest High School, going down with what originally looked like a serious injury with the stretcher being called out only to have Smith, who it appears was hit by his own man while trying to tackle Logan Minich, bounce up and walk off under his own power – he didn't return to the game.
That injury occurred with Clarion facing a first-and-10 from the Kane 27 with 4:27 to play – Minich gained two yards on the run – and the Wolves looked like they had gotten a huge play from Jake Alcorn on the first play after the 10-minute delay when Alcorn intercepted a Miller pass in the end zone. But Alcorn was called for pass interference on the play, and instead of Kane getting the ball back Clarion had a first-and-10 from the Kane 12.
Three straight running plays netted eight yards, and Clarion head coach Larry Wiser was left with a decision to make on fourth-and-2. Should he go for it and risk not scoring deep in Kane territory late in a tie game or should he sent out Archer Mills to attempt a field goal that was basically like an extra point, something Mills was 3-for-3 on to this point in the game and 50 of 56 on during the season.
The Bobcats called timeout to discuss it, and when the timeout was over, the offense came back on the field.
"It was a tough decision," Wiser said. "It was one of those things that sometimes you have to feel the pulse of your team and go with them. That was the case there. The guys wanted to go for it and they knew the play the wanted. They all felt confident in what we were doing. Sam just kept his legs driving."
The call was a dive to Sam Minich, who was set up at a fullback spot in a full-house backfield, and the junior did exactly what Wiser said he did and drove his legs until he was able to dive across the goal line.
"It's just the best feeling in the world knowing you put your team ahead at the end of the game," Sam Minich said. "To win the gold medal, it feels great."
Logan Minich had a great view of his brother's game-winning touchdown.
"I saw the line pushing back the pile and he dove across the line," Logan Minich said. "It was all ecstatic from there. We were just so happy he got in."
Clarion couldn't celebrate yet. Not with against Kane. Not with the Wolves history – they overcame a deficit with under two minutes to play to beat Brockway in the 2015 D9 title game and earlier this year rallied in the closing minutes to top Ridgway.
And Kane looked like it was going to pull out some more magic in this game, especially after Reed Williams hit Jake Alcorn with a 5-yard pass on fourth-and-3 from the Kane 33 and then quickly found Ange Costanzo for 14 more yards and Ray Maze for 19 more to the Clarion 29 with just over a minute to play.
At that point, Wiser realize he needed to change what the Bobcats were doing on defense.
"I thought we were giving up a little too much free reign on their receivers and (Williams) was getting the ball in there," Wiser said. "We started blitzing and pressuring them down here which forced him to throw the ball a little bit earlier which maybe helped us on a couple of those passes."
With the Bobcats bringing pressure, Williams was able to complete just one of his final seven passes, although the one was a 13-yard toss to JT Stewart, who made a tip-toe catch along the sideline, that put the Wolves at the Clarion 16-yard line with around 45 seconds to play.
That catch came one play after Williams nearly connected with Ray Maze for a touchdown only to have Sterling Conner, who Maze appeared to have beat, knock the ball away at the last second.
"I knew they were probably going to go deep, and I kind of whiffed on my coverage," Conner said. "When I saw he got behind me, I got pretty nervous. At the last second, I ran back and I looked up and it was right there. I had enough time to get my hand up there.
After two incomplete passes from the 16, Williams almost hit Alcorn, but the sophomore couldn't hold on bringing up a fourth-and-10 and the season for Kane.
But Clarion jumped offside, and then the Bobcats took time out to discuss the fourth-and-5 defense from the 11.
"I wanted press coverage right there," Wiser said. "They still had enough time if they got a first down to have another set of downs. So, we were going to win the game right there. That was really it. We wanted to get on their receivers and jam them right off the line. We were going to bring pressure and force him to throw the ball quick, which we did."
Williams looked quickly over the middle and thought he had Ange Costanzo open at the goal line, but Logan Minich was able to break up the pass giving the ball back to Clarion with 19 seconds left.
"We were in Cover 1," Logan Minich said. "I didn't want my man to get the ball, and I was able to be in position to make the play at the end of the game. I just did that, and it was great."
Watch the full interview with the Minichs, Conner and Miller.
CLARION DOMINATES FIRST QUARTER
The first quarter belonged to the Bobcats, who outgained Kane 104-0 in the frame and scored the first two times they had the ball.
Miller's interception of Williams on the second offensive play for the Wolves set Clarion up at the Kane 34, but it took a pair of Miller scrambles to get the Bobcats into the end zone.
The first was a 10-yard scramble when he dropped back to pass on fourth-and-8 from the 32, and then on third-and-14 from the 26, Miller eluded the Kane defense on his way to the end zone for a 7-0 Clarion lead.
Clarion's defense then forced a three-and-out, and the Bobcats took over at their 35 midway through the quarter.
A nine-play drive ensued that included another long run by Miller, this time a 33-yard scamper to the Kane 8. Then on third-and-goal from the three, Clarion used play action and Miller hit Clayton Adams, who had one catch all season going into the game, for the touchdown and a 14-0 lead.

"It wasn't opportune," Silfies said of the early hole. "But we have been playing these games for a while. It wasn't ideal, but I think we all knew while that was happening this thing was going to square back up and be one of the better high school football games in District 9 this year."
TURNOVERS HELP KANE REBOUND
Clarion had ample opportunities through the late part of the first quarter into the second quarter to go up three scores starting drives at the Kane 45 and the Clarion 40 before moving to the Kane 47 but the Wolves defense stiffened both times and recovered a fumble from Colton Rapp on a shovel pass at the Kane 42 with 4:56 to go in the half.
But Clarion again forced a three-and-out and took over at its 26 with 3:22 to go before the break.
Another fumble, this time by Rapp, who couldn't handle a clean pitch from Miller, that was recovered by Stewart, his second fumble recovery in as many defensive plays, set the Wolves up at the Clarion 20.
Erik DeLong, who finished with 90 yards rushing, the broke free to the Clarion seven, and two plays later Williams, who was 18 of 39 for 191 yards with an interception, threw the first of three touchdowns passes, this one nine yards to Alcorn to cut Clarion's lead to 14-7 with 2:13 left in the half.
Taking over at its 38 after the kickoff with 2:08 to play in the half, Clarion decided to get aggressive on second-and-15 and it burned the Bobcats when Maze batted a Miller pass downfield right to Stewart, who picked it off and returned the interception to the Clarion 48 with 55.9 seconds left.
Then, after two incomplete passes, Williams hit Maze with a 10-yard pass to the 39 and found Alcorn for 11 more yards to the 19 before hitting Stewart with an 8-yard pass to the Clarion 11.
Two plays later, on third-and-2 from the 11, it was Williams to Stewart for the touchdown with just 3.4 seconds left before halftime.
The Wolves tried a trick play on the 2-point conversion, but the pass was dropped in the end zone – it wouldn't have mattered because they were called for an illegal formation – leaving Clarion up 14-13 at halftime.
"We were just trying to calm ourselves down (at halftime)," Miller said. "We just gave up 13 points and were a little mad at ourselves."
TEAMS TRADE THIRD QUARTER SCORES
After halftime, both teams were forced to punt on their opening possessions with Clarion taking over at its 10-yard line four minutes into the half.
The Bobcats then put together their best drive of the game marching 90 yards in seven plays to extend the lead to 21-13 on a 23-yard Logan Minich touchdown run with 5:05 left in the quarter.
The big play of the drive was a 33-yard run by Brendan Zerfoss, the 2017 District 9 100-meter champion, who got Clarion out of a second-and-8 hole from their 12.
Two plays after the Zerfoss run, Logan Minich broke a 15-yard run and Miller went for 13 yards to put Clarion at the Kane 27. After another 4-yard run by Minich, the North Clarion student playing in the co-op found a hole and broke into the end zone for the touchdown.
It didn't take Kane very long to answer the score with the Wolves marching 72 yards in seven plays scoring on another Williams to Stewart touchdown pass, this one from four yards out, with 2:20 to play in the quarter.
Four straight plays of at least 10 yards set up the score with Williams hitting Alcorn, who had six catches for a game-high 81 yards, for 10 yards, DeLong breaking free for 12 yards, Williams finding Alcorn for 15 more yards and Delong getting his best run of the game, 26 yards to the Clarion 4 with 43 of DeLong's 90 yards in the game coming on three carries during the drive.
Down 21-19, Kane went for the tie and got it when Williams found Maze in the back of the end zone to knot the game at 21.
CLARION FAILS ON CHANCE TO RETAKE THE LEAD BUT DEFENSE GETS THE BALL BACK
On its next drive, Clarion moved to the Kane 22 where it had second-and-7, but Cyrus Novosel sacked Miller for a 10-yard loss to the 32. Miller then hit Logan Minich with a 12-yard pass to the Kane 20, but on fourth-and-5 from the 20, Millers pass intended for Logan Minich was off the mark.
After Williams was sacked for Kane on first down from the 20 for a yard loss, the senior left quarterback found Maze for 13 yards out to the 32. But three straight incompletions and a false start on the Wolves forced a punt giving Clarion the ball at the Kane 48 after a 5-yard return by Conner on what turned out to be the winning drive.
UP NEXT
Clarion will take on District 5-8 Champion Chestnut Ridge in the PIAA Playoffs next week at a site, time and date to be determined. It appears the game will be at 7 p.m. Friday at Windber High School outside of Johnstown but the bracket will be released Sunday.
Watch Clarion receive its trophy.
EXTRA POINTS
The title is Clarion's first since taking the 2013 title in Class 1A.
Kane had won the previous two playoff games against Clarion including last year's 21-14 win in the 2A title game and an 18-8 win in the 2014 semifinals in 1A
The Wolves last loss to a District 9 team was a 13-12 setback to Elk County Catholic Oct. 17, 2014. Kane won its final four games vs. D9 schools that year before going 12-0 against D9 opponents in 2015 and 2016 and starting this year 11-0 vs. D9 teams.
Kane's senior class finishes its four years with a record of 45-8 with three District 9 titles (1 in 2A and 2 in 1A) and three AML Titles.
Clarion improved to 4-9 in D9 title games including 1-1 in 2A games. It is the fourth title for Wiser, who also won championships in 1997, 2009 and 2013.
The Bobcats are 11-0 for the third time in school history. The Bobcats were 14-0 in 2013 before losing to North Catholic in the PIAA 1A semifinals and were 12-0 in 2012 before losing to Port Allegany in the District 9 Class 1A title game.
BOX SCORE
CLARION 28, KANE 21
Score by Quarters
C – 14 0 7 7 – 28
K – 0 13 7 0 – 21
Scoring Summary
First Quarter
C – Spencer Miller 26 run (Archer Mills kick), 7:15
C – Clayton Adams 3 pass from Miller (Mills kicks), 1:38
Second Quarter
K – Jake Alcorn 9 pass from Reed Williams (Aaron Hottel kick), 2:13
K – JT Stewart 11 pass from Williams (Pass failed), 0:03.4
Third Quarter
C – Logan Minich 23 run (Mills kicks), 5:05
K – Stewart 4 pass from Williams (Maze pass from Williams), 2:20
Fourth Quarter
C – Sam Minich 4 run (Mills kick), 2:42
TEAM STATS
Clarion (Stat) Kane
17 (First Downs) 17
48-254 (Rushes-Yards) 23-77
75 (Passing Yards) 191
10-16-1 (Comp-Att-Int) 18-39-1
329 (Total Yards) 268
4-2 (Fumbles-Lost) 1-0
2-37.0 (Punts-Avg) 5-30.8
6-50 (Penalties-Yards) 3-28
INDIVIDUAL STATS
RUSHING – Clarion: Spencer Miller 8-105, Logan Minich 11-73, Brendan Zerfoss 4-36, Colton Rapp 17-26, Sam Minich 4-12, Camden Boggess 1-2, Keeven Weaver 2-1, Team 1-(negative 1). Kane: Eric DeLong 18-90, Ange Costanzo 2-3, Reed Williams 3-negative 16.
PASSING – Clarion: Spencer Miller 10-for-16, 75 yards, 1 touchdown, 1 interception. Kane: Reed Williams 18-for-39, 191 yards, 3 touchdowns, 1 interception.
RECEIVING – Clarion: Logan Minich 3-26, Colton Rapp 2-19, Thomas Hearst 1-10, Keeven Weaver 2-10, Archer Mills 1-7, Clayton Adams 1-3. Kane; Jake Alcorn 6-81, JT Stewart 7-55, Ray Maze 3-42, Ange Costanzo 1-14, Erik DeLong 1-negative 1.
INTERCEPTIONS – Clarion: Spencer Miller. Kane: JT Stewart.