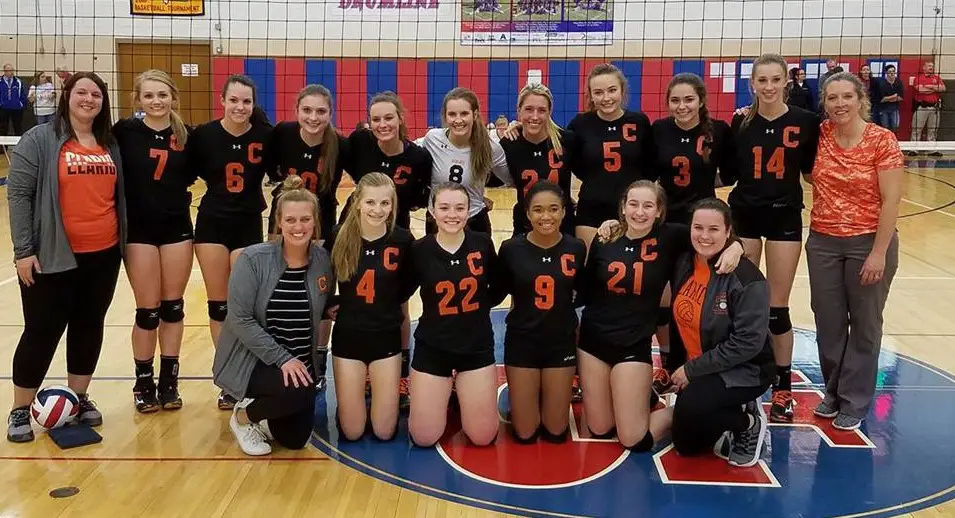 ST. MARYS, Pa. – Maya Thornton and Syndey Kiser combined for 27 kills, as Clarion claimed third place in District 9 Class 1A volleyball and along with it the district's final PIAA berth with a 3-1 (25-27, 25-16, 25-18, 27-25) win over Coudersport at St. Marys High School.
(Clarion posses for a team photo after finishing third in D9 and taking a PIAA playoff berth with it Saturday. Photo by Kim Constantino)
Thornton had 15 kills and 21 digs to lead the Lady Cats with Kiser adding 12 kills and 14 digs. Lexi Lauer chipped in with nine kills, Hailey Sintobin had eight kills and Maddie Schill six kills for the Lady Cats. Alexis Constantino paced the defense with 28 digs, and Brenna Campbell ran the offense with 45 set assists while adding 13 digs.
Coudersport, a PIAA semifinalist last year after winning the District 9 title, got 11 kills from Adrian Page and 10 from EmmaRae Easton. Haley Keck ran the show with 29 set assists.