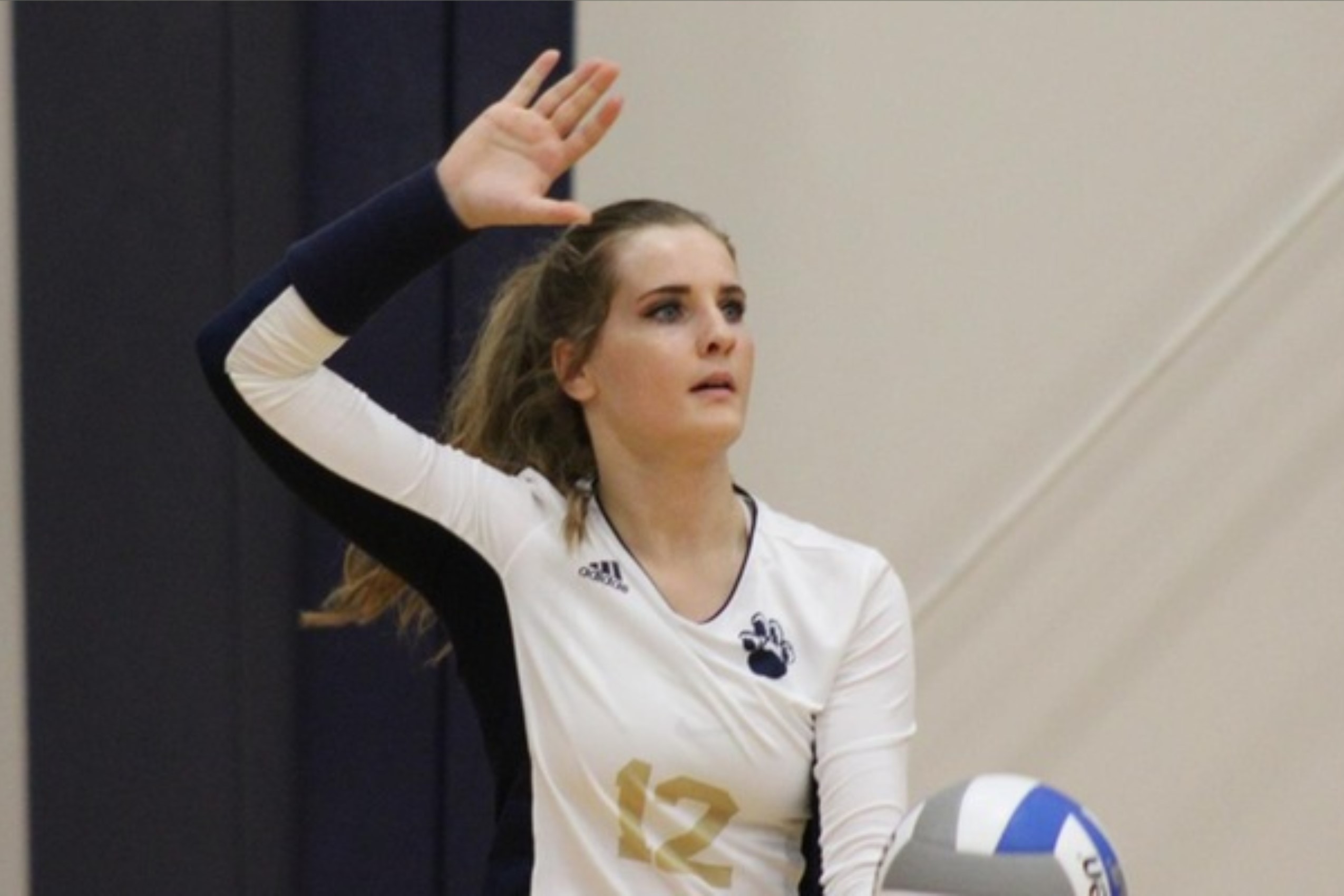 BRADFORD, Pa. – Going into her freshman year on the Pitt-Bradford volleyball team, Clarion graduate Alexis Constantino wasn't sure what to expect.
(Photo courtesy of Pitt-Bradford Athletics)
But she quickly found herself playing a key role on a team that ended up winning the AMCC Title and advancing to the NCAA Division III Tournament for the second time in three seasons.
"This year was actually really exciting for me," Constantino said. "Especially going into my first year as a collegiate volleyball player and winning the AMCC. We lost a couple of conference games we shouldn't have, but it was really cool to battle back as a team and win the AMCC and take a trip to the NCAAs."
Constantino had a strong season playing as a defensive specialist for the Panthers. She was fourth on the team with 223 digs averaging 2.19 digs per set. She also added 21 service aces, one of six Pitt-Bradford players with at least 20 aces in a year that saw the Panthers finish 20-13.
"I was a little surprised," Constantino said when asked if she was surprised about the amount of playing time she earned. "But going into the year, the coach told us there is no secure position, and I worked as hard as I could to earn that one position."
Watch the entire interview with Constantino.
Constantino credited her high school coach, Shari Campbell, for preparing her for the collegiate level.
"I really think the level of practice that coach (Campbell) had prepared for, I think that ultimately led me to use my skills she taught me back in high school and use them on the college court.
"I honestly owe it all to her. She prepared (me) as best as she could for college ball. There were so many things that (Pitt-Bradford) uses in their gym that (Shari) used in her gym which made it a lot easier for me to transition into college ball."
While Constantino said there wasn't a huge transition for her from high school volleyball to college volleyball, there were some differences.
"There wasn't really a huge difference," Constantino said. "But the amount of time that was spent working in the offseason and preparing, especially this year, it was three-a-days instead of two-a-days, so I think that was a big transition physically and mentally for my sake."
Constantino also said she had to make adjustments to her time management.
"I had some night classes and knowing what time practice was, so I had to balance all of that," Constantino said.
The most memorable match of the season came near the end of the year when Pitt-Bradford rallied from a 2-0 deficit to beat rival Penn State Behrend, 3-2 (18-25, 15-25, 26-24, 25-15, 18-16).
It was an experience that seemed like deja vu for Constantino, who had 13 digs in the championship win, as she had experienced almost the exact same thing as a sophomore at Clarion when the Lady Cats rallied from two down to beat A-C Valley in the District 9 Class 1A championship match winning the fifth set by 16-14 that day in 2015.
"Honestly, they were both just as exciting," Constantino said. "It was really cool. Just the atmosphere of having your side get up and cheer and be really excited for you, just having that atmosphere, the rivalry, just coming back and winning such a big title, it was really exciting."
Constantino is majoring in Radiology, and so far she says she loves Pitt-Bradford.
"I really enjoy being up there," Constantino said. "It is a small campus. Everyone knows everyone. It is really nice. We support one another, the teams support one another and come to all their games."