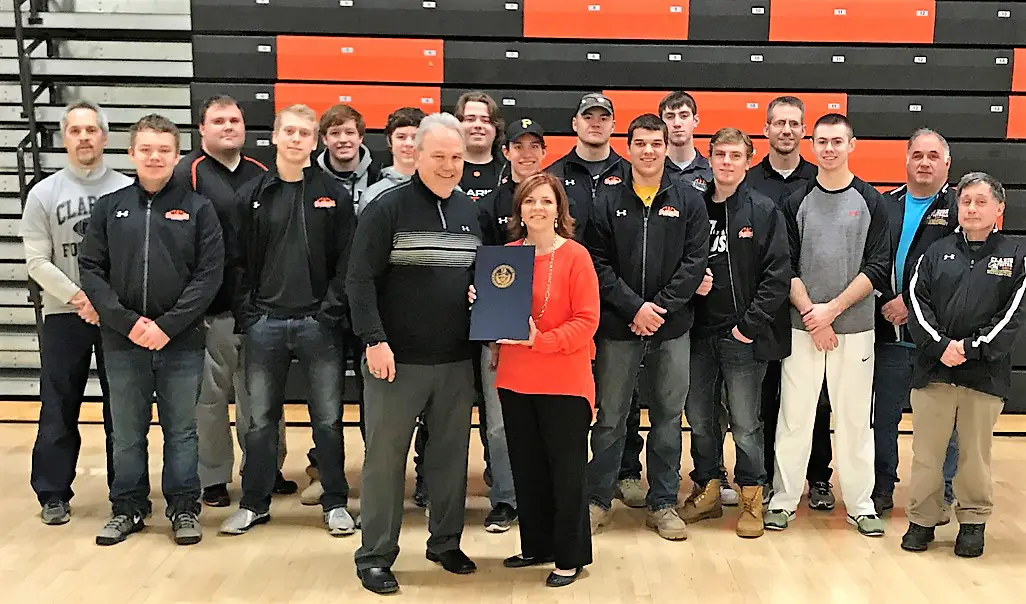 CLARION, Pa. – Longtime Clarion high school football coach Larry Wiser was recently honored by the Pennsylvania State Legislature for his 200th career win.
(Photo: Clarion football coach Larry Wiser with PA Representative Donna Oberlander and members of the current team and coaching staff. Photo courtesy of ClarionSportsZone.com)
Wiser was presented with a citation from the Pennsylvania House of Representatives March 17 by 63rd District Representative Donna Oberlander.
"It's an honor to present a citation from the PA House of Representatives to Coach Larry Wiser to mark the momentous milestone of 200 career wins," Oberlander said. "Coach Wiser has made a difference in thousands of lives during his career. The football teams accomplish this through his leadership, and Coach couldn't do it without his players. Congratulations to them all."
Wiser won his 200th game last year and enters the 2017 season with 205 career victories.
"These aren't individual awards," Wiser said. "It takes great assistant coaches and great kids.
"One thing that (has contributed to the success) is the team culture. A lot of people carry the load including a fantastic Booster Club and a multitude of individuals who have helped along the way as well as former head coaches Josh Reish and Ray Austin."
Wiser also created long-time assistant coaches Alex Arth, Dan McClaine, George White and the late Kevin Fitzsimmons as well as Brad Wagner, who in addition to being a member of the coaching staff at one point also ran the weight room for years.
"My wife Annie has given up Sunday so I could work on football and has allowed me the opportunity to hold summer camps and assist with the Jim Kelly Camp," Wiser said.
Wiser said the philosophy of the success of the Bobcat program is something he got from his brother, Steve, a longtime assistant coach at Lycoming College.
"It takes the seniors to drive the train that the coaches provide," Wiser said. "The players have to get onboard the train."
CITATION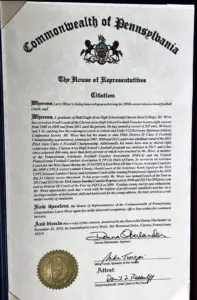 Whereas, Larry Wiser is being honored upon achieving his 200th career win as a head football coach; and
Whereas, a graduate of Bald Eagle Area High School and Clarion State College, Mr. Wiser has served as Head Coach for the Clarion Area High School Football Team for twenty-eight seasons from 1988 to 2009 and from 2011 until the present. He has earned a record of 205 wins, 96 losses and 1 tie, making him the winningest coach in Little 7-12/Keystone Shortway Athletic Conference history. Mr. Wiser has led his teams to nine PIAA Class A Championship appearances, winning in 1997, 2009 and 2013, and to the semifinal round of the 2013 PIAA Class A State Football Championship. Additionally, his teams have won or shared eight conference titles. Clarion Area High School's football program was initiated in 1927, and it has since achieved 498 wins, more than forty percent of which were coached by Mr. Wiser. A member of the Pennsylvania Scholastic Football Coaches Association (PSFCA) and the Central Pennsylvania Football Coaches Association (CPFCA) Halls of Fame, He served as an Assistant Coach for the West Squad during the 2010 PSFCA East/West All-Star Classic, Assistant Coach for the 2009 CPFCA Lezzer Lumber Classic, Head Coach of the victorious North Squad at the 2014 CPFCA Lezzer Lumber Classic and Assistant Coach of the winning Pennsylvania Squad in the 2016 Big 33 Classic versus Maryland. To his credit, Mr Wiser was named Coach of the Year in 2012 and 2013 by the Tri-County Sunday/Courier Express and in 2009 and 2013 by D9Sports.com and as District Nine Coach of the Year by PSFCA in 2009. Exuding, vision, energy and enthusiasm, Mr. Wiser approaches each day's work with the highest of professional standards and has set a sterling example of skill, dedication and hard work for his young athletes. He truly served as a role model worthy of emulation.
Now therefore, the House of Representatives of the Commonwealth of Pennsylvania congratulates Larry Wiser upon his richly deserved recognition; offers best wishes for continued success;
And directs that a copy of this citation, sponsored by the Honorable Donna Oberlander on November 29, 2016, be transmitted to Larry Wiser, 164 Westwood Drive, Clarion, Pennsylvania 16214.
The proclamation was signed by Representative Donna Oberlander, sponsor; Mike Turzai, Speaker of the House; and Daniel Reddecliff, Chief Clerk of the House.
Information for this story and the photos are courtesy of ClarionSportsZone.net