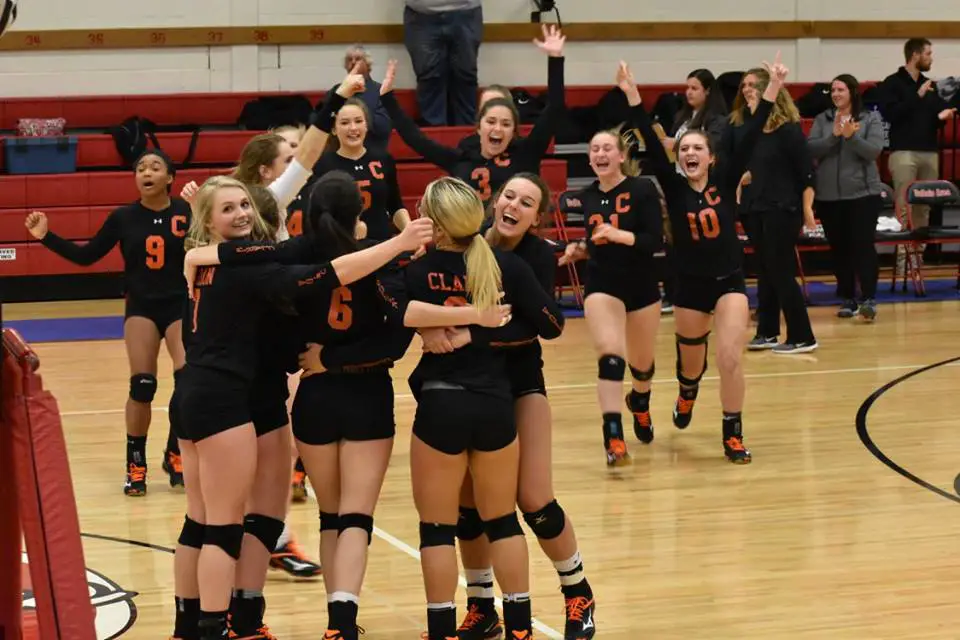 By Scott Shindledecker and Chris Rossetti
DuBOIS, Pa. — From third place in District 9 to the Final Four in the state.
(Cover photo by Kim Constantino)
That's where the journey has led the Clarion Lady Cats volleyball team after they beat Northern Cambria, 3-1, Saturday afternoon at DuBois Area High School in the PIAA Class 1A quarterfinals.
Clarion, which had lost to Northern Cambria in five sets earlier this season, dropped the first set of Saturday's match by a 27-25 score before rallying to win the final three sets over the Lady Colts, 25-20, 25-14, 25-16.
"I'm super proud," Lady Cats head coach Shari Campbell said. "This team has worked very hard since the start of summer in the weight room and now in the gym.
"We're a young team and we needed to kind of get our feet under us and some wings on us so we could start to believe in ourselves."
As for being a third-place finisher in the district, Campbell said it was a tribute to District 9 volleyball.
"I think District 9 was strong this year. I really still feel that Otto (Eldred) and A-C Valley were two of the best teams in the state and you saw that with them (Otto-Eldred) winning in the first round," Campbell said.
More from Campbell.
Clarion will play District 10 power Maplewood Tuesday in the state semifinals with another trip to the state title match on the line.
The Lady Cats have been to the state title match three times from 2010-12 and they have been in the state semifinals five times since the 2010 season.
Clarion won the state 1A title in 2012. The Lady Cats lost in the second round of states in 2013 and in the state semifinals in 2014. They lost in the first round of states in 2015 and missed states in 2016. The Lady Cats were state runners-up in 2010 and 2011.
Northern Cambria, the District 6 champions, reached the state quarterfinals with a five-set win over A-C Valley Tuesday.
Freshman outside hitter Maddie Hogan gave Clarion fits with her big hitting in the first set, but after that, Clarion made the defensive adjustments to slow her down and turn things in its favor.
"I think the difference in this match was our transition game and staying on the attack," Campbell said. "We're small, so sometimes that's hard, but our passing and ball control really helps us to be able to do that."
Clarion received standout performances from a number of players with senior outside hitter Maya Thornton leading the way.
Thornton had 16 kills, 14 digs and 11 service points.
Junior outside hitter Lex Lauer also played well with 10 digs, eight service points and four blocks.
Senior Libero Alexis Constantino had 18 digs and nine service points while the coach's daughter, freshman setter Brenna Campbell, had 38 assists and 11 service points.
"It's been fun being a parent and a coach and seeing her improve and do well," Shari Campbell said.
In addition, junior middle hitter Hailey Sintobin had nine kills and two blocks with senior right-side hitter Sydney Kiser getting eight kills and sophomore Maddie Schill collecting five blocks.
After dropping the hard-fought first set, 27-25, Clarion came out hot and took a 5-0 lead in the second set. Campbell served for four straight points, including an ace.
Northern Cambria rallied to tie it at 7-7 and the match stayed close until Clarion moved to an 18-13 lead as Schill came up with a big slam and a block to score and Kiser added a block.
Northern Cambria got as close as 22-20 on the strength of Hogan's play up front and on the service line.
But Schill scored the last point when she blocked a kill attempt by senior Breanna Lieb.
In the third set, Clarion trailed just once, 2-1, and was only tied four times.
It was still anyone's game, as Clarion led 12-10, but a four-point run made the advantage much more comfortable at 16-10.
Thornton's block and Sintobin's tip-in were key points.
With the lead at 16-11, Lauer's kill made it 17-11 and she followed with an ace for an 18-11 lead.
Constantino's ace made it 21-13 and Thornton had two big kills before a Lady Colts shot into the net finished it.
The fourth set was all Clarion as the Lady Cats jumped out to a 5-1 lead. Northern Cambria got to 5-3 before Clarion re-established itself and finished off a 25-16 win.
The semifinal match will be Tuesday and will probably be in Slippery Rock, but the official announcement will be made Sunday.
MAPLEWOOD 3, OTTO-ELDRED 0
DUBOIS, Pa. – District 10 champion Maplewood (21-4) had little trouble ousting District 9 champion Otto-Eldred, 3-0 (25-15, 25-18, 26-24).
Sophia Varndell led the Lady Tigers with 12 kills and a block, while Angie King had six kill and a block and Maggie Thomas five kills and a block.
Camryn Thomas had a strong match for Otto-Eldred with 10 kills with Allison Cousins adding eight kills and Alyssa Shelander two kills, three aces and a block.
In the opening set, Maplewood grabbed an early 5-2 lead and stilled 9-6 before going on a 5-1 run that featured two kills and a tandem block from Varnell to push the lead to 14-7.
Behind Thomas, who recorded three kills, the Lady Terrors, who lost for the first time this season, rallied back within three, 15-12, but three hitting errors and two carries helped push the Lady Tigers advantage to 21-13, and Maplewood then scored the final four points of the set, including a pair of Nicole Brawley kills, to finish off a set-ending 8-0 run.
Otto-Eldred dug itself an early 5-2 hole again in the second set before a pair of Shelander kills helped steady things and get the Lady Terrors back within one, 5-4.
But Maplewood went on an 8-2 run that was fueled mainly by Otto-Eldred mistakes – three hitting errors, a service error and reception error to push the advantage to 13-6.
The Lady Terrors closed the gap to 13-10 thanks to three Maplewood mistakes and a block from Thomas, but an 8-4 run that featured a pair of Varndell kills made it 21-14, and Maplewood then closed out the set by trading points for the 25-19 win.
The third set was easily the most competitive with Otto-Eldred and Maplewood trading blows.
The Lady Terrors led 8-4 after three straight Shelander aces, but Maplewood answered to go up 13-11 thanks in part to a pair of kills from Isabelle Snyder.
Down 18-15, Otto-Eldred rallied going on a 6-1 run that saw a block from Harlee Van Scoter and kills from Cousins and Emily Smith to grab a 21-19 lead.
A kill by Thomas and a couple of Maplewood errors but the Lady Terrors on the verge of winning the set, 24-21.
But the final point was elusive, as a King kill made it 24-22 and mistakes pushed it to a 24-24. Then the bottom fell out for Otto-Eldred when Thomas missed on a hit, and Varndell sent the Lady Tigers to the PIAA semifinals with a kill.