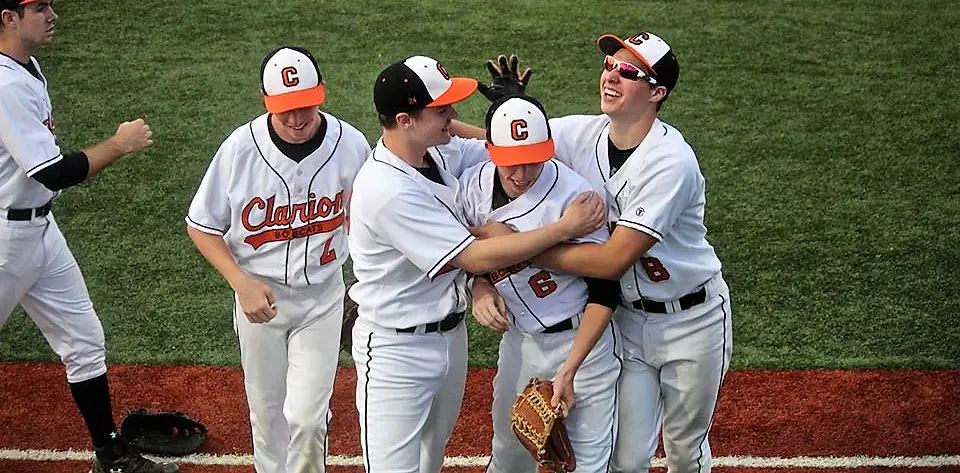 CLARION, Pa. – It's a good thing Clarion manager Rob Jewett isn't a betting man.
If he was, he would be out a $1,000.
"We thought we would be competitive this year," Jewett said. "But if you told me we would be in the state semifinals, I would have bet $1,000 against it."
The state semifinals, though, are exactly where Jewett's Bobcats are. Clarion, the District 9 runner-up, plays WPIAL runner-up Greensburg Central Catholic at 3 p.m. Monday, June 12, at North Allegheny High School in Wexford, Pa., for the right to go to the PIAA Class 1A title game in State College Thursday.
"We had a lot of unknowns coming into the season," Jewett said. "But this team is so unique and so resilient. It's wonderful to be a part of. It's been a great ride so far. These guys don't get too amped up. They are just level-headed and go out and play. Sometimes it's frustrating, but it's amazing to watch."
Coming into the year Clarion, which went 15-4 in 2016 losing in the District 9 Class 1A quarterfinals to Coudersport, had to replace four of its top five hitters from that team and two of its top three pitchers.
Mission accomplished.
Reed Anthony, a craft lefty, built upon a great junior campaign on the mound (0.79 ERA, 4-0) to become the best pitcher in District 9 as a senior (11-1, 0.44 ERA) and his twin brother Ryan (3-0, 1.28 ERA), identical in every way except he throws from the right side, as well as Sterling Conner (1-0, 0.89 ERA) and Cam Craig (1-2, 2.33 ERA) have turned Clarion into a pitching machine that has a team ERA of 1.20 while going 20-3, a school record for wins.
Meanwhile, the offense isn't powerful – Clarion has only three homers, two triples and 25 doubles – but it is efficient when it needs to be led by junior Spencer Miller (.435, 16 RBIs) and Ryan Anthony (.333, 20 RBIs).
"We aren't home run hitters, but we are able to string enough (hit) to get there," Jewett said. "If that can continue, we will see what happens."
The Bobcats will be facing a very good team in Greensburg Central Catholic. The Centurions (14-5) played over half the season without one of their best hitters, Jack Liberatore, who is headed to Ohio University of a baseball scholarship, but still finished second in the WPIAL losing only to rival Jeannette.
Liberatore (.444 in seven games including two postseason games after hitting .361 as a junior) is back from injury, though, and bolsters an already potent GCC lineup that is hitting .333 as a team, although like Clarion, the Centurions don't use power as a weapon with only 29 extra-base hits on the season.
"From what I saw, they remind me a lot of us," Jewett said. "They don't have a lot of guys who are very big, but they play good baseball. They play really good defense, they put the ball in play. It's really like facing ourselves."
GCC will have the use of its ace, Neal McDermott, who is headed to Seton Hill on a baseball scholarship. McDermott has been pretty much untouchable this season going 6-0 with a 0.29 ERA. In 47 ⅔ innings of work he has given up eight runs, only two earned, while striking out 75 and walking only 16.
"He has impressive stats," Jewett said. "But the Berlin Brothersvalley pitcher we faced was a really good. We told the, after that game if they can hit him and hang with him they should have confidence that they can do it against anyone. I feel like they are more and more confident. It's just growing and growing. As long as the kids play their game and buy into what we tell them and don't overwhelmed, it should be a good ball game. As long as we don't compound errors, we can hang with anyone.
"This group has made a believer in me. I'm excited to see this game, excited to see how they respond. Hopefully, we do what we do and get one big inning, play our defense and go from there. You know you are playing a good team at this time of year."
What Jewett doesn't know is if Reed Anthony will be on the mound for him Monday.
Reed Anthony threw 97 pitches in the 3-0 quarterfinal win over Elk County Catholic Thursday and is eligible to pitch on Monday, but the Clarion coach won't know if that will be the case until he talks to his veteran lefty.
"He is a different type of pitcher," Jewett said. "He is a finesse pitcher. It doesn't look like he uses much body. He could rebound quicker than say a power pitcher. That is a conversation him and I have to have. I don't know yet. Him and I need to talk. I need to talk to all of them. You can't rely on one guy and that's what's great about this team. Everyone has to contribute. Other guys have pitched. Yes, this is a little bigger stage, but at some point, your number is called and you do what you have to do. If we play great defense, we will be all right."
The winner plays the winner of Monday's other semifinal between High Point Baptist Academy, the District 3 champion, and Meyersdale, the District 5 champion, at 12:30 p.m. Thursday, June 15, at Medlar Field at Lubrano Park on the campus of Penn State University.
"It would be awesome to see this group play at Penn State," Jewett said. "I'm really pumped up for this game. As long as we continue to play good baseball and have some luck on our side, they believe they can hang with anyone.
"At this point, it's more about how you handle your nerves. It's how kids handle things. You have to buckle down and do what you have to do. We've been fortunate enough to have many walks and errors. That's the key, pitching, defense and timely hits."