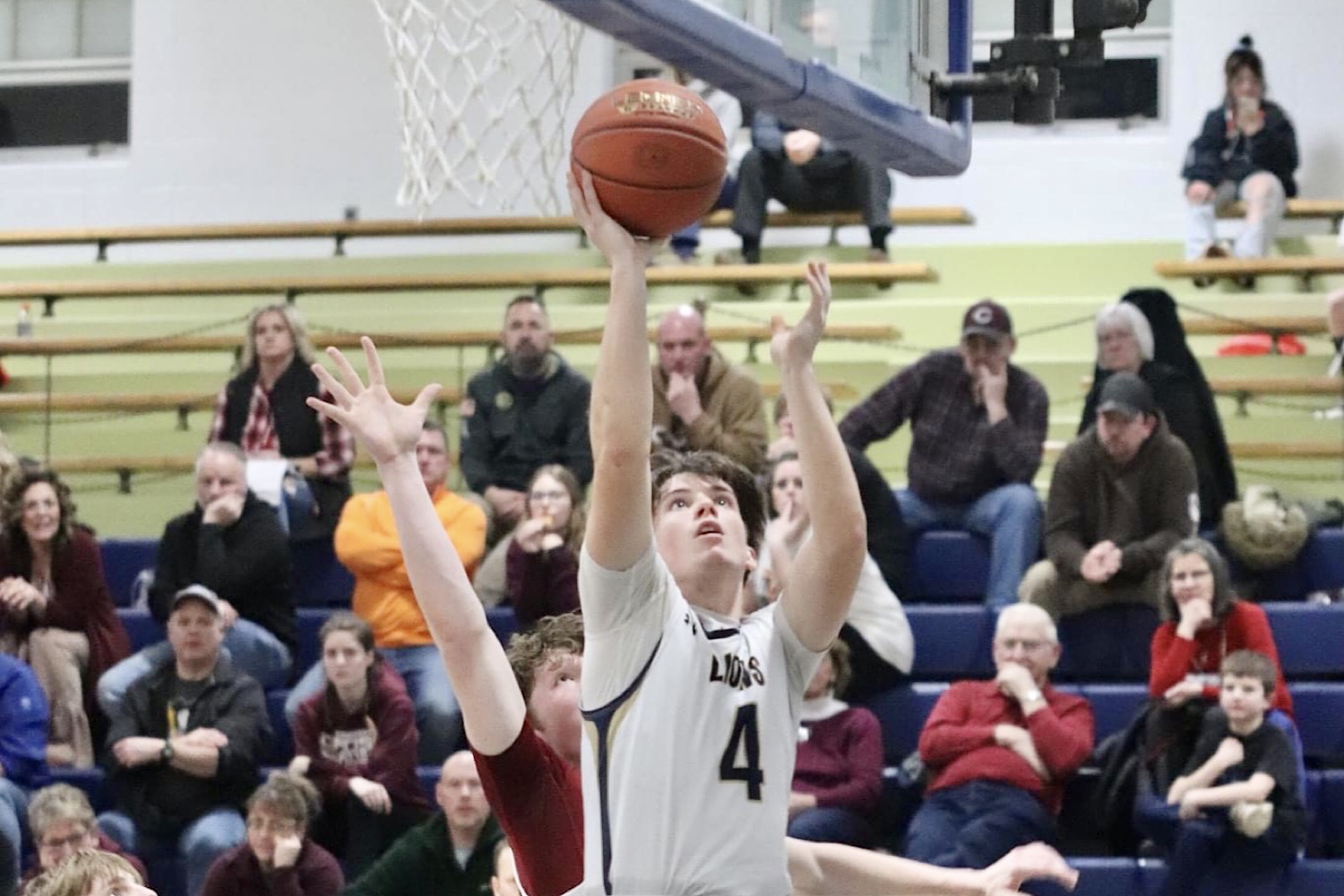 STRATTANVILLE, Pa. (EYT/D9) — Trailing 13-11 after one quarter, the Clarion-Limestone boys basketball team outscored Cranberry 46-13 in the middle two frames to pull away for a 65-44 victory on Senior Night.
(Clarion-Limestone's Jordan Hesdon goes up for a layup during the Lions' win/photo by Diane Lutz)
Seniors Jordan Hesdon and Riley Klingensmith collected 17 and 14 points apiece for the Lions. Hesdon added four steals and Klingensmith swiped five steals.
Junior Jack Callen scored 12 points with seven rebounds and five steals.
Tommy Smith chipped in with nine points and eight rebounds.
Nole Bunyak paced Cranberry with 15 points.
After trailing 13-11 after one quarter, C-L (20-2) took command of the game with a 29-10 advantage in the second quarter for a 40-23 halftime lead.
C-L continued to expand the lead with a 17-3 blitz in the third for a 57-26 lead.
Cranberry set the final score with an 18-8 edge in the fourth.
"It's tough to get in a flow when you have guys out there who are seniors and normally hadn't gotten a lot of playing time," said C-L head coach Joe Ferguson. "We got things back in order starting in the second quarter.
"It was good seeing all these seniors playing in there last regular season home game. They are all great character guys as they are basketball players and I wish them all the best once they move on."
KARNS CITY 48, MONITEAU 46 (2-OT)
When the Gremlins and Warriors meet, expect something wild to happen.
It did again.
For the second time this season, Karns City and Moniteau needed bonus time to decided things. And for the second time this season, the Gremlins prevailed.
Taite Beighley scored 17 points and Jacob Callihan added 10 for Karns City in a low-scoring game that was deadlocked at 35-35 after four quarters.
Colton Thomas hit a pair of free throws for Moniteau to tie things up at 42-42 at the end of the first overtime.
Hobie Bartoe was the hero in the second OT, scoring all three of his points in the extra frame to help Karns City to the finish line.
The Gremlins will take on Clarion in the KSAC tournament on Thursday night before opening the District 9 playoffs.
Moniteau, which was led by David Dessicino with 14 points, Andrew Zepeda with 13 and Thomas with 10, has also qualified for the D9 postseason.
REDBANK VALLEY 46, KEYSTONE 36
In what amounted to a playoff game, the Bulldogs got 15 points from Mason Clouse to down the Panthers and qualify for the D9 playoffs.
Owen Clouse added 11 for Redbank Valley (11-11), which climbed out of a 2-8 hole to start the season to make the postseason.
CLARION 63, A-C VALLEY 43
Devon Lauer had a big night with 25 points for the Bobcats closed the regular season with a victory.
Dawson Smail pitched in 18 points and Gabe Simko 10 points for Clarion, which will square off against Karns City in the KSAC tournament on Thursday night.
Alex Preston paced A-C Valley with 19 points. Ryan Cooper added 12.
GIRLS BASKETBALL
Mylee Harmon was at it again, scoring 25 points, as Redbank Valley closed out the regular season at 21-1 with a 59-45 victory over Keystone on Senior Night.
Harmon had 21 points at the half as the Bulldogs led 36-23 at the break.
Ashlee Albright led Keystone with 20 points.
Redbank Valley will take on Clarion in the KSAC tournament on Friday night.
CLARION 45, A-C VALLEY 26
Sophie Babington scored 15 points to lead the Bobcats.
Taylor Albright added 12 points for Clarion.
Maddy Dehart led A-C Valley with 10 points and eight rebounds.
(Mike Kilroy contributed to this report)