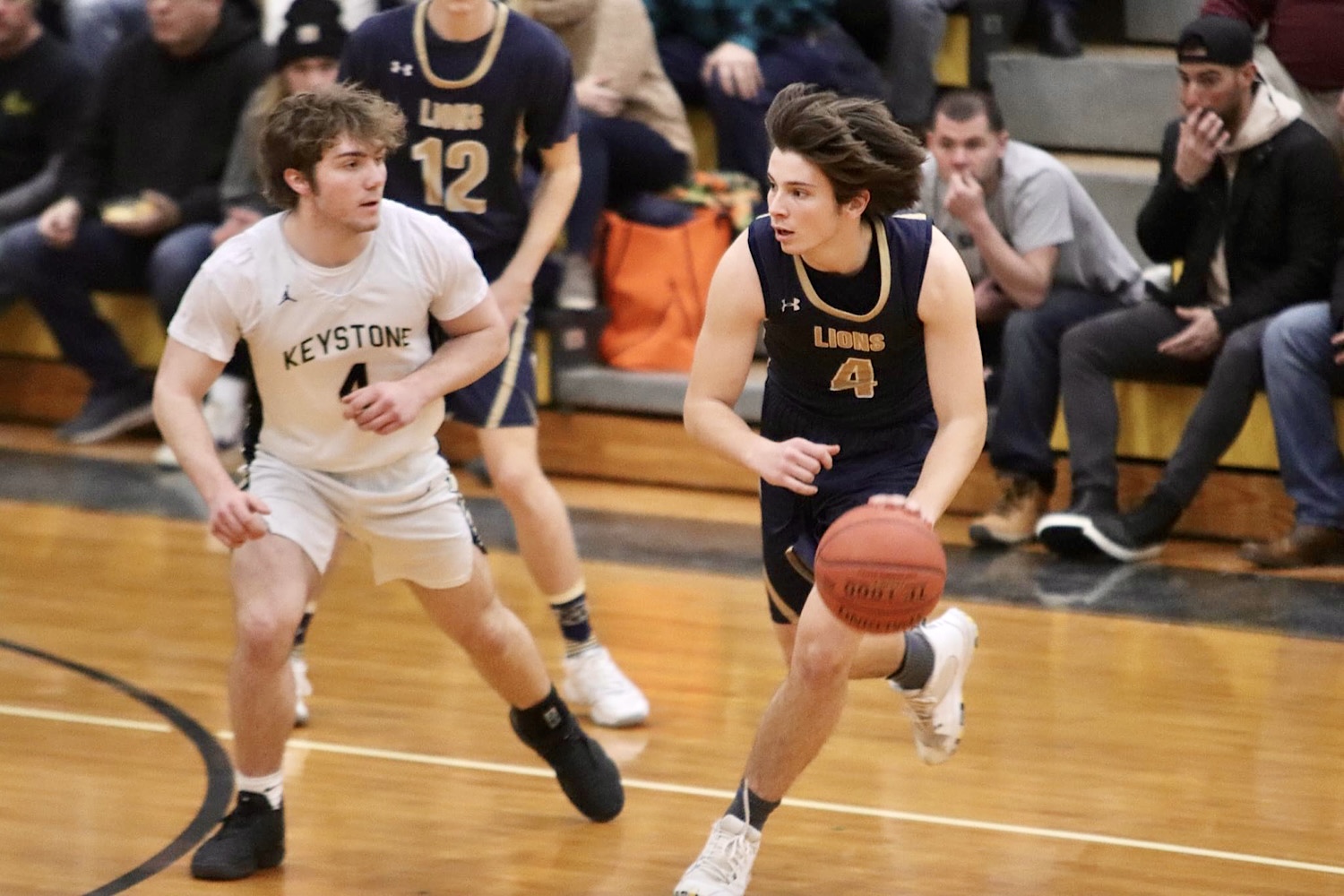 KNOX, Pa. (EYT/D9) — Playing the first game without an injured starter can cause a coach concern for how his team will react, but on Friday evening, despite a few rough patches, the Clarion-Limestone boys basketball team rolled to a 68-46 victory over Keystone.
(Pictured above, Clarion-Limestone's Jordan Hesdon tries to dribble past Keystone's Kyle Nellis/photo by Diane Lutz)
The game marked the first for the Lions without sophomore guard Jase Ferguson, who is sidelined with an elbow injury.
"We weren't sure what to expect coming into the game tonight without Jase out there and we had some mistakes and miscommunications, but the guys continued to do a decent job defensively, which has kind of been our strength this season," said C-L coach Joe Ferguson.
Clarion-Limestone Area High School sports coverage on Explore and D9Sports.com is brought to you by Redbank Chevrolet and DuBrook.
Alex Painter once again led the offense with 16 points, and he also had four steals. Jordan Hesdon, Riley Klingensmith, and Jack Callen each added 10 points. Callen and Ty Rankin each pulled down six rebounds. Jack Craig, who scored six points, also handed out eight assists.
"Alex once again did a nice job on the offensive end tonight, but he's been doing such a good job defensively all season," said Ferguson. "He's usually tasked with guarding the other team's best player and he's been able to shut them down for the most part."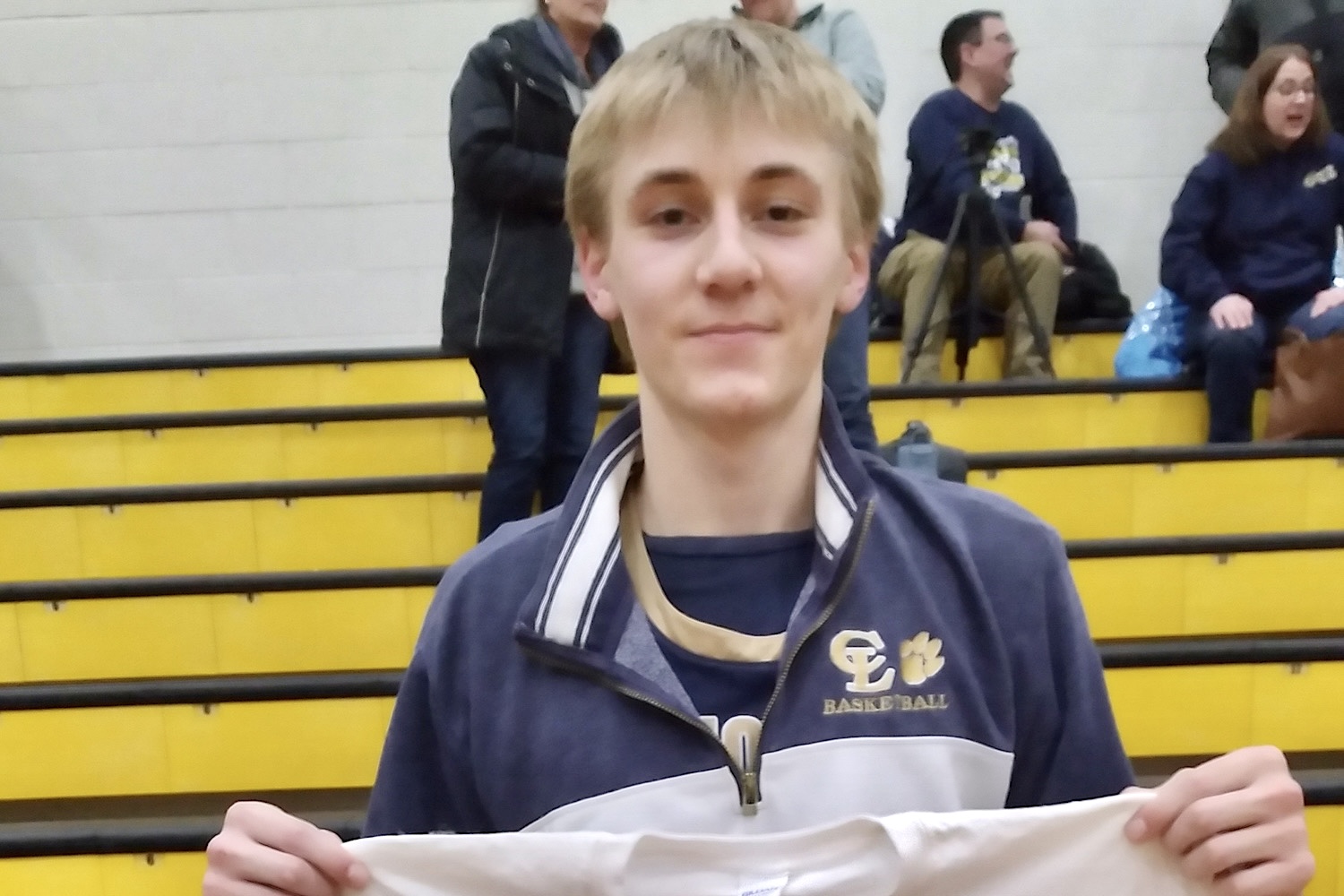 (Alex Painter was named the Hager Paving Incorporated Player of the Game)
Cole Henry led Keystone with 14 points while Drew Keth made all seven of his free throws in scoring 13 points.
Keystone was also playing the game without two of their top players in Tyler Albright and Aiden Sell.
"Aiden Sell is probably our leading rebounder and he inbounds the ball for us so that's a huge loss without him," said Keystone head coach Greg Heath. "The kids who were out there worked hard and they gave everything they had and that's all I can ask for."
Keystone led 6-4 three-plus minutes into the game before C-L closed the quarter on a 15-7 run to take a 19-13 lead after one.
The lead remained six early in the second at 21-15 before a 14-0 C-L run pushed the lead to 35-15. Keystone then closed the quarter with a 6-0 run to close the gap to 35-21 at halftime.
The Panthers trimmed the lead down to 11 at 39-28 about the midway point of the third quarter. Keystone continued to trail by 12 at the end of the quarter at 47-35.
"We were missing a lot of shots in that third quarter and Keystone responded with a couple 3s and some free throws to get back in the game," said Ferguson. "We started knocking down some shots again and began to get that cushion again."
Klingensmith started a 17-4 spurt to open the fourth quarter with a 3-pointer as the Lions put the game away by extended their lead to 64-39.
"It's tough losing players, and we had guys playing in positions they aren't used to," said Heath. "Overall, I was proud of the effort they gave tonight. As a coach as long as your players are giving you that effort, you have to be proud of them."
The Lions have now won 16 in a row as they improved to 18-1 on the season.
Clarion-Limestone Area High School sports coverage on Explore and D9Sports.com is brought to you by Redbank Chevrolet and DuBrook.