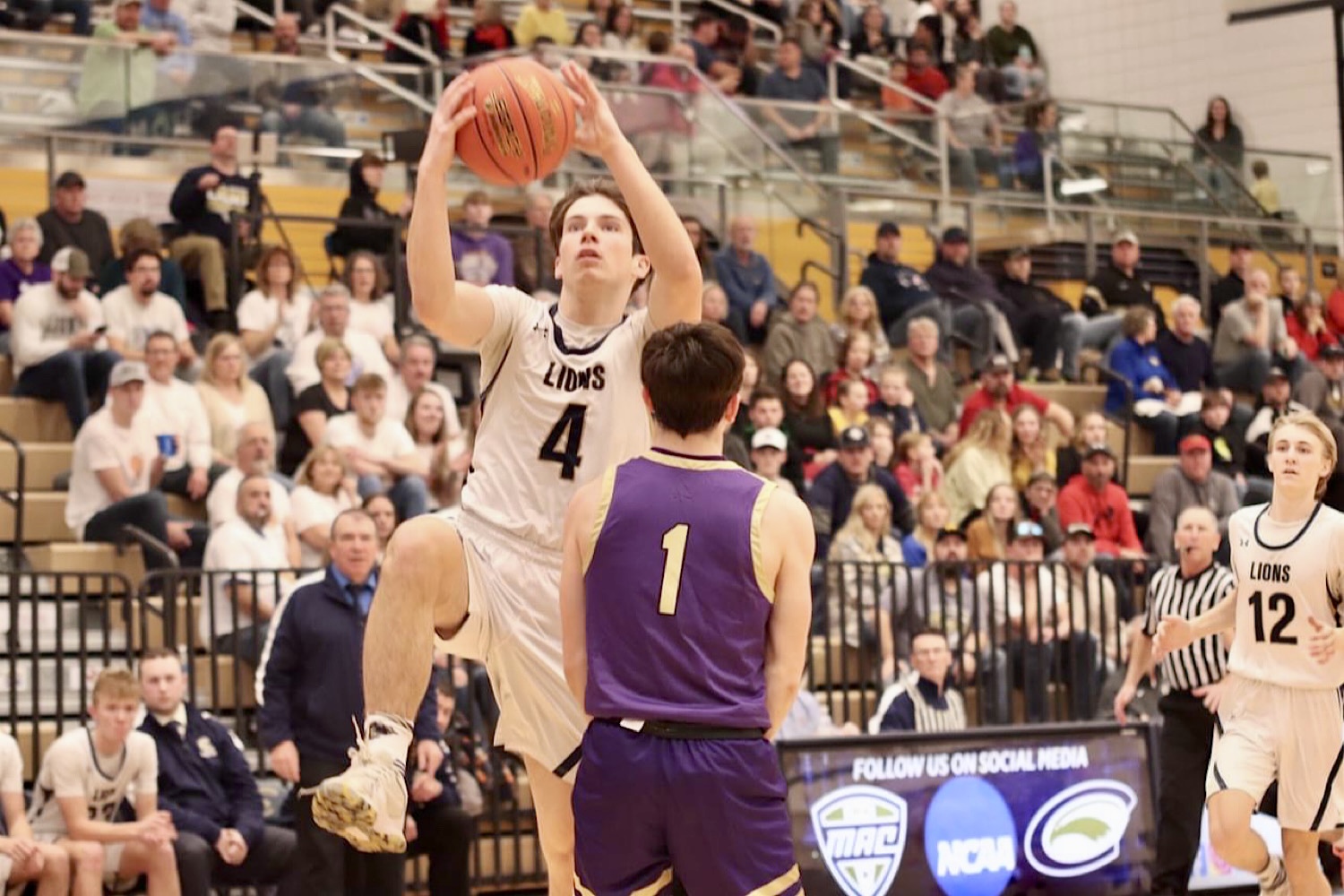 CLARION, Pa. (EYT/D9) — Clarion-Limestone found itself in unfamiliar territory, trailing by double digits in the second quarter, but the Lions' boys basketball team kept chipping away before ultimately coming away with a 47-43 victory in a District 9 Class 2A semifinal game at Tippin Gym.
"We haven't faced many deficits this season, especially like the one we face early tonight," said C-L coach Joe Ferguson. "They didn't panic as early on Karns City was knocking down their shots and we weren't. I just told them that eventually our shots would start to fall."
C-L trailed by 12 at 25-13 with 2:45 remaining in the first half before a 7-0 run cut the Gremlins lead to five at 25-20 by halftime. A Jack Craig 3-pointer with 10 seconds left capped the run.
C-L cut the lead to two 25-23 early in the third before a three by Taite Beighley and a Micah Rupp basket put Karns City back up by seven at 30-23. C-L trimmed the lead to four by the end of the third quarter at 34-30.
The teams traded baskets throughout the first five minutes of the fourth quarter until, after a Jacob Callihan putback gave Karns City a 41-38 lead, Jordan Hesdon connected on four straight free throws to give C-L its first lead since 7-5 midway through the first. Rupp scored on a short jumper from inside the foul line to give Karns City a 43-42 lead with 1:13 to play.
Clarion-Limestone Area High School sports coverage on Explore and D9Sports.com is brought to you by Redbank Chevrolet and DuBrook.
Hesdon scored off an offensive rebound to give C-L a 44-43 lead. On the ensuing inbounds play, the Gremlins threw the ball away, giving the ball back to C-L. Jase Ferguson sank two free throws to put the Lions ahead 46-43 with 31 seconds remaining.
Jack Callen rebounded a missed shot at the other end before being fouled. He missed both free throws, but Hesdon grabbed the offensive rebound and was fouled with three seconds remaining. He made one of the two free throws for the 47-43 score.
"Jordy told me he would make both free throws at the timeout," said Ferguson. "We knew he would ice it by making one, which he did."
Hesdon finished with 13 points and six assists for C-L. Ferguson finished with nine points, four rebounds, and four steals. Riley Klingensmith scored eight points. Ty Rankin grabbed five rebounds while Callen added four boards.
Rupp finished with 14 points to lead Karns City while grabbing six rebounds and blocking five shots. Hobie Bartoe and Beighley each scored 10 points for the Gremlins.
"We came out flat tonight for whatever reason," said Joe Ferguson. "Credit our defense and our depth I believe is what won this game because they only go like six deep, and we can go as much as nine deep and I think we were able to wear them down by the end of the game."
C-L will face Otto-Eldred in the championship game on Saturday evening at 8 p.m. also at Tippin Gym.
"We know that will be a tough challenge as Otto-Eldred is a very solid team," said Ferguson.
Clarion-Limestone Area High School sports coverage on Explore and D9Sports.com is brought to you by Redbank Chevrolet and DuBrook.