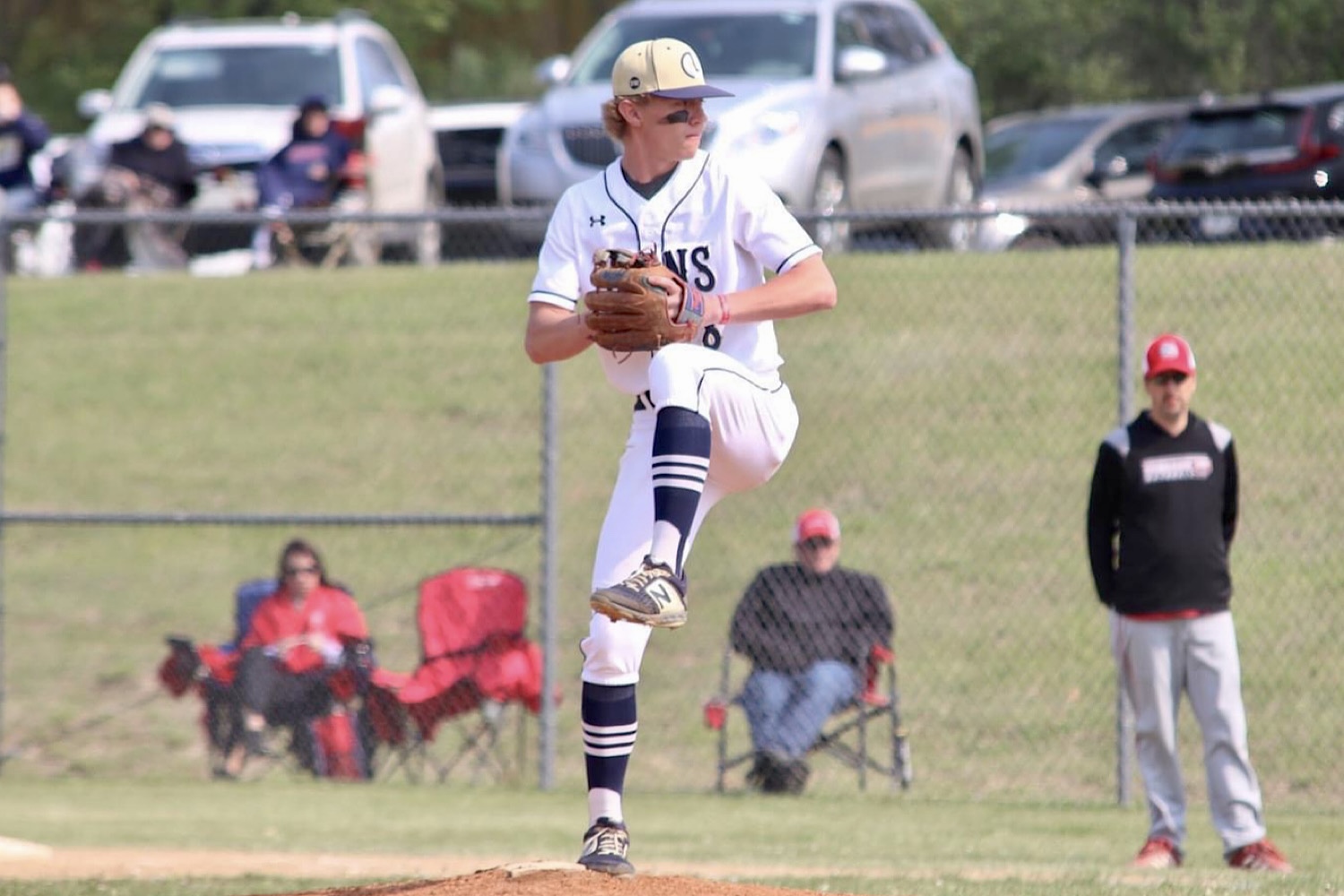 STRATTANVILLE, Pa. (EYT/D9) — Redbank Valley's Tate Minich and Clarion-Limestone's Tommy Smith went toe to toe with each other on the mound with a game knotted at 2-2 through five innings before the Lions plated three runs in the sixth and two more in the seventh to come away with a 7-2 victory at the C-L Sports Complex.
(Pictured above, Clarion-Limestone's Tommy Smith delivers a pitch against Redbank Valley on Wednesday/photo by Diane Lutz)
C-L (12-5) was the visiting team despite playing on their home field due to it being the lone game contested between the two teams and the Bulldogs were slated to host the game.
Redbank Valley (14-4) scored single runs in the first and second innings. Owen Clouse began the inning with a single and moved to second on a walk to Minich. Clouse stole third and scored on an errant throw for a 1-0 lead.
In the second inning, Payton Rearick reached on an error stole second and moved to third on another throwing error. Clouse then hit an RBI single for a 2-0 lead.
Clarion-Limestone Area High School sports coverage on Explore and D9Sports.com is brought to you by Redbank Chevrolet and DuBrook.
Minich kept the Lions' bats in check until they broke through for two runs in the top of the third to tie the game 2-2.
Jordan Hesdon hit a one out single. After a strikeout, Smith hit a single ahead of a two-run double by Braden Murray to tie the game.
"We got a couple of big hits today," said C-L head coach Bill Smith. "I don't think they were respecting the kind of power Braden has and he was able to get that big hit, and we also got a couple of big hits later in the game."
In the top of the sixth inning, after one out, Nick Aaron and Jake Smith drew consecutive walks. Riley Rinker was brought in to run for Aaron at second base. Jack Craig blooped a single into short right field to load the bases. Jesse Siwiecki singled to drive in Rinker. Hesdon then followed with a two-run single for a 5-2 lead.
Minich was replaced by Braylon Wagner after the Siwiecki hit.
In the seventh, a pair of walks once again started the inning with Murray and Kohen Kemmer earning the free passes. After a fly out, Jake Smith singled to load the bases. Craig then reached on a fielder's choice ground out which drove in Murray and Kemmer for the 7-2 lead.
"We didn't execute when we had the chance today," said Redbank Valley coach Craig Hibell. "We got those two runs early and couldn't add on. They got a counter punch and got the lead and never gave it up so kudos to them for their play today."
Hesdon, Logan Lutz, and Murray each had two hits with Murray hitting the double. Tommy Smith, Jake Smith, Craig, and Siwiecki each collected one hit. Hesdon, Murray, and Craig all drove in two runs.
"We changed our lineup around a couple games ago to switch things up a bit for the guys," said Bill Smith. "So far that's been working out. We had some quality at bats today. We also talked all year about limiting our mistakes and we've worked on it and it all paid off today."
Smith worked the first 4 1/3 innings, allowing two unearned runs on three hits. He walked six and struck out seven.
Lutz earned the win by pitching the final 2 2/3 innings scoreless allowing one hit with one walk and two strikeouts.
"We've been working for this game for a while now," said Bill Smith. "We knew we'd see their best pitcher and these two are probably two of the top pitchers in the league. The went back and forth for the first four or so innings and it was a fun game to watch and be a part of."
Owen Clouse collected two hits with an RBI to lead Redbank Valley. Tate Minich and Breckin Minich each added one hit.
Minich suffered the loss pitching 5 1/3 innings, allowing five earned runs on eight hits. He walked three and struck out four.
Wagner threw 1 2/3 innings allowing two earned runs on two hits. He walked three and struck out one.
"We still have eyes toward the KSAC title with a big game tomorrow against Moniteau," said Hibell. "We also want to put ourselves in position to compete for a district title. Like I tell the kids after any loss that the windshield is bigger than the rear-view mirror, so we just have to come back and be ready to go tomorrow."
Clarion-Limestone Area High School sports coverage on Explore and D9Sports.com is brought to you by Redbank Chevrolet and DuBrook.