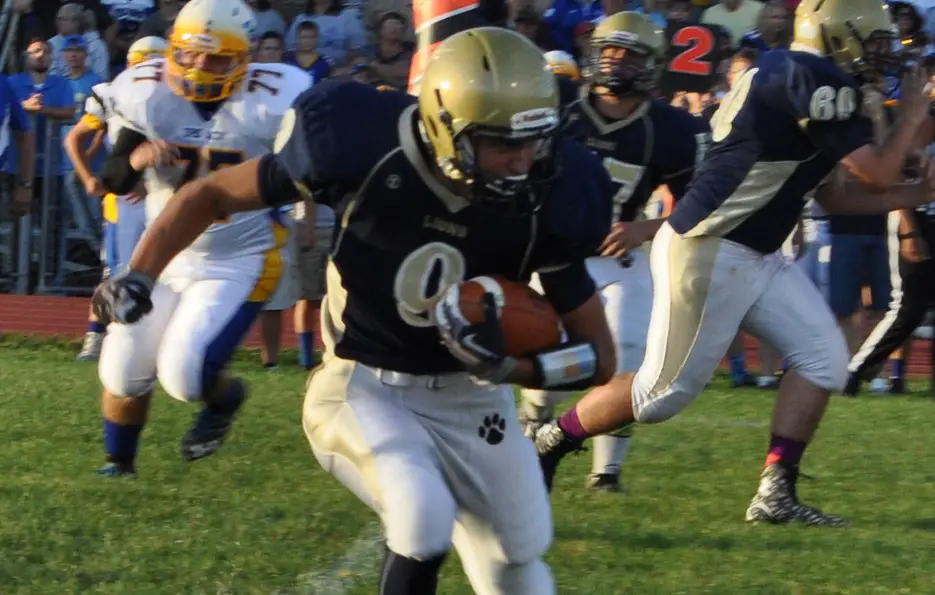 CLARION, Pa. – Leading Clarion-Limestone to perhaps its biggest win in over a decade, Sam Leadbetter is the Week 3 D9Sports.com District 9 Football Player of the Week.
Leadbetter hauled in five catches for 177 yards and three touchdowns and also played a key role on defense with a pair of interceptions to help the Lions stay unbeaten with a 53-19 over defending KSAC Small School Division champion Redbank Valley.
Joining Leadbetter in being honored are 15 players on the District 9 Honor Roll.
The Player of the Week and Honor Roll honors will continue through the conclusion of the regular season.  
D9SPORTS.COM PLAYER OF THE WEEK
Sam Leadbetter – Clarion-Limestone: 5 catches, 177 yards, 3 touchdowns; Intercepted two passes on defense – Clarion-Limestone 53, Redbank Valley 19
D9SPORTS.COM HONOR ROLL  
Hunter Miller – Brockway: 9-for-11 passing, 258 yards, 2 touchdowns; 8 carries, 29 yards, 3 touchdowns – Brockway 51, Smethport 7
Dylan LeCates – Brockway: 3 catches, 151 yards, 1 touchdown; 2 carries, 25 yards, 1 touchdown – Brockway 51, Smethport 7
John Frank – Brookville: 11 carries, 32 yards, 1 touchdown; Recovered a fumble on defense and recorded two sacks, both on Punxsutawney's final drive – Brookville 20, Punxsutawney 14
Ty Burford – Clarion: 3 catches, 103 yards, 2 touchdowns – Clarion 69, Keystone 8
Spencer Miller – Clarion: 7-for-10 passing, 177 yards, 4 touchdowns; 3 carries, 51 yards, 1 touchdown – Clarion 69, Keystone 8
Colton Rapp – Clarion: 14 carries, 137 yards, 2 touchdowns; 7 tackles, 2 TFLs – Clarion 69, Keystone 9
Brendan Makray – Clarion-Limestone: 10-for-19 passing, 303 yards, 3 touchdowns, 3 interceptions – Clarion-Limestone 53, Redbank Valley 19
Seth Caldwell – Clearfield: 19 carries, 137 yards, 3 touchdowns – Clearfield 35, Huntingdon 21
Nick Stewart – Curwensville: 12 carries, 161 yards, 3 touchdowns – Curwensville 63, Port Allegany 6
Kyle Hopson – DuBois: 10 catches, 223 yards, 2 touchdowns – DuBois 55, Oil City 16
Matt Miller – DuBois: 18-for-24 passing, 369 yards, 5 touchdowns, 1 interception – DuBois 55, Oil City 16
Nate DaCanal – Elk County Catholic: 13 carries, 128 yards, 3 touchdowns; 6-for-15 passing, 44 yards, 1 interception
Ethan Riley – Punxsutawney: 5 catches, 122 yards, 1 touchdown – Brookville 20, Punxsutawney 14
Neil MacDonald – Ridgway: 7 carries, 162 yards, 3 touchdowns, 1 catch 8 yards – Ridgway 49, Sheffield 0
Lane Chalmers – Union/A-C Valley: 14 carries, 112 yards, 1 touchdowns; 4 catches, 55 yards, 1 touchdown – Union/A-C Valley 40, Moniteau 21
2016 PLAYERS OF THE WEEK
Week Zero: Braden Paulinellie, DuBois
Week One: Nick Stewart, Curwensville
Week Two: Isaac Rumery, Clearfield
Week Three: Sam Leadbetter, Clarion-Limestone
Week Four:
Week Five:
Week Six:
Week Seven:
Week Eight:
Week Nine: