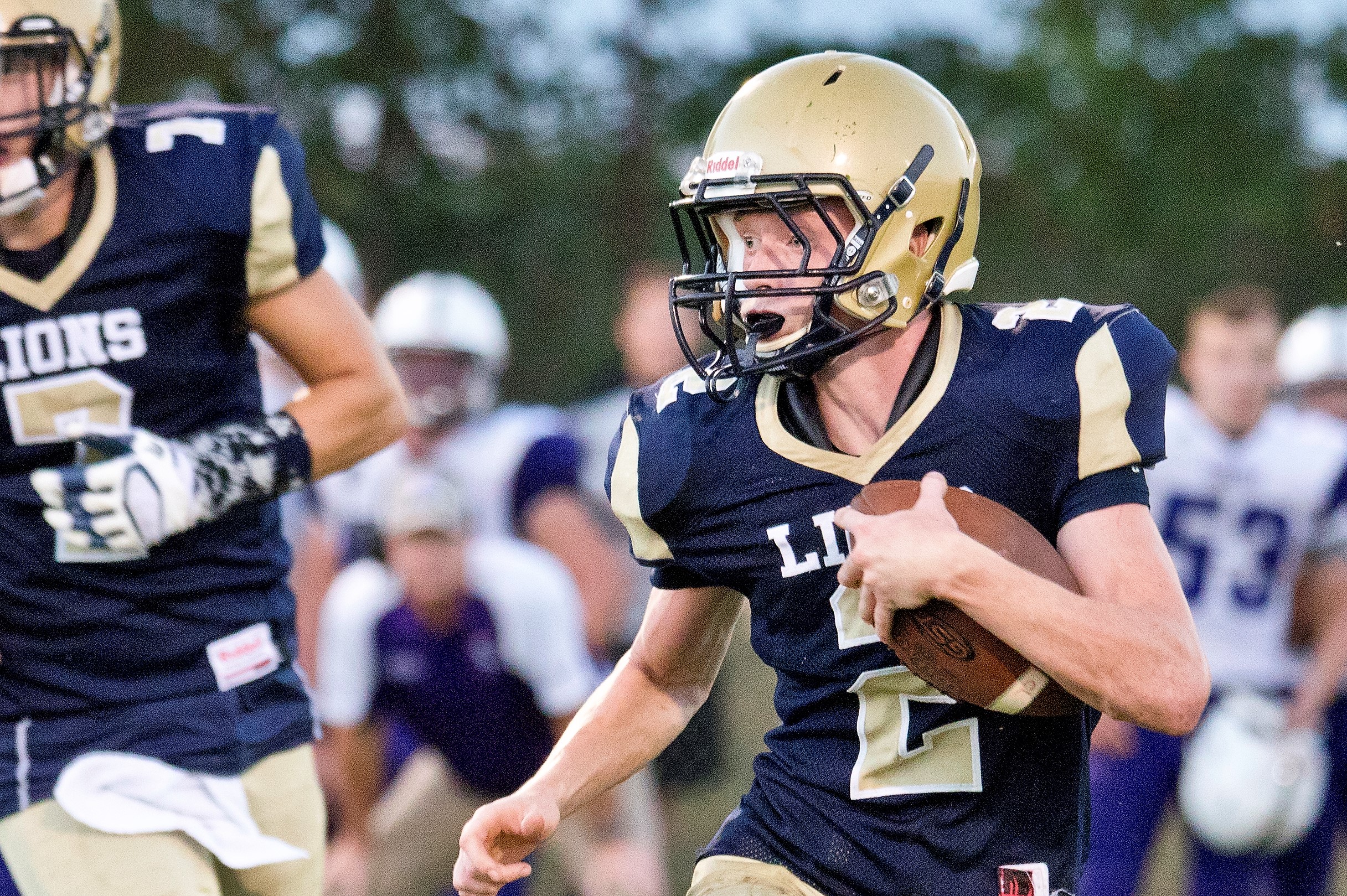 SHIPPENVILLE, Pa. – Turning in what is believed to be just the second 400-yard rushing game in District 9 history, Clarion-Limestone's Austin Newcomb is the Week Eight D9Sports.com District 9 Football Player of the Week.
(Photo by Kyle Yates www.facebook.com/YatesPhoto)
Newcomb, who is the first three-time winner of the award this season also taking home honors in Week Two and Week Five, ran 28 times for 416 yards and five touchdowns while adding two catches for 31 yards giving him 447 offensive yards in the Lions' 46-14 win at Curwensville. The 416 rushing yards are believed to be the second most in District 9 history behind Curwensville's Alex Holland, who ran for 419 yards in a win at Kane in 2010.
Joining Newcomb in being honored are 15 additional players on the District 9 Honor Roll for Week Eight.
The Player of the Week and Honor Roll honors will continue through the conclusion of the regular season.
D9SPORTS.COM PLAYER OF THE WEEK
---
Austin Newcomb – Clarion-Limestone: 28 carries, 416 yards, 5 touchdowns; 2 catches, 31 yards; 447 offensive yards; Became the second known District 9 runner back to surpass 400 yards rushing in a game and was three yards shy of the D9 record of 419 set by Curwensville's Alex Holland in 2010. – Clarion-Limestone 46, Curwensville 14
D9SPORTS.COM HONOR ROLL
---
Jaron Ambrose – Bradford: 8 carries, 48 yards, 1 touchdown; 5 catches, 134 yards, 2 touchdowns – Bradford 34, Karns City 21
Donny Pattison – Bradford: 24 carries, 220 yards, 2 touchdowns – Bradford 34, Karns City 21
Peter Downer – Brockway: 10-for-12 passing, 213 yards, 3 touchdowns; 10 carries, 86 yards – Brockway 48, Clarion 19
Bryan Dworek – Brookville: 9 catches, 176 yards, 2 touchdowns; 2 carries, 9 yards, 1 touchdown; Helped Raiders hand Ridgway its first loss of the season – Brookville 28, Ridgway 11
Robert Keth – Brookville: 12-for-29 passing, 230 yards, 2 touchdowns; 1 interception; Intercepted a pass on defense; Helped Raiders hand Ridgway its first loss of the season – Brookville 28, Ridgway 11
Isaac Rumery – Clearfield: 7-for-9 passing, 187 yards, 3 touchdowns – Clearfield 62, Philipsburg-Osceola 0
Stephen Bobby – Elk County Catholic: 31 carries, 212 yards, 3 touchdowns; Helped ECC secure the D9 League Small School South title – Elk County Catholic 36, Keystone 6
Cody Wise – Moniteau: 24 carries, 233 yards, 2 touchdowns; Made 9 tackles on defense – Moniteau 32, Punxsutawney 21
Cole Sebastian – Otto-Eldred: 7-for-12 passing, 205 yards, 4 touchdowns; 6 carries, 75 yards, 1 touchdown – Otto-Eldred 47, Sheffield 8
Josh Rees – Port Allegany: 19 carries, 244 yards, 2 touchdowns; 2 catches, 13 yards, 1 touchdown – Port Allegany 36, Cameron County 0
Ethan Hetrick – Redbank Valley: 3 catches, 32 yards, 2 touchdowns; Returned an interception 70 yards for a touchdown – Redbank Valley 33, Union/A-C Valley 7
Keaton Kahle – Redbank Valley: 10-for-18 passing, 141 yards, 4 touchdowns; 5 carries, 21 yards- Redbank Valley 33, Union/A-C Valley 7
Blake Kinner – Smethport: Kinner caused the fumble that led to the game-winning touchdown for the Hubbers in a win over Coudersport that clinched the D9 League Small School North Title for Smethport; 13 carries, 46 yards – Smethport 21, Coudersport 20
Grant Ognen – Smethport: 10 of 16 passing, 191 yards, 2 touchdowns; Helped Smethport claim the D9 League Small School North Division Title – Smethport 21, Coudersport 20
Alex Sanderson – Smethport: 7 catches, 142 yards, 2 touchdowns; Helped Smethport claim D9 League Small School North Division Title – Smethport 21, Coudersport 20
2018 PLAYERS OF THE WEEK
---
Week Zero: Jack Krug, Brookville
Week One: Caleb Freeland, Clearfield
Week Two: Austin Newcomb, Clarion-Limestone
Week Three: Jake Lezzer and Isaac Rumery, Clearfield
Week Four: Robert Keth, Brookville and Archer Mills, Clarion
Week Five: Austin Newcomb, Clarion-Limestone
Week Six: Cabe Park, Brookville
Week Seven: Bryan Dworek, Brookville
Week Eight: Austin Newcomb, Clarion-Limestone
Week Nine: TBA