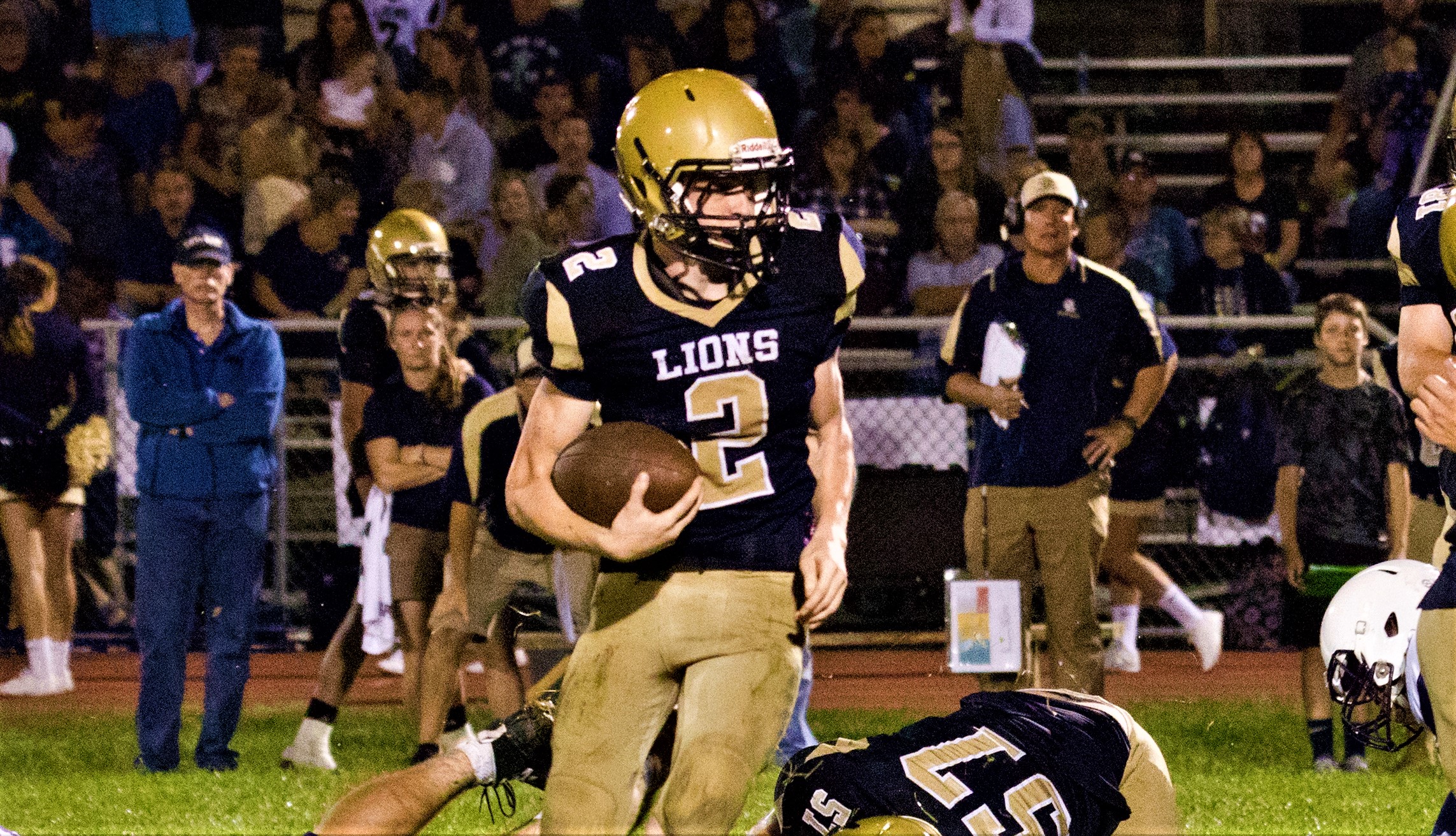 SHIPPENVILLE, Pa. – Back-to-back weeks of 400-plus yards of total offense means that Clarion-Limestone's Austin Newcomb is a back-to-back winner of the D9Sports.com District 9 Football Player of the Week Award after earning the award in Week Nine.
(Photo by Kyle Yates www.facebook.com/YatesPhoto)
Newcomb, a four-time winner of the award this season also taking home honors in Week Two, Week Five and Week Eight, had 416 yards of total offense and scored seven touchdowns in the Lions 62-28 win over Clarion.
A week after rushing for 416 yards and five scores in a win over Curwensville, the junior ran 30 times for 374 yards and six touchdowns and added one catch for 42 yards and a score to help C-L beat Clarion for the first time since 2004 ending a 15-game losing streak to the rival Bobcats.
Joining Newcomb in being honored are 15 additional players on the District 9 Honor Roll for Week Eight.
This is the final week for the Player of the Week and Honor Roll for the 2018 season.
D9SPORTS.COM PLAYER OF THE WEEK
---
Austin Newcomb – Clarion-Limestone: 30 carries, 374 yards, 6 touchdowns; 1 catch, 42 yards, 1 touchdown – Clarion-Limestone 62, Clarion 28
D9SPORTS.COM HONOR ROLL
---
Connor Ford: Brockway: 2 interceptions on defense – Brockway 24, Curwensville 14
Jon Wood: Brockway: 18 carries, 112 yards, 2 touchdowns; 6 catches, 70 yards, 1 touchdown – Brockway 24, Curwensville 14
Archer Mills – Clarion: 10 carries, 76 yards, 1 touchdown; 12-for-17 passing,111 yards, 1 touchdown, 1 interception – Clarion-Limestone 62, Clarion 28
Sam Minich – Clarion: 7 catches, 123 yards, 2 touchdowns – Clarion-Limestone 62, Clarion 28
Isaac Rumery – Clearfield: 5-for-7 passing, 187 yards, 3 touchdowns – Clearfield 49, Bishop Carroll 0
Cole Bressler: 12 carries, 71 yards, 1 touchdown; Intercepted a pass on defense – Brockway 24, Curwensville 14
Coy Donahue – DuBois: 2 interceptions on defense – DuBois 16, Brookville 7
Dylan McCluskey – DuBois: Hit 3 field goals (29 yards, 26 yards, 30 yards); 12 carries, 81 yards; 1 catch, 15 yards – DuBois 16, Brookville 7
Eric Schneider – DuBois: 33 carries, 226 yards, 1 touchdown; 2-for-11 passing, 18 yards, 1 interception – DuBois 16, Brookville 7
Anthony Kamenski – Karns City: 4-for-9 passing, 2 touchdowns, 1 interception; 7 carries, 12 yards, 1 touchdowns – Karns City 34, Titusville 12
Cody Wise – Moniteau: 16 carries, 166 yards, 1 touchdown; Intercepted a pass on defense – Moniteau 36, Keystone 12
Colton Geitler – Otto-Eldred: 28 carries, 139 yards, 2 touchdowns – Otto-Eldred 28, Cowanesque Valley 24
Max London – Punxsutawney: 4 catches, 102 yards, 1 touchdown; 7 carries, 8 yards, 1 touchdown; Returned a kickoff 80 yards for a touchdown – Redbank Valley 54, Punxsutawney 27
Hunter Buzard – Redbank Valley: 6 carries, 141 yards, 3 touchdowns; 1 catch, 20 yards; 1 interception on defense – Redbank Valley 54, Punxsutawney 27
Hunter Wiles – Redbank Valley: 19 carries, 207 yards, 3 touchdowns – Redbank Valley 54, Punxsutawney 27
2018 PLAYERS OF THE WEEK
---
Week Zero: Jack Krug, Brookville
Week One: Caleb Freeland, Clearfield
Week Two: Austin Newcomb, Clarion-Limestone
Week Three: Jake Lezzer and Isaac Rumery, Clearfield
Week Four: Robert Keth, Brookville and Archer Mills, Clarion
Week Five: Austin Newcomb, Clarion-Limestone
Week Six: Cabe Park, Brookville
Week Seven: Bryan Dworek, Brookville
Week Eight: Austin Newcomb, Clarion-Limestone
Week Nine: Austin Newcomb, Clarion-Limestone