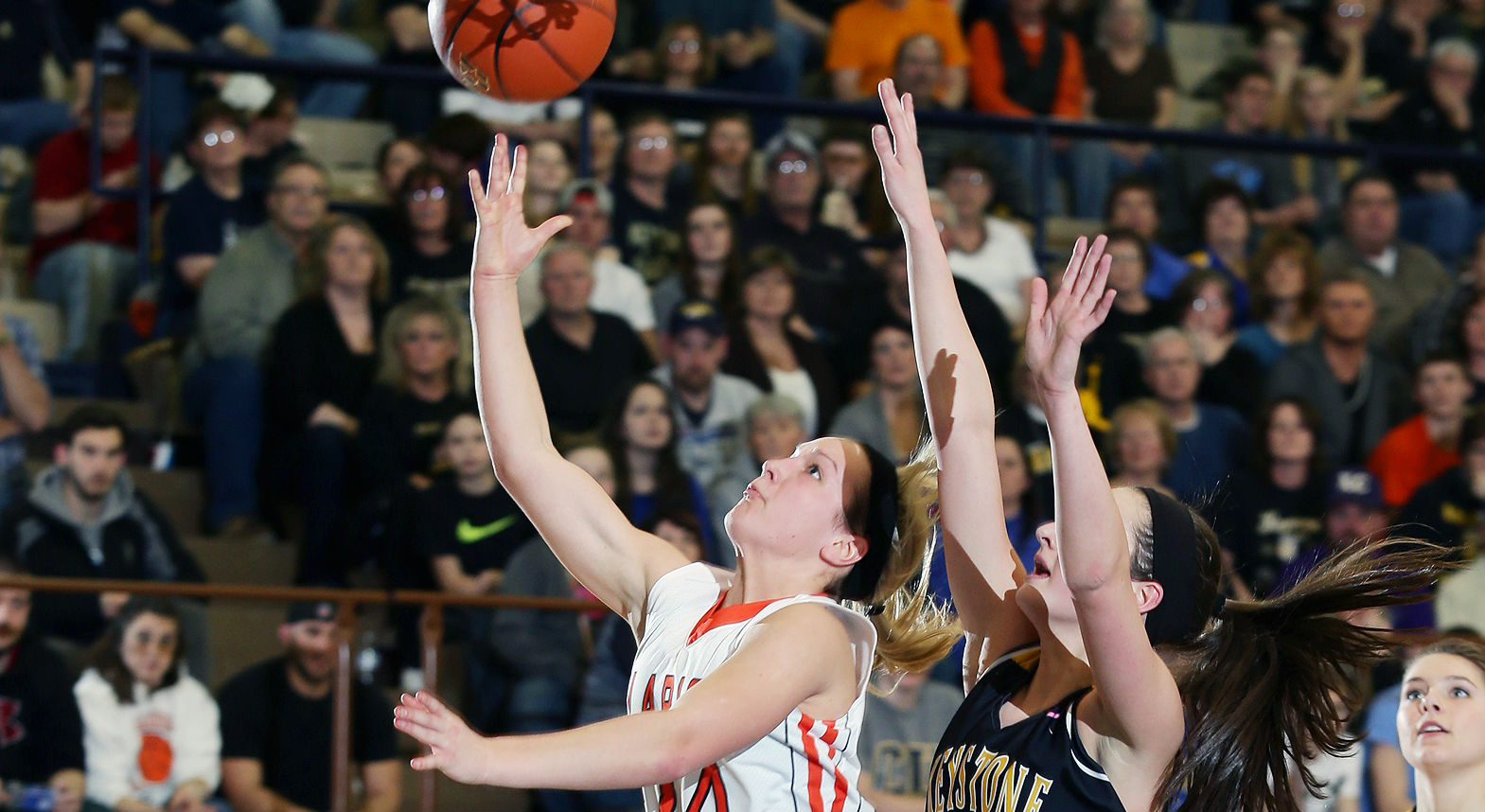 By Andy Close
DUBOIS, Pa. — Maci Thornton has gone into full blown beast mode in order to get No. 11 Clarion back to the Class A championship.
Her latest signature performance saw her score 19 points, 12 in the fourth quarter, including a personal 9-0 run to spark the Lady Cats to a 45-37 win over No. 7 Cameron County Tuesday.
"Maci's got ice water in her veins," said Clarion coach Ed Baumcratz. "She wants the ball in those key situations."
Saddled with foul trouble in the first half, Thornton saved her best for the final eight minutes.
After Susie Guisto had sparked Cameron County with nine third-quarter points and a 29-26 lead going in the final quarter, Thornton took over.
She opened the quarter by hitting a jumper, then was fouled on a a three-point attempt, making all free throws and followed that with two more free throws — on three consecutive possessions — as Clarion suddenly led 35-29.
"Maci Thornton, what can you say?" offered Cameron County coach Dave Sullivan. "Quite frankly, she's the best point guard in District 9."
The Lady Raiders managed just a jumper by Madison Harrier (who scored a team-high 17 points) as part of a collective 16-2 run that effectively put the game away.
Amelia Holjencin knocked down a late three to cut lead to six, 43-37, but with just 16 seconds left, it was to late for Cameron County, who had their own visions of extending a remarkable playoff run to the district championship.
"I thought we had a nice run in the third quarter and then we got into foul trouble," Sullivan said.
That they did, as Mallory Lyon picked up her fourth foul in the third quarter and Guisto collected her fourth early in the fourth quarter.
Clarion, the No. 11 seed, which will go for its third-straight Class A title on Saturday, was able to take advantage.
"Cameron gave us everything they had in the first three quarters," said Clarion coach Ed Baumcratz. "I think we wore them down a little bit in the fourth quarter. The first two quarters we couldn't buy a foul shot, but we came up big on the charity stripe in the last eight minutes."
Indeed the Lady Bobcats did, as they went 13-of-15 from the line in the fourth quarter to put the game away — this after only making 5-of-18 in the first three quarters.
"We lost five games this season by five points or less," Baumcratz noted. "I think those close losses have helped us in our playoff run."
Both teams got off to a slow start, but early momentum seemed to be with Cameron County after Guisto made a layup for an 8-5 lead just moments after Thornton had picked up her second foul, sending her to the bunch with four minutes left in the first quarter.
Thornton picked up her third after a steal by Guisto with 3:14 left in the half, but the Lady Raiders were unable to take advantage of her absence.
"I think not being able to extend the lead with Thornton out hurt us," Sullivan said. "We tried to turn up the heat a little bit with her out and we were able to force some turnovers, but we didn't finish."
Clarion will meet Venango Catholic, a matchup of KSAC North foes, for the championship on Saturday.
Cameron County will now meet Elk County Catholic in the consolation game at a sight and time to be determined. The Lady Crusaders lost their first game of the season in the other semifinal game, 50-39 to Venango Catholic.
"I'm not disappointed," Sullivan said. "I thought we played well, we just didn't finish enough shots. I think we ran out of gas a little bit, but I'm proud of the girls. Their heads are held high and they're looking forward to the next game."
NOTES: Harrier finished with a team-high 7 rebounds and Guisto 6 … starting point guard Madi Guisto played most of the game despite suffering from an illness … Thornton led Clarion with 9 rebounds … Clarion is the first double-digit seed to reach the championship game since 1988 … Cameron County will be playing in the state playoffs for the first time since 2003.
Clarion 45, Cameron County 37
By Quarters
Clarion                  8  6  12  19' — 45
Cameron County 8  4  17  8 — 37
CLARION (45)
Maci Thornton 5-8-9-19, Nicki Glenn 2-1-2-5, Anna Reed 1-7-10-9, Lauren Wiser 3-2-8-8, Gloria Kroh 0-0-0-0, Maddy Weaver 0-1-2-1, Kelly Beveridge 1-0-0-2, Sophie Wolf 0-1-2-1, Julie Kennison 0-0-0-0, Alexis Constantino 0-0-0-0, Jenna Beichner 0-0-0-0, Totals 12-20-33-45
CAMERON COUNTY (37)
Madi Guisto 0-2-2-2, Amelia Holjencin 1-0-0-3, Susie Guisto 4-4-6-13, Madison Harrier 7-3-6-17, Mallory Lyon 1-0-0-2, Amily Schatz 0-0-2-0, Alayna Genevro 0-0-0-0, Totals 13-9-16-37
Three-point FGs: Clarion (1) — Thornton; Cameron County (2) — S. Guisto, Holjencin