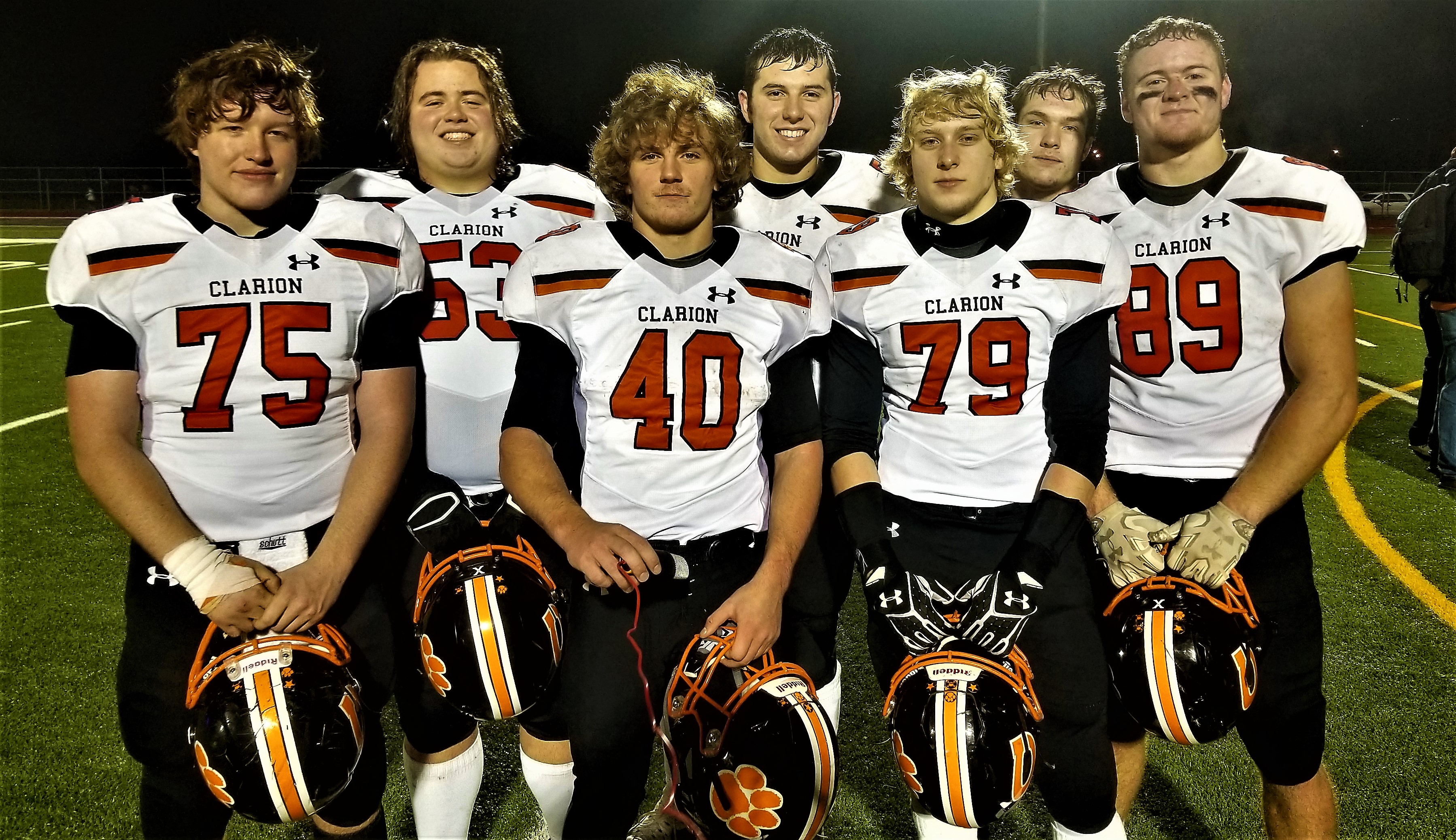 WINDBER, Pa. – Special was a word being thrown around a lot following Clarion's come-from-behind, 20-14, win over District 5-8 champion Chestnut Ridge in the opening round of the PIAA Class 2A playoffs Friday night at Windber Stadium in Windber, Pa.
Walking onto the field after the game, Clarion assistant coach Lee Weber passed me saying this was one he wasn't going to forget. The same could be said of the parents and friends waiting patiently for head coach Larry Wiser to finish talking to his players, and those players were pretty excited themselves with offensive lineman/linebacker Zak Bauer saying he didn't mind playing football the week of Thanksgiving.
"There is nothing wrong with playing football," Bauer said. "There is no other way I would spend (Thanksgiving)."
And Wiser himself, the old ball coach who has seen his share of great games over the years including four District 9 titles and a trip to the PIAA semifinals in 2013, said this one is going to hold a special place in his mind.
"I just told these kids, I will remember this for the next 20 years if I am still around," Wiser said. "It has to be a special win for these guys."
What made it so special?
So many things including Colton Rapp's game-winning touchdown run with from four yards out with 1:06 to play, a trick play that changed the momentum, a defense that forced four turnovers – much, much, much more on all of those things soon – but we will start with the obvious – at halftime Clarion was getting its butt kicked in.
The Bobcats (12-0), who pride themselves on running the football, were getting beat up front to the tune of just 42 yards rushing on 15 carries and 17 of those came on a Logan Minich draw play with eight seconds to go that Chestnut Ridge more than happily gave up.
Overall, the Lions (10-2) outgained Clarion 202 to 104 in the first half and led the game 14-0 with the second score coming with just 1:09 left on the first-half clock.
To make matters worse, Chestnut Ridge was getting the ball to start the second half.
But while things looked bleak to those sitting in the stands and the press box, things weren't as bleak in the Bobcats locker room.
"We were just missing," Wiser said on the first-half blocking. "We would have one person who would mess up, and they would come in from the backside on some stuff. We just did a much better job blocking in the second half.
"I just felt at halftime our kids settled down. I don't know how to describe it to you, but you could see it in their faces. It was kind of a business approach. They know we can win games, and they talked to each other for a couple of minutes before they came out."
THE START OF A COMEBACK
Things turned towards Clarion early in what became an emotional rollercoaster of a second half when Chestnut Ridge was sloppy at the start of the half committing four penalties – three pre-snap (two false starts and a delay of game) – on its opening possession leaving the Lions facing a second-and-30 from its own 6. A 12-yard run by 1,000-yard passer, 1,000-yard rusher Logan Hauck still had Ridge in a tough hole at third-and-18 from its 18, and then Spencer Miller stepped in front of a Hauck pass at the 33-yard line, picked it off and returned it to the seven.
Two plays later, Rapp burst through a hole on the left side and scored to cut the Lions lead in half, 14-7.
"The message at halftime was it was 0-0," senior tight end/defensive end Thomas Wurster said.
Chestnut Ridge looked poised to answer the Clarion score when it drove from its 30 to the Clarion 22 on seven plays, but running back Noah Dillow, after bursting through a hole, was hit by Wurster and fumbled the ball on his way down at the 17, and Sterling Conner recovered for Clarion at the 11. It was one of four turnovers (two fumbles, two interceptions) for the Lions on the night compared to just one for Clarion.
"(Assistant coaches) Lee (Weber) and Scott (Miller) really worked hard this week," Wiser said. "They really did a great job of getting these guys prepared and taking away their bread and butter."
Backed up deep in its own end, the Clarion offense finally broke a big play when Rapp got free for 56 yards thanks in part to a pancake block by fullback Camden Boggess to the Chestnut Ridge 24, and two plays later the Bobcats were at the 14.
After a false start pushed them back to the 19, Wiser showed he wasn't against using a play another great football coach had used against him a quarter of a century ago pulling out a waggle pass to Logan Minich that set Clarion up inside the 1-yard line with a first-and-goal.
"That was a waggle throw back, which (former Clarion-Limestone head coach) Clyde Conti used against me in 1992 to beat me," Wiser said. "We had a different scheme on it, but it was pretty close to the same."
THE BACKBREAKER THAT WASN'T
Set to tie the game, Clarion suffered what could have been a back-breaking sequence.
Four straight runs into the middle of the Chestnut Ridge defense. Four straight runs that didn't end up across the goal line.
First, it was Rapp for no gain. Then Miller on a quarterback sneak couldn't get in. It was back to Rapp, and again no joy. Finally, following a timeout, Clarion turned to the hero of last week's District 9 title game, Sam Minich, but again the Chestnut Ridge defense was up to the task dropping the junior fullback inside the one for a turnover on downs.
"I felt terrible that we didn't get in from the one, that we didn't try something else," Wiser said. "But like last week, our kids felt so strong they could take the ball in, and we've been doing it all year. We talked about doing the same thing we had done with Kane last week (a play-action pass) or just even a pop pass out of it. After we didn't get in on fourth down, I felt like I should have done it. I probably wouldn't have slept for 20 years if we hadn't won. It reminded me of Cameron County (in the 1999 D9 1A title game)."
DEFENSE BENDS, DOESN'T BREAK
Chestnut Ridge took the momentum of the defensive stop and quickly moved the ball from inside its one to the out across the 40 and just shy of midfield at the 48 on a 6-yard run by Hauck.
But facing a fourth-and-2, the Lions elected to punt and Clarion took over at its 26 with 10 minutes exactly to play.
TRICKERY TURNS THE TIDE
Things didn't look good at the start of the drive with two plays netting zero yards, but on third-and-10, Miller hit Keeven Weaver with a 14-yard pass to the 40, then threw a short pass to Sam Minich to the 42.
At that point, Clarion went to its bag of tricks – a bag that has been opened a lot in practice this year but rarely in games according to Wiser.
Wiser dialed up a hook-and-ladder play, and when Miller hit Weaver with an 8-yard pass to midfield and Weaver pitched it to his North Clarion schoolmate Logan Minich. Electricity happened with Minich going all the way to the 2-yard line with a facemask putting the ball at the one.
"That was Coach Wiser," Rapp said.
"He always has something up his sleeve," Bauer added.
Wiser, who probably doesn't make that play call 15 or 20 years ago, said it was about having fun.
"I wanted to have fun," Wiser said. "We've had these things in since (summer camp at) Lycoming. We did it last year (in a D9 title game loss to Kane). We have our trick play grouping here (pointing to his play chart). We work on them in practice every week. It has looked good in practice. It was one of those plays we ran 100 times this year (in practice). That is the second time we ran it (in a game). The first time we ran it, some people thought it was just a fumble that Logan (Minich) took in for a touchdown."
The play was set up perfectly by some first-half playing calling from the Bobcats that had Chestnut Ridge thinking screen.
"It was out of a formation we had run two short screens coming back in," Wiser said. "I think they were all set (for that) which pulled that kid, the outside backer, down. He thought we were going to run that short screen. We got Logan, who is usually out there to block, and he takes the pitch."
Facing a similar situation as it had in the third quarter from inside the one, this time the Clarion offensive line with the help of another solid Boggess block blew open a hole for Rapp to run through that tied the game following an Archer Mills extra point.
"It's just a mindset thing is what it comes down to," Rapp said. "We knew we should have gotten in on those four tries. Our mentality is you might have stopped us four times, but you aren't stopping us five times. We are going to blow open those holes because we are going to come at you every play and hit you. That is what these guys do every play."
One of the lineman, Nick Cherico, said not getting in from the one in the third quarter was discouraging but the team needed to put it behind it.
"We had to keep moving forward," Cherico said. "We talked to coach and figured out the next play and came back in the second half and look what we did."
What Clarion did was rush for 126 yards after halftime and out gain Chestnut Ridge 238 to 107 after the break.
Watch the full interview with Rapp and his line, Bauer, Cherico, Wurster, Seth Nellis, Colt Stimmell and Jacob Selker.
CLARION FOOTBALL TAKES OVER
Now in a tie game with 6:31 to play, Clarion football, as they like to call it, took over.
The Bobcats defense was first forcing a three-and-out that was aided by another pre-snap penalty on Chestnut Ridge, the Lions had 12 penalties for 70 yards many before the snap.
The punt gave Clarion the ball back with 5:49 to play at its 35-yard line, and what ensued was a season-defining 11-play, 65-yard drive that ate up all but 1:06 of the game clock and saw the Bobcats got 3-for-3 on third-down conversions.
Miller, the shifty and speedy quarterback, used his legs on a third-and-6 from the 39 to rush for 24 yards to the Ridge 37-yard line.
Weaver then went for five more to the 32 with Clarion taking a timeout with 4:10 to play.
Rapp came up inches short of the first down inside the 30 at the 28 with the measurement being just short, but Logan Minich followed with a 6-yard first-down run to the 22, and Rapp went one more yard to the 21. At that point, Miller hit Sam Minich with a pass out in the flat, and Sam Minich just picked up the first down at the 12 after another measurement.
Two more runs by Rapp had Clarion facing a third-and-2 from the Lions 4-yard line, an eerily similar situation to a week ago when the Bobcats had fourth-and-2 from the Kane 4 with under three minutes to play.
And like last week, Clarion punched it in with Rapp being the hero this time around with the scoring run.
"I was really setting up for the field goal," Wiser said. "They (our guys) felt we would get in there. We basically lined up and came with power."
The extra point was partially blocked leaving the Bobcats up six, but the defense made sure that didn't matter.
Stimmell sacked Hauck on first down from the Lions 36 for a loss of nine yards forcing Hauk to spike the ball on second down bringing up third-and-19 from the 27.
Another delay of game penalty made it third-and-24 from the 22, and Hauk's pass to Justin McCoy skipped in bringing up a fourth-and-the game from the 22.
And again Clarion's defense brought pressure getting to Hauck again forcing the quarterback to fumble the ball inside the 10. Chestnut Ridge recovered but nowhere near the first down setting off a celebration on the Clarion sideline.
"We knew exactly who we were and that we were better than them all game," Bauer said. "It just took time for us to get going. We were really happy. There is not another group of offensive linemen I would rather play with."
THE START
Things actually played out well for Clarion at the start of the game, as Chestnut Ridge fumbled on its second offensive play of the game setting the Bobcats up at the Lions 21-yard line.
But three plays went three yards, and a Mills field goal from 35 yards was short.
Chestnut Ridge answered with an 80-yard scoring drive to take a 7-0 lead on a Hauck to Levi Snyder 29-yard touchdown pass.
A couple of drives later, Clarion drove from its 14 to the Lions 31 but Austin Crocker picked off a Miller pass at the 15 ending the drive.
Weaver returned the favor by intercepting a Hauck pass at the Clarion 16, but after a Bobcats punt the Lions tacked on the late first-half score on an 8-yard run by Dillow.
UP NEXT
Things don't get any easier for Clarion in the PIAA quarterfinals when it faces unbeaten Wilmington (12-0), the District 10 champion who beat Greenville, 31-13, Friday for the D10 title. Last year, Wilmington advanced to the PIAA semifinals thanks to a 42-0 win over Kane in the quarterfinals before losing to eventual PIAA 2A Champion Steel Valley. That game will be played Friday or Saturday at a site and time to be announced.
BOX SCORE
CLARION 20, CHESTNUT RIDGE 14
Score by Quarters
Clarion 0 0 7 13 – 20
Ridge 7 7 0 0 – 14
Scoring Summary
First Quarter
CR – Levi Snyder 29 pass from Logan Hauck (Ian Anderson kick0, 4:48
Second Quarter
CR – Noah Dillow 8 run (Anderson kick), 1:09
Third Quarter
C – Colton Rapp 7 run (Archer Mills kick), 8:31
Fourth Quarter
C – Rapp 1 run (Mills kick), 6:31
C – Rapp 4 run (Mills kick blocked), 1:06
TEAM STATS
Clarion – Stat-Chestnut Ridge
12 First Downs 17
38-173 Rushes-Yards 22-69
168 Passing Yards 240
12-16-1 Comp-Att-Int 20-31-2
341 Total Yards 309
3-41.0 Punts-Avg. 3-32.7
0-0 Fumbles-Lost 3-2
6-43 Penalties-Yards 12-71
INDIVIDUAL STATS
RUSH – Clarion: Colton Rapp 18-92, Logan Minich 5-36, Spencer Miller 4-34, Keeven Weaver 4-10, Brendan Zerfoss 1-2, Camden Boggess 2-1, Sam Minich 2-0, Sterling Conner 1-negative 1, Team 1-negative 1. Chestnut Ridge: Noah Dillow 6-38, Logan Hauck 14-16, Justin McCoy 2-8, Brodie Harbaugh 0-7.
PASSING – Clarion: Spencer Miller 12-for-16, 168 yards, 1 interception. Chestnut Ridge: Logan Hauck 20-for-29, 240 yards, 1 touchdown, 2 interceptions. Jared McGill 0-for-1, 0 yards. Team 0-for-1, 0 yards.
RECEIVING – Clarion: Logan Minich 3-109, Keeven Weaver 5-22, Thomas Hearst 1-21, Sam Minich 2-11, Archer Mills 1-5. Chestnut Ridge: Jared McGill 6-85, Levi Snyder 5-61, Justin McCoy 3-48, Seth Harbaugh 6-46.
INTERCEPTIONS – Clarion:Spencer Miller, Keeven Weaver. Chestnut Ridge: Austin Crocker.